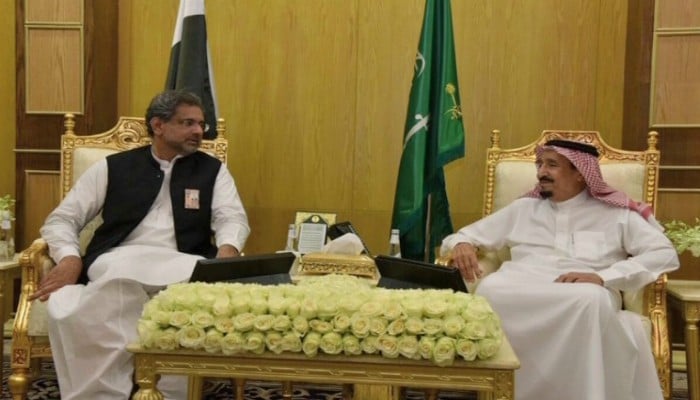 DAMMAM: Prime Minister Shahid Khaqan Abbasi on Monday met with Saudi Arabia's King Salman bin Abdulaziz Al-Saud during the closing ceremony of Gulf Shield-1 in the Saudi city of Dammam.

The two figures discussed matters pertaining to regional security and mutual interest at the meeting. 
Chief of Army Staff General Qamar Javed Bajwa and Defence Minister Khurram Dastgir Khan were also accompanying the high-level Pakistani delegation to attend closing ceremony of the month-long joint military exercise of 24 countries, aimed at strengthening "military and security cooperation and coordination" among the regional countries.
The prime minister on the occasion said that Saudi Arabia is of immense importance for the people and government of Pakistan. In return, King Salman also lauded the people of Pakistan. 
The prime minister arrived here on a two-day visit on a special invitation by the Saudi king on Sunday.
He was received at the King Abdulaziz Air Force Base at Al Khobar by Governor Dammam Prince Saud bin Nayef. Ambassador Khan Hasham bin Saddique and Saudi Ambassador to Pakistan Nawaf al-Maliki were also present.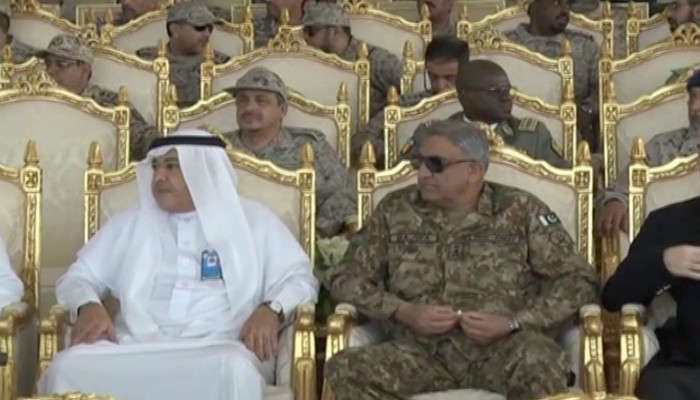 Troops of the Pakistan Army, Pakistan Air Force C-130 aircraft, JF-17 Thunder Fighter jets, Pakistan Navy ships, and commandos from Special Services Group participated in the exercise, touted as the largest military drill in the region in terms of diversity of troops, weapon systems, and operational manoeuvring.
The spokesman for Joint Gulf Shield-1, Brig Gen Abdullah Al-Subaie, told a news conference that the exercise featured two types of military operations; conventional military operations that involved coastal defence attacks against the enemy, besides the irregular war operations carried out by besieging and penetrating villages and industrial installations to cleanse them of hostile elements.
The spokesman said the most important aspect of the exercise was to activate the concept of joint military combat operational plans to counter hostile acts that threaten the security and stability of the region.
The exercise also displayed military uniformity among the participating countries, in addition to the development of a sense of collective security, unity and common destiny, the spokesman said.