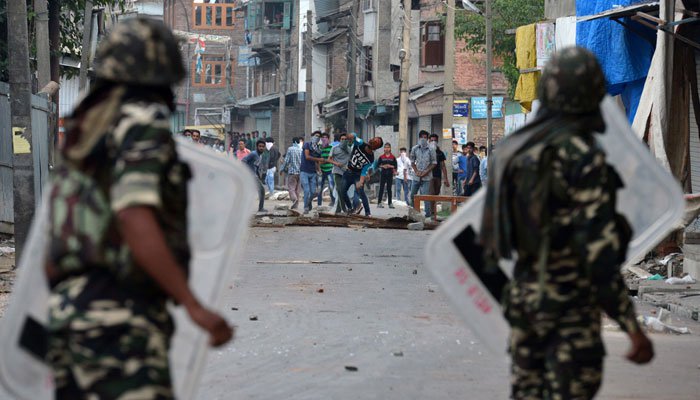 A United Nations report has accused India of having used excessive force in occupied Kashmir to martyr and wound civilians since 2016, as it called for an international inquiry into the accusations of rights violations.
The first UN report on human rights in Indian-occupied Kashmir focuses mainly on serious violations in the region from July 2016 to April 2018. 
Activists estimate that up to 145 civilians were martyred by security forces and up to 20 civilians martyred by armed groups in the same period, it said.
"In responding to demonstrations that started in 2016, Indian security forces used excessive force that led to unlawful killings and a very high number of injuries," the report said.
UN High Commissioner for Human Rights Zeid Ra'ad Al Hussein called for maximum restraint and denounced the lack of prosecutions of Indian forces in Jammu and Kashmir due to a 1990 law giving them what he called "virtual immunity".
In a statement, Zeid called for a commission of inquiry by the Human Rights Council, which opens a three-week session in Geneva on Monday, into all violations. Alleged sites of mass graves in the Kashmir Valley and Jammu should be investigated, he said.
India rejected the report, calling it a "selective compilation of largely unverified information" that sought to build "a false narrative", adding that it violated the country's sovereignty and territorial integrity.
"India rejects the report. It is fallacious, tendentious and motivated. We question the intent in bringing out such a report," its foreign ministry spokesman said in a statement.
Kashmiri human rights activist Khurram Parvez welcomed the report and the recommendation for a commission of inquiry by the UN Human Rights Council.
"This UN report has authenticated our allegation that impunity for armed forces is chronic in Jammu and Kashmir," Parvez told Reuters.
Welcoming the report, Kashmiri hurriyat leader Mirwaiz Umar Farooq wrote on Twitter, "People of Kashmir thank the UN, especially the bold efforts of its HR commissioner, Zeid Ra'ad Al Hussein, for its support to the right of self-determination."
Crimes committed by armed groups in occupied Kashmir range from kidnappings and killings of civilians to sexual violence, the UN report said.

Indian atrocities continue unabated in IoK as Indian troops, in their continued acts of state terrorism, martyred 31 Kashmiris including a woman and six young boys during the month of May.

During the period, 314 people were injured due to the use of brute force including the firing of bullets, pellets, and tear-gas shells by the Indian army, paramilitary, and police personnel on peaceful protesters.

Over 288 persons including Hurriyat leaders, activists, and students were arrested during house raids and crackdown operations. The troops also damaged 67 residential houses and disgraced six women during the month.

--With additional reporting from Reuters