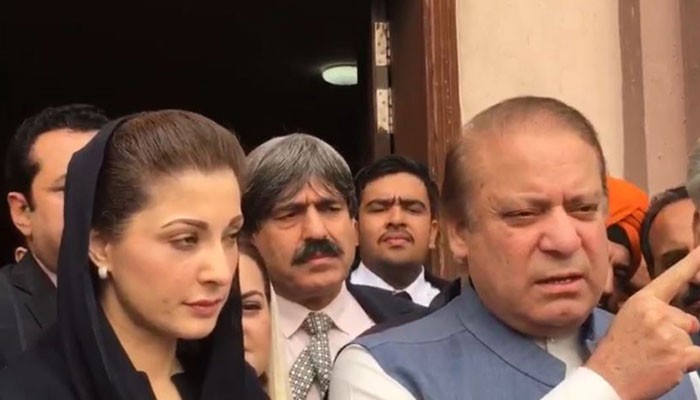 LONDON: Former prime minister Nawaz Sharif and his daughter Maryam Nawaz reached London via Doha to visit ailing Begum Kulsoom Nawaz on Thursday.

Meanwhile, Begum Kulsoom Nawaz, wife of former prime minister Nawaz Sharif, has been shifted to intensive care unit (ICU) of a London hospital after her condition further deteriorated. 

Sources said that Begum Kulsoom collapsed in the ICU after a cardiac arrest, and has not since regained consciousness. She has been kept on ventilator, life-support machine and emergency medicine.
The wife of former premier was re-admitted to the hospital on Wednesday. She was taken to emergency unit last night as her condition deteriorated.
The sources further said that she was being kept under intensive care and her condition was being closely monitored.
"I request the nation to pray for my mother's good health," Maryam said while speaking to the media before departure to London, adding that she was eager to meet her mother.
On June 7, Nawaz and Maryam had sought a five-day exemption from appearance before accountability in the corruption references against the Sharif family.
The former prime minister and his family members are facing three corruption references in the accountability court — Avenfield Properties, Al-Azizia Steel Mills and Flagship Investments — in which they are accused of money laundering, tax evasion and hiding offshore assets.
Nawaz and Maryam filed petitions seeking exemption from June 11 to June 15. The petition stated that both of them want to travel to London to meet the ailing wife of Nawaz, Begum Kulsoom Nawaz. The new medical report of Kulsoom Nawaz was also attached with the petition.
On Sunday, Chief Justice of Pakistan Justice Mian Saqib Nisar had allowed Nawaz along with his daughter to visit his ailing wife Begum Kulsoom Nawaz in London