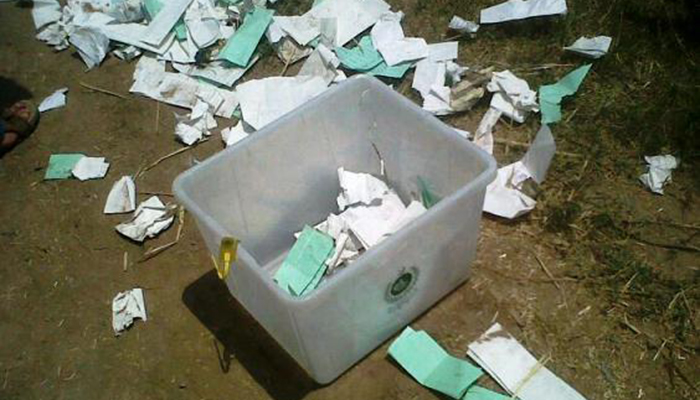 The run-up to the July election is anything but smooth. Pakistan's democratic process has been marred by crater-like pockmarks. Old wounds of rigging — discreet and indiscreet — continue to haunt those in the race. And keeping with past traditions, the chatter of electoral fraud has already made it to the lips of all those who matter.

Last month, Khursheed Shah, a senior Pakistan Peoples Party leader, rejected rival Imran Khan's 100-days plan — an outline of what Imran's party hopes to achieve if elected to power. He further labelled it an attempt of pre-poll rigging. "A 100-days plan is declared after winning an election," Shah told the media, "Have they already won to be making this announcement?"
Then, there is Nawaz Sharif, the former prime minister and leader of the Pakistan Muslim League-Nawaz, who insists, every opportunity he gets, that election manipulation began the day he was disqualified from office. And till very recently Imran, chief of the Pakistan Tehreek-e-Insaf, refused to accept the results of the 2013 election, which he claims were snatched from him through unfair means.
But do these allegations carry weight? More importantly, where is the evidence?
There is a long and storied history of vote stealing in Pakistan. In previous elections, ballot manipulation was a simple and relatively easy practice. It was also limited to election day. To win, all one needed were a few strongmen who could take over polling stations/booths and forcefully stuff ballots, depressing the vote share of the rival candidate. However, over time the process has become more complicated and nuanced.
Today, the most effective politicians steal elections well before the polling day. A few months, even a year, before Pakistan heads to vote, incumbent government ministers dole out development contracts to loyal and preferred contractors. These contractors are told to start work immediately and expect payment and some perks when the party forms a government. This way the contractor is able to charge his preferred rate and in some cases is willing to bankroll the candidate for a sure-shot win. To further grease the process, "friendly" bureaucrats are transferred to the candidate's constituency to "help".
If that sounds cumbersome, then simply fudge the voters' list. Bring some dead back to life and have them included in the electoral roll. Worry about the grave digging later. Or identify the polling stations that show "undesirable" results and send their voters on a hunt for their new polling stations. This happens more often then you think. Which is why voters are often seen on TV screens complaining of their registration been transferred without their knowledge. And if there can be ghost voters, why not set up ghost polling booths?
But the real thrill of ballot stealing is on election day. If pre-poll rigging was a test match, then election day is the real, adrenaline-pumping twenty-twenty.
You know what they say, old habits die hard. Since major polling stations attract much media attention nowadays, best to take advantage of those in a far-flung area. Once held hostage, opposing polling agents are thrown out, voters pressurised to vote as per the wishes of those in control or their ID cards are snatched and returned the next day. Last election cycle, the National Database and Registration Authority (NADRA) found some voters who had polled more than 25 votes each.
Now, polling time usually stretches from 9am to 5pm. So, in theory, the cutoff time for rigging is 5pm. Not really. There is much that can be done even after the boxes are sealed. On the night of polling day, as the counting commences, the contenders work overtime, with their staff, to get the maximum number of votes of the opposing candidates rejected. There have been instances in 2013 when ink was thrown into a ballot box to soil the stamped papers.
And let's not leave out postal ballots and their role especially when the margin for winning is narrow. Postal ballot is a voting method whereby those who are not in their home constituency can send their ballots by post. A larger constituency can receive up to 6,000 votes by mail. These votes are easy for the picking and are often a hot favourite for disappearing acts.
Lastly, there is the practice of inflating numbers. In 2013, Pakistan Peoples Party leader Asif Ali Zardari alleged that the returning officers manipulated figures on papers. Hence, 80 votes became 800.
Note: The views expressed are those of the author, and do not necessarily reflect the official policy or position of Geo News or the Jang Group.