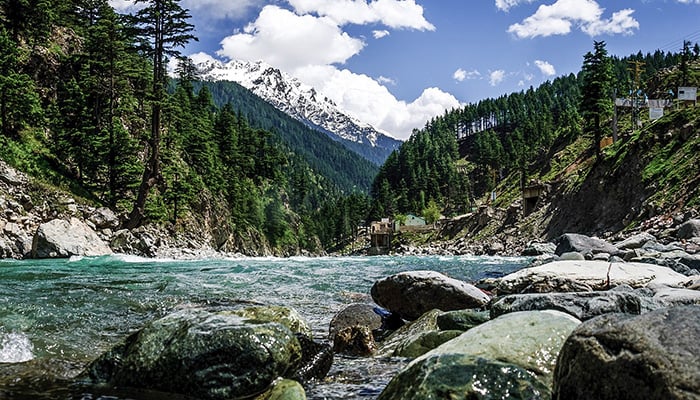 Usually, Khyber Pakhtunkhwa's Swat valley doesn't get much media attention during parliamentary elections. But it was recently thrust into the national spotlight after the president of Pakistan Muslim League-Nawaz and the former chief minister of Punjab, Shehbaz Sharif, announced that he would contest from one of Swat's National Assembly constituencies, NA-3.

Historically, polls in the northern valley are complicated, to say the least, and the outcome unpredictable. In 2002, the religious alliance of Muttahida Majlis-e-Amal (MMA) picked up all national and provincial assembly seats in Swat. Yet, in 2008, its largest party, the Jamiat Ulema Islam-F (JUI-F) faced a humiliating defeat. That year, the people instead voted into power the Awami National Party (ANP). But in 2013, the winning ANP was confined to only one provincial constituency.
All signs in 2018 indicate another change of preference. There is much buzz about Imran Khan's Pakistan Tehreek-e-Insaf, which is a favourite to win.
After the re-marking of constituency boundaries, Swat now has three national and eight provincial seats—a total of 1,193,111 registered voters, of which 681,835 are male and 511,276 are female, and 30 candidates in the running.
Besides Sharif, other prominent names in the fray include Eng. Amir Muqam, the PML-N's deputy general secretary, and PTI's Murad Saeed.
To up the election temp for his candidates, Imran Khan held a mammoth rally in Swat on July 6. Sharif, MMA's Maulana Fazlur Rehman, and Pakistan People's Party's Bilawal Bhutto Zardari are expected to follow suit. And much like in any other constituency of Pakistan, political alliances are also in the making. In NA-3, for example, the PML-N president is up against PTI's Salim ur Rahman and PPP's Shahreyar Amirzeb, while the MMA candidate has withdrawn his nomination papers in favour of Sharif.
"It was the party's decision to field Shehbaz Sharif from Swat, so the miseries of the entire area can be addressed," Muqam told Geo.tv. "We are eager to see the kind of infrastructure development here that can be seen in Punjab." Sharif is also contesting from three other constituencies nationwide.
Meanwhile, Muqam is eyeing two provincial constituencies, PK-2 and PK-4, and one national, NA-2, in Swat. His challengers are Dr Haider Ali Khan of the PTI and Naveed Iqbal of the MMA. It is expected to be a hotly contested race between the PTI and the PML-N. Whoever bags the parliamentary seat is likely to walk away with both the provincial seats under it.
Over in NA-4, PTI's firebrand and young leader, Murad Saeed is up against PML-N's Feroz Shah and ANP's Brig (r) Salim Khan. Khan may be a strong contender but Salim Khan is the son of the late and very influential Afzal Khan Lala.
However, regardless of whichever party comes to power in Swat valley, it will have to immediately get to addressing a battery of concerns—dilapidated roads, ignored tourist spots, lack of bridges for crossing the river, few educational institutes especially for girls, and just one university for higher education.