CHILAS: At least 12 girls' schools were attacked in Chilas, about 130 kilometres from Gilgit late Thursday night, police sources told Geo News.

Unidentified men attacked 12 girls' schools across Diamer district and damaged school property, according to the police.
The attackers also torched some items in the schools, sources informed further, adding that explosions were also set off in two schools.
Police have started a search operation in the area to arrest those responsible. 

Meanwhile, GB Chief Minister Hafiz Hafeez-ur-Rehman took notice of the attacks and summoned a report from the Baltistan commissioner.
According to the district administration, the schools that were attacked were under-construction. Officials added that they will ensure adequate measures are taken to safeguard schools and students. 
Talking to Geo News, GB Inspector General of Police Sanaullah Abbasi said the police, with assistance of locals, will help bring the culprits to book.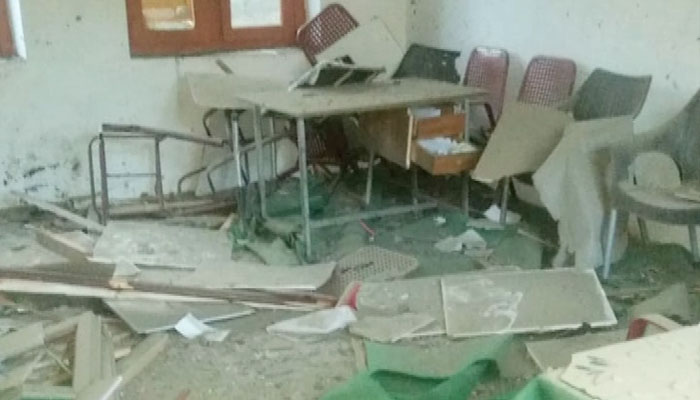 Following the attacks, local residents staged a protest at Siddique Akbar Chowk demanding the arrest of culprits and seeking safety for educational institutes. 
According to Pamir Times, a youth-run news portal from G-B, the following schools have been attacked:
Girls Primary School located in Ronai, Chilas
Social Action Programme (SAP) Primary School in Hudur area
Army Public School, Darel Tehsil
Primary School in Tabor village of Darel Valley
SAP Primary School in Tabor, Darel.
Army Public School in Tangir Valley (adjacent to Diamer, sharing borders with Kohistan district of KP)
Girls Primary School Galee Bala, Tangir Valley
Girls Primary School Sheegay Manikal, Darel Valley
Primary School Galee Bala, Tangir Valley
Girls Primary School, Takia, Chilas
According to Alif Ailaan, there are 244 government schools in the district.
Among the 244 schools, 156 schools are for boys while 88 schools are for girls.
There are 16,500 students enrolled in the government schools of which only 3,479 are girls, the report stated. 
Girls schools on the target
Girls schools are often the target of attack in the northern areas of Pakistan.

In December 2011, at least two girls schools were damaged in low-intensity explosions in Chilas. 
Earlier that year, unidentified assailants also blew up two girls' schools.
The year 2004 also saw a string of attacks on girls schools in Chilas. Nine schools of which eight were for girls were attacked and destroyed in five days in the area in February 2004.
Terrorists used to frequently bomb educational institutes in Khyber Pakhtunkhwa and Federally Administered Tribal Areas (FATA) before the launch of military operation Zarb-e-Azb in North Waziristan Agency in June 2014. 

Earlier in May, two schools for girls were hit by bomb explosions in Mir Ali tehsil of North Waziristan Agency. 
According to a report, about 1,500 schools have been destroyed in the tribal belt during the last 10 years. 
Nobel Prize winner and education activist Malala Yousafzai was also shot by the Taliban in 2012 for advocating the education of girls in Swat.
In 2017, the Human Rights Watch in its report stated that attacks by the Taliban and other militant groups disrupted the education of hundreds of thousands of children, particularly girls, in Pakistan.
The 71-page report, "Dreams Turned into Nightmares: Attacks on Students, Teachers, and Schools in Pakistan," based on 48 interviews with teachers, students, parents, and school administrators in the Pakistani provinces of Punjab, Sindh, and KP, urged the Pakistan government to take measures to make schools safe for students.