ISLAMABAD: Dozens of women have made it into the National Assembly of Pakistan, Geo News reported Saturday night, with many of them related to the country's politicians and former statespersons.

Female members who bagged seats in the NA include Musarrat Asif and Shiza Fatima, the wife and niece, respectively, of Khawaja Asif, a member of the Pakistan Muslim League-Nawaz (PML-N) and former minister of foreign affairs.

Tahira Aurangzeb, the mother of former information minister Marriyum Aurangzeb, who is associated with the PML-N, also made it to the Assembly alongside her daughter as did Kiran Dar, the sister of Nasir Dar, a member of Azad Kashmir Assembly who, too, is from the same party.

Also included in the list are Nafeesa Inayatullah Khan and Sajida Begum, both relatives and — the latter the niece — of Pervez Khattak, a member of the Pakistan Tehreek-e-Insaf (PTI) and former chief minister of Khyber Pakhtunkhwa (KP).

Zeb Jaffar and Maiza Hameed, the daughter and niece, respectively, of Chaudhry Jaffar Iqbal, a member of the PML-N and the former state minister, also entered the National Assembly as did Zahra Wadood, the wife of Tariq Fatemi, the former special advisor to the prime minister.

Ishrat Ashraf, Chaudhry Jaffar Iqbal's wife, secured a seat in the Punjab Assembly.

Alia Kamran, nominated from Balochistan by the Muttahida Majlis-e-Amal (MMA) and the wife of Kamran Murtaza, the former president of the Supreme Court Bar Association also claimed an NA seat.

On the other hand, former finance minister of Punjab Aisha Ghaus Pasha, who is also the wife of former federal finance minister Hafeezullah Pasha, was also on the list.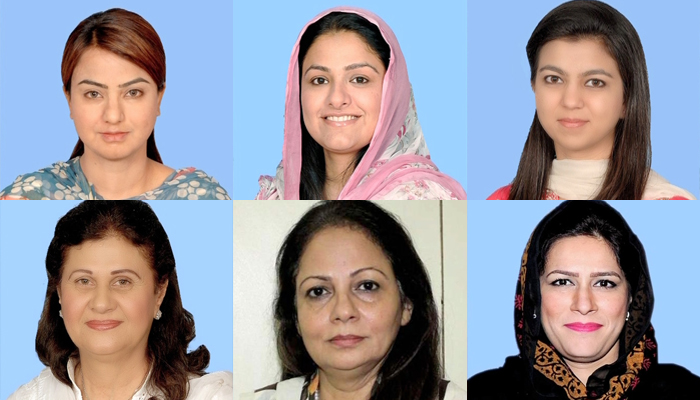 Other women include PTI's Shireen Mazari, Munaza Hasan, and Andleeb Abbas, Pakistan Peoples Party's (PPP) Hina Rabbani Khar, Shagufta Jumani, Shazia Marri, and Naz Baloch, and the Muttahida Qaumi Movement-Pakistan's (MQM-P) Kishwar Zahra.

ECP list of female candidates
Here is the ECP list of seats reserved for returned female candidates from all four provinces.