ABBOTTABAD: Continuing with their mission of unearthing new talent from every corner of the country, the PSL team Lahore Qalandars shortlisted 23 aspiring Qalandars from Abbottabad, the first stop in KP for their players' development programme.

The shortlisted players will now appear in final trials on Tuesday which will be held in Jamrud. Shortlisted players from Mardan and Jamrud will also appear in the final trials.
"We have found some very good batting and bowling talent from Abbottabad. These 23 will join us in Jamrud," said Qalandars' director operations Aaqib Javed.
The former pacer added that he is very hopeful that KP Qalandars will be the strongest team.
The coaching staff of Qalandars also spotted a talented fast bowler, Mohammad Aamir from Charsadda, during the trials in Abbottabad. Aamir clocked bowling with speed of 83.4mph.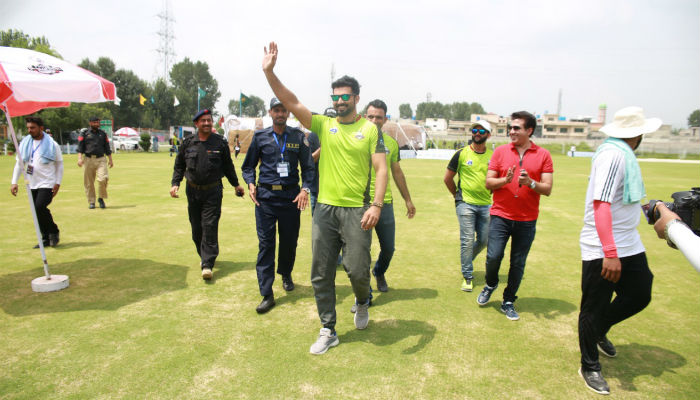 The trials in Abbottabad witnessed a huge turnout. Thousands of players reached the stadium hours before the start of trials. The players were also chanting slogans in favour of Lahore Qalandars and Geo.
"The response from Abbottabad is so overwhelming. I haven't seen such a passionate and energetic crowd in any other venue before," said Qalandars' CEO Atif Rana.
Pakistan's batting sensation Fakhar Zaman and fast bowler Sohail Khan also visited the trials and spent time with the players. 
The second stop for Qalandars' player development programme in KP is Mardan where trials will be conducted on Monday.
The shortlisted players in Abbottabad include Mohammad Zuhaib, Nauman Ali, Gul Rehman, Saif Rehman, M Shahryar, Khizer Qadeer, Usman Mustafa, Abdullah, Shahryar, Mohammad Usman, Rao Danial, Abdul Rehman, Umer Khan, Hamiyatullah, Mohammad Aamir, Inzamam, Mohammad Inam, Rafiullah, M Adil, M Waqas, Abdur Rauf, Mohammad Asfandyar and Haris Khan.