ISLAMABAD: Foreign Minister Shah Mehmood Qureshi on Friday said Turkey and Pakistan want the best solution for the Kashmir issue.
"Turkey stands by Pakistan during its tough times," Qureshi said while addressing a joint press conference with his Turkish counterpart, Mevlut Cavusoglu, at the Foreign Office.

"Turkey supported Pakistan against Financial Action Task Force (FATF)'s decision to place it on grey list and wants the best solution for the Kashmir issue," he added.
Further, the Pakistani foreign minister said, "The beauty of the relations between Pakistan and Turkey is that they are not restricted to a government level."
A meeting of Pakistan and Turkey's joint working group will be called soon, he shared.
Speaking on the occasion, the Turkish foreign minister thanked Qureshi for inviting him to the country and said, "I congratulate Prime Minster Imran Khan for assuming office and will thank him as well."
"Governments change but real friendships remain," he added. "We will work towards maintaining this friendship."
Further, he said, "Qureshi and I discussed several topics of common interest."
The Turkish foreign minister, who is on a four-day visit to Pakistan, held one-on-one talks with Qureshi earlier today. 
Qureshi and Cavusoglu discussed strengthening Pak-Turkey strategic partnership in political and socio-economic sectors during their meeting.

Delegation level talks were also held between delegations of the two countries at FO. 
"Both countries are tied in inseparable bonds of people to people affection based on common faith and objectives and shared destinies as members of Islamic world," FO spokesperson Dr Muhammad Faisal said after the delegation-level talks.
"Pakistan and Turkey pledged to continue partnership for regional peace and stability," he added.

Turkey is working to reach ceasefire in Syria's Idlib
During the news conference, the Turkish foreign minister said his country was working to achieve a ceasefire in Syria's rebel-held northwest and is ready for
Cavusoglu said Turkish President Tayyip Erdogan will speak with Russian President Vladimir Putin on the topic of Syria on Monday.
Erdogan met with the leaders of Iran and Russia last week in Tehran to discuss Syria, but failed to win a ceasefire pledge.
Turkish FM calls on Army chief
Later during the day, the Turkish foreign minister called on Army Chief General Qamar Javed Bajwa at the General Headquarters.
Focus of the discussion remained on Pak-Turkey relations, regional security including evolving situation in the Middle East, management of defence and security cooperation between both the countries, the military's media wing, Inter Services Public Relations (ISPR), said.
The Turkish foreign minister acknowledged and appreciated Pakistan's contributions for conflict prevention in the region and also pledged to keep working for better relations between the two brotherly countries, ISPR added.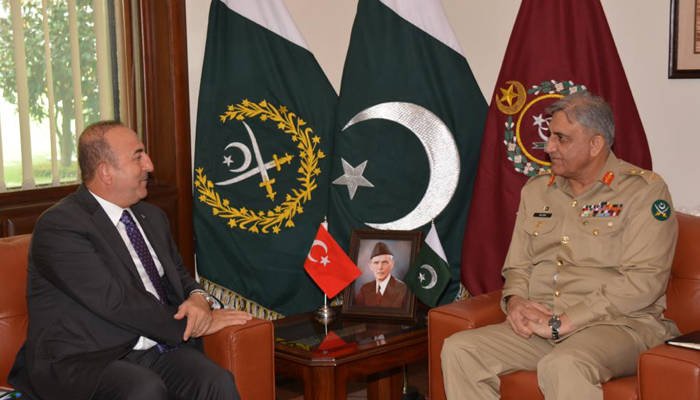 Cavusoglu arrived in Pakistan on Thursday.
According to a statement issued by the Turkish Foreign Ministry, Cavusoglu will also meet Prime Minister Imran Khan and President Arif Alvi during his visit.
- Additional reporting by Reuters