ISLAMABAD:  Leader of the Opposition in National Assembly and Pakistan Muslim League-Nawaz (PML-N) President Shehbaz Sharif while addressing the National Assembly on Wednesday said there is "an unholy alliance between the National Accountability Bureau (NAB) and the Pakistan Tehreek-e-Insaf (PTI)".

Taking to the floor of the House, the leader of the opposition in the National Assembly said, "I want to thank you [NA Speaker Asad Qaiser] for keeping party politics aside and issuing my production orders." He then thanked Pakistan Peoples Party (PPP) Chairman Bilawal Bhutto Zardari, leaders of the Awami National Party and MMA, National Party member Hasil Bizenjo and "all friends".
"If my inhibition isn't wrong, it is the first time that the elected leader of opposition has been arrested in such a manner and that even without any charge," he continued.
"I won't speak about the merit of the cases but I want to discuss the unholy alliance between NAB and the PTI," Shehbaz said.  "PTI and NAB work closely," he claimed while adding that the accountability bureau is targetting opposition parties. 
The PML-N president further said, "Prime Minister Imran Khan is the product of electoral rigging." Stating that it has been proven that the 2018 General Election was rigged, the leader of the opposition in NA said, "Either the July 25 polls were rigged or the by-polls were."
Elaborating on his allegations, Shehbaz said, "Terrorism cases were filed against us on May 13 and NAB chairman prepared my arrest orders between July 5-6. However, the decision to arrest me was implemented ahead of the by-polls so it could serve a purpose."
"PML-N, PPP, ANP and MMA emerged victors in the by-polls on the seats that the PTI so easily won during the general election," he added. "Even the seats PM Imran left vacant were won by us, which shows that the general election was rigged and there is no other explanation for such a big change in just two months."
He continued, "Sheikh Rasheed had said I will be put behind bars and there has to be a reason behind his statement."
Speaking about former prime minister Nawaz Sharif and his daughter, Maryam Nawaz's arrest, Shehbaz said, "For the first time, a father was imprisoned in front of his daughter and a daughter in front of her father even though NAB court's verdict says that no corruption could be proven. Nawaz still left behind his sick wife, who is no more today, and came back to satisfy his conscience."
Shehbaz added, "We expect the speaker to rise above likes and dislikes and to take action against intrusion in democracy."
"As a public representative, Pakistani and a humble political worker I want to tell you [NA Speaker] that I have done nothing except for serving the people honestly," he said and added that the Parliament will have to decide whether the "law of the jungle" will prevail.

Delving into details regarding the Ashiana Housing Scheme, Shehbaz said, "A NAB official told me that there are no corruption allegations against me in the housing case, but that I used my position to give the contract to former army chief General (retd) Ashfaq Parvez Kayani's brother to please him. However, I met Kamran Kayani for the first time in 2008. He had been awarded the Rs40 billion Ring Road project contract by the Punjab government that was led by Pervez Elahi."

"I did not go into the credentials of the contract as though it had to do with NAB or the previous government. However, when work was not being done I took up the matter with General (retd) Kayani who told me that I could cancel the contract if I pleased but I asked him to warn his younger brother instead."
"However, when I saw that Kamran was not listening to friendly advice and was not delivering I cancelled the contract," Shehbaz said as opposition members broke into applause. "Till date, the former army chief has not questioned me regarding cancellation of his brother's contract even though I have met him several times after which goes on to show his integrity and I told NAB officials that."
"An inquiry under the supervision of then finance secretary Tariq Bajwa, who is the current governor of the State Bank of Pakistan (SBP), was carried out into the contract. I had forwarded the inquiry report to the anti-corruption department and had I not, then it could be alleged that I tried to protect Kamran Kayani," Shehbaz thundered.
"I was given a notice in the Saaf Pani Case stating 'come, we will make you have potable water', but then I was told that I am being arrested in Ashiana Housing Scheme case. What is this joke?" he asked.
"Is this tabdeeli that you snatch morsels from people," he questioned. "This is not tabdeeli or Naya Pakistan but something else."
"The NAB official told me that there is evidence that my children and I have investments in China and Turkey. To which, I hit the roof and told the officials to bring forward the evidence and I will apologise personally and even in Parliament as I won't deserve to be a part of it," he said while adding that they then stepped back and he warned the officials that this conversation is on record.
"I told them you are involving our trusted friends in this low allegation," he added. "The officer then blamed that the assets may be 'benami', I challenged this too. And they stepped back from this too. This is what has been happening in the cell."
Questioning whether it is the "accountability bureau or blackmailing bureau," Shehbaz said, "Imran Khan had levelled a similar allegation earlier regarding properties in China and Turkey and now NAB is which shows that there is no more proof required to ascertain the "unholy alliance between NAB and PTI."
"I have made mistakes but gave my blood and sweat for governance in Punjab," he said. 
The PML-N president continued, "I am the most ardent supporter of Pakistan-China and Pakistan-Saudi Arabia friendship but I will do anything to save every penny of this country and go to the last point to defend Pakistan's interests."
"People say Punjab Speed and Shehbaz Speed but I say it is Godspeed and Pakistan Speed," he said while speaking about projects with China. He further claimed that he had made a Turkish company lower its contract cost in Punjab's solid waste management project and asked the house, "Would I have done that if I were corrupt?"
Shehbaz then said that he is undeterred by his arrest and will continue with his political struggle. "They know I am a stumbling block. I would like to say in all humility that I do not fear prison. NAB has always been a silent spectator but I have always raised my voice in my own humble way and will continue doing so."
He further said, "I was asked to testify against Khawaja Asif. To which I asked NAB officials if they have called me to issue statements against people and requested them to question me in the case that I have been taken in custody for. I have also complained to NAB director regarding this."
"I have heard reports that people are being asked to testify me and are being promised high posts in return," he added.
Concluding his speech, Shehbaz took a hit at PM Imran's 2017 claim that he had been offered a Rs10 billion bribe by the PML-N president's close associate to drop the Panama case against Nawaz. "I served him notices, but neither him nor his lawyer have ever appeared before court," he said. 
NAB is an independent institution: law minister
As Shehbaz concluded his speech, Law Minister Farogh Naseem took to the floor and said, "I would like to remind the opposition leader that prejudiced matters cannot be discussed in the National Assembly. Any case ongoing in the court cannot be discussed here as this is not a court of law and cannot decide whether NAB's inquiry is legal or not."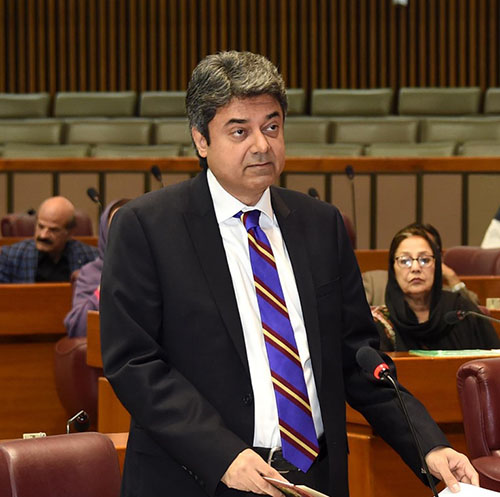 Dismissing Shehbaz's claim that his arrest was a combined act of the NAB and the PTI-led government, Naseem said, "NAB has the power to arrest whether the issue is pending or not. The accountability bureau is an independent institution and did what it did without any interference from the government."
To this, Shehbaz asserted, "I have not spoken about cases in court. I talked about the serious allegations that have been levelled against me."

For the first time, sitting opposition leader has been arrested: Shah
Information Minister Fawad Chaudhry then took to the floor of the House and said, "The leader of the opposition expressed his points freely and we hope that we will be heard in a similar manner."
However, PPP leader Khursheed Shah opposed Chaudhry taking to the floor and said it had been agreed that the government will respond towards the end of the session.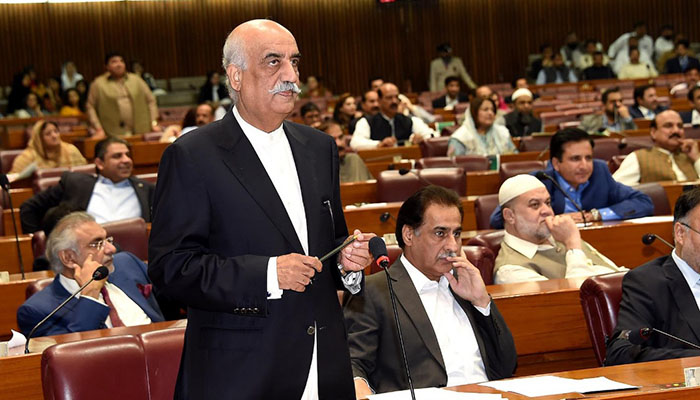 The information minister then asked, "If you don't let us then talk then should we let you?" However, the NA speaker then asked Shah to address the session.
The PPP leader then countered the law minister's statements and said, "Matters pertaining to law and Constitution can be discussed here. "Parliament is not merely for debate."
"We gradually understood the importance of Parliament and it is Supreme. Parliament forms laws for institutions," Shah said. 

"Members of PTI had said they will not approach the IMF and Prime Minister Imran Khan while he was in the Opposition had stated that he should be hanged if he seeks financial aid," Shah said while addressing a National Assembly session summoned to protest over the arrest of opposition leader Shehbaz Sharif.
"But now that you are going to IMF, there is nothing wrong in taking a U-turn over it," he added. "The Constitution does not state that you cannot take a U-turn and it is not a sin," the PPP leader further said.
In an apparent dig at Information Minister Fawad Chaudhry, Shah said, "Those who were our spokespersons until yesterday are now sitting on the other side. They jumped ship after looking at the glossy surface of the other side."
Taking a hit at the government, the PPP leader said, "The debt increased as soon as they assumed power. The stock exchanged dropped from 52,000 points to 36,000 points and dollar is at an all-time high — it was never this high during PML-N or PPP's terms. Why does nobody talk about inflation and the crumbling economy?"
Shah further said, "People are worried and the government is also fearful." 
Slamming Shehbaz's arrest, Shah said, "For the first time in history a sitting leader of the opposition has been arrested. We are not scared that this arrest will bring disaster and have asked the government to make a committee to look into this matter."

Stating that his political career spans over 30 years, Shah said, "There should be an investigation regarding where we have done this corruption that they [government] speaks of."
"We do not know politics of hurling abuses," he added. 
PML-N, PPP appointed NAB chairman: Chaudhry
Taking to the floor after Shah concluded his speech, the information minister said, "They should not talk about victimisation. The vision of this party started after Zulfiqar Ali Bhutto's hanging so they should not talk about victimisation."
"Officials in NAB were appointed by the previous governments and not even a sweeper in the bureau has been hired by us. The NAB chairman was appointed by PPP and PML-N and at the time Nawaz Sharif was prime minister and Khursheed Shah opposition leader."
The information minister asserted, "Not even a single case against the Sharif brothers was initiated by us."

Remarking on Shehbaz's speech on the floor of the House, Chaudhry said, "I was very glad that the opposition leader repeatedly said he will be ashamed and leave the Parliament if corruption is proven against him but I want to ask if the same rules apply on his brother."
"I want to also clarify that cases against Shehbaz will not affect Pakistan and China's relations," he added while dismissing the PML-N president's statements. "Today, our relations with UAE, China, Turkey, Iran and Saudi Arabia are the strongest they have ever been and are continuing to gain strength."
He further commended the NA speaker for issuing production orders of leader of the opposition in NA and said, "The government stands with the opposition on several matters."

However, Chaudhry questioned, "Why does the opposition get worried whenever we talk about catching thieves?"

"Each and every penny in the national exchequer belongs to the people and will be spent on them," he added.
PML-N still won on those four seats PTI created noise over: Asif
Following Chaudhry's speech, PML-N leader Khawja Asif took to the floor and said, "Those four seats on which PTI alleged rigging and created a hue and cry have still been won by the PML-N."
"We had to face dictatorship for eight years," he added.
Shehbaz brought to Parliament House
Earlier today, the leader of the opposition in the National Assembly, who has been in the NAB's custody since October 5 in connection to the Ashiana Housing Scheme case, was brought to the Parliament House by a two-member team of the National Accountability Bureau (NAB).
He was brought to Islamabad from Lahore earlier today for the session. At the Parliament House, the NAB team handed over Shehbaz to the deputy sergeant at arms, who signed on documents regarding the opposition leader's brief custody.
In his chambers, Shehbaz changed his outfit and met Pakistan Peoples Party (PPP) leader Khursheed Shah.
Last week, NA Speaker Asad Qaiser issued Shehbaz's production orders.

The NA session has been summoned on a requisition of PML-N leaders. Shortly after Shehbaz's arrest, a PML-N delegation had visited the NA speaker's house and requisitioned that a session of the Lower House be called immediately to debate over the matter.
On Tuesday, the ruling Pakistan Tehreek-e-Insaf (PTI) agreed upon a strategy to deal with the possible protest that the opposition may carry out during the session today. During an important meeting summoned by Prime Minister Imran Khan, the PTI decided that it would have strong responses in light of the realities of the Opposition's criticism. It is noteworthy that there is a high likelihood that Khan, himself, would also attend today's NA session, sources noted.
A day earlier, an accountability court in Lahore granted NAB a 14-day extension in the physical remand of the former Punjab chief minister. Shehbaz was arrested on October 5 when he appeared before NAB to record his statement in the Punjab Saaf Pani Company case.