KARACHI/ISLAMABAD: A group of women journalists on Thursday met Human Rights Minister Shireen Mazari to discuss "protection of media workers" and "action against online trolls" especially where women journalists are concerned.

During the meeting, the Pakistan chapter of the Coalition For Women In Journalism (CFWIJ) presented to Mazari a list of actions and steps to ensure that "the current climate of abuse, fear and censorship prevalent in the industry" was addressed in a prompt, proper, and effective manner, it said in a statement sent to Geo.tv.

The CFWIJ also emphasised on the dire need for "the government to launch an investigation into the perpetrators behind online and offline attacks. It is imperative that there be accountability against such vicious attacks.
"The group urged the government to register all such cases, especially the thousands of online and offline messages trolling CFWIJ member Asma Shirazi and colleague Hamid Mir, under Cyber Crime Bill.

"The narrowing gap between the online and offline world means that a virtual threat can become a physical one at any point. Families of women journalists also find themselves targeted," it added.

Also among the demands they put forth to Mazari was urging the state to "invest in solid efforts to put a stop to impunity when women journalists get attacked this way".

The delegation that met Mazari comprised senior Pakistani journalists Tanzeela Mazhar, Asma Shirazi, and Azaz Syed, members of the United Nations' gender equality movement #HeForShe, and top officials of the Digital Rights Foundation (DRF) and not-for-profit policy and advocacy Bolo Bhi campaign, including Nighat Dad and Usama Khilji.
CFWIJ's global coordinator, Luavut Zahid, was also present.
'Dismissive of the work'
Speaking to Geo.tv about the "exceedingly precarious situation" that women journalists in Pakistan face every passing day, young journalist Zoya Anwer — who has earlier worked with The News — said she faced trolling most of the time and in many different forms.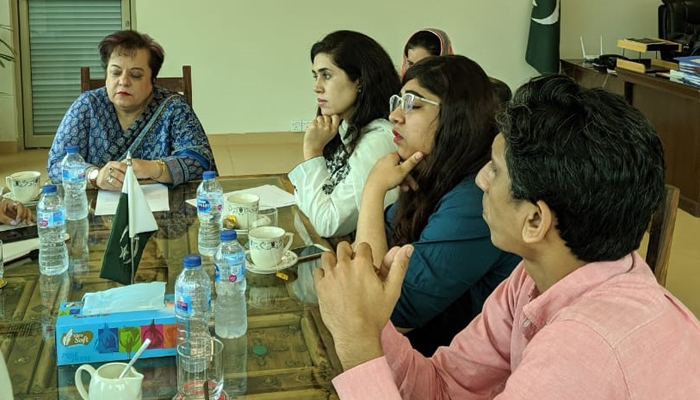 "I experienced it a lot during general elections 2018 when I didn't receive my accreditation pass and I was tweeting about it," she said.

Adding to how comments were not just critical of the stories she wrote, Anwer explained that, "generally, they try to be dismissive of the work" as well".
She noted that "if a story is about women's issues they'd be like how they're not true".
Sonia Ashraf, another journalist associated with a prominent lifestyle and culture publication, agreed.
"If I make the mistake of talking about women's rights, I have gotten some of the sleaziest comments that make me shudder just to think about," she said, adding that people have attempted to — and often succeeded in — finding her social media profiles.
"People also find out my Facebook link or personal Instagram and try to DM me, asking me about meeting or insisting I give them my number," Ashraf added.

Anwer, who often speaks about women's rights and her experiences in public spaces, said sharing political opinions or feminist views leads to getting "weird responses and, at times, they're very personal like about my looks" and "making fun of my [skin] colour".
'Feels so gross'
Ashraf, however, said she believed it was odd "that as a journalist my writing has to be subjected to personal remarks about me being a woman.

"Should I write a review about a geeky movie, I have gotten comments like 'What does a girl know about this stuff?' As if comic books can't be read by women.
"And should I write about societal issues, I've gotten comments like 'The author is hot' and it feels so gross that no one is really listening to what I have to say but all about my looks or my being female," she added.
In fact, even the food reviews that Ashraf often writes attract comments that are, essentially, fat-shaming or remarks about her appearance. They "have a lot of warnings about my gaining weight and getting unattractive.

"I didn't ask for any of that. It's about my work and writing. Sometimes it does get under your skin, you know?"
'Traitors and agents' and 'gross gendered terms'
The organisation's executive director, Kiran Nazish, told Geo.tv that they have been working day and night in order to come up with ways to make the environment for journalists, and especially women journalists, safer and securer from abuse.

"Pakistan [is] one of the most difficult online places for women journalists, next to India, Mexico and Turkey," Nazish said. "We have been doing everything from documenting harassments, online and offline trolling, and physical threats to women journalists," all of which the group condemned.
She added that on an organisational level, too, they have faced trolling and vitriol.
"We have been called all kinds of things from traitors and agents to gross gendered terms, which we rather not name here. The fact is we are just a bunch of journalists trying to keep each other safe from the trauma such kind of trolling causes to our colleagues.
"I think it should be respected," Nazish added.
It was in this regard that the CFWIJ reached out to Mazari, the human rights minister, for assistance on an official level because women journalists are trying to do their job in a safe and secure manner. 

The government's involvement "can really transform the result of our efforts to have a safer and fewer space for women journalists", she explained, adding that Mazari was immediately responsive to their request and set up a meeting.
Minister promises 'serious action'
The minister, she added, has promised to convey and discuss these issues with Prime Minister Imran Khan. "She promised [that] the government will take serious action against trolls."
The CFWIJ's statement noted: "Mazari assured the groups that the government, including the Prime Minister, condemned the fake news, vitriol and threats that affect journalists' dignity, safety and work.

"She further stated that Prime Minister Imran Khan has a clear position against abuse, filthy language and violence against women, including journalists," it read.
Interestingly, according to Nazish, the organisation has been meticulously "archiving data on this for the last two years [and] working with Twitter and social media companies to take action actions trolls on their end".
Therefore, the CFWIJ "welcomes the government's positive response to the issue and hopes that the culprits will face speedy justice, and a proper mechanism will be established to stop online trolls from targeting women journalists.

"We look forward to seeing visible efforts in this direction and will stay tuned for the results," it added.

The resolution the organisation presented to Mazari "was supported by several key international organizations, including Overseas Press Club, Article 19, Pen International, Society of Professional Journalists, African Women Media Association, Missouri University, Journalism school, Splice Media Group, BIRN, and Advocates for Silenced Turkey".