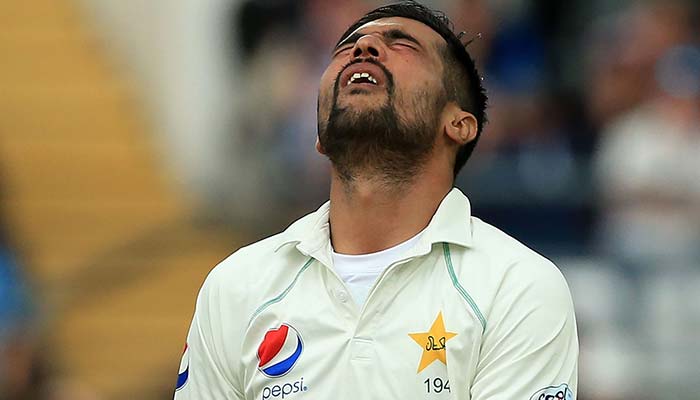 LAHORE: Leading fast bowler Mohammad Amir was set to retire from Test cricket two years ago, but timely intervention from coach Mickey Arthur persuaded him to change his mind, a top official of the Pakistan Cricket Board (PCB) said on Monday.

27-year-old Amir, who is regarded as one of the best left-arm pacers after countryman Wasim Akram, announced his retirement from Test cricket last week but said he would continue to play ODIs and T20s for Pakistan.
Several former players, including Wasim Akram and Shoaib Akhtar, were disappointed by Amir's decision, saying the young paceman still had quite a few years left in his Test career.
But, speaking to reporters on Monday, PCB Managing Director Wasim Khan said Amir would have retired from the longer format earlier had coach Arthur not changed his mind.
"Amir decided to quit Test cricket two years ago and discussed it with Mickey Arthur, who had a few sessions with him on this issue and eventually made him understand that it is not the right decision at this stage and Amir finally changed his mind," the PCB official said.
He said Amir has now announced his retirement and the PCB respects his decision.
"We are disappointed with his decision but we have to respect it as we cannot force him or any player to change his mind at a time when he is mentally ready not to continue," he said.
Wasim said a player is the best judge to decide when to retire and how to preserve his energy to continue in a specific version of the game, knowing his own body strength and most importantly his mental toughness.
"Amir knows about his body strength and future prospects in the game. I think this time he has made his mind after a thorough thought to serve one-day and T20 games with a renewed zeal and determination," he said.
Amir announced his decision to move away from the traditional format on Friday, nine years after a spot-fixing ban halted his burgeoning career.
"It has been an honour to represent Pakistan in the pinnacle and traditional format of the game. I, however, have decided to move away from the longer version so I can concentrate on white ball cricket," Amir said in a statement.
"Playing for Pakistan remains my ultimate desire and objective, and I will try my best to be in the best physical shape to contribute in the team's upcoming challenges, including next year's ICC T20 World Cup."
Amir, who took 119 wickets in his 36-match Test career, said the thought had been on his mind for a while.
"It has not been an easy decision to make and I have been thinking about this for some time. But with the ICC World Test Championship commencing shortly, and Pakistan boasting some very exciting young fast bowlers, it is appropriate that I call on my time in Test cricket so that the selectors can plan accordingly," he said.
"I want to thank all my team-mates as well the opponents in red ball cricket. It has been a privilege to play with and against them. I am sure our paths will continue to cross in limited-overs cricket as all of us play and compete with the same vigour and determination.
"I also want to thank the PCB for providing me the opportunity to don the golden star on my chest. And, I am grateful to my coaches who have groomed me at various stages of my career," he added.
Amir made his Test debut against Sri Lanka in Galle in July 2009, he featured in 36 Tests, taking 119 wickets at an average of 30.47. His best bowling returns – six for 44 – were against the West Indies in Kingston in April 2017.