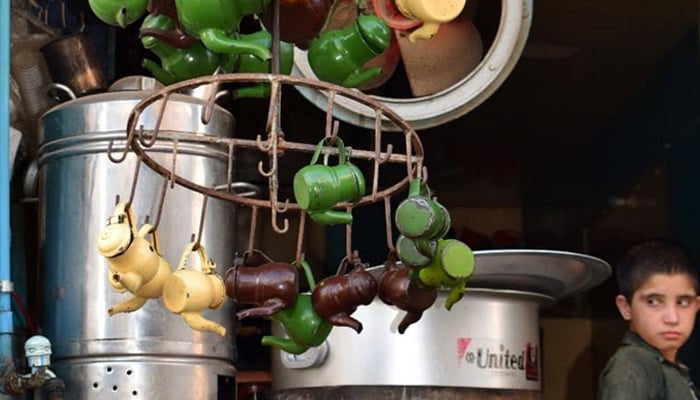 If one was to sample blood from an average Pakistani's body, you would probably find chai running in their veins instead of blood. 

To commemorate the International Tea Day, here are some reasons why Pakistanis love tea more than anything else.

Tea goes with every mood
Feeling Monday blues? Let's have some chai.
Heard some good news? Celebrate with chai.
People came over unexpectedly? Let's share a cup of tea.
Feeling sick? Chai is the medicine.
It's raining? Chai is the perfect companion.
Winters? Chai will warm you up.
Tired? Chai.
Pakistanis consider chai's benefits to be everlasting, so much so that they have incorporated green tea in their weight loss and diet plans.
From meaningless conversation at dhabas (roadside tea shops) to important board meetings and making important life decisions, chai has been a part of it all.
Tea is a socially acceptable drug
On an average, Pakistanis' day doesn't begin until they have had a good cup of karak — or strong — chai. Conversely, their day is also incomplete if there is no evening chai.
Tea marks hospitality for Pakistanis
Even if you get captured by your archrivals, tea will help bridge that gap. Chai is suitable for every occasion.
It is the glue that helps create more relationships, maintain friendships, and, in the case of wing commander Abhinandan's capture, mellow out tense situations that bring countries face-to-face. 

One of the most economical beverages
There is no class discrimination when it comes to chai. Everyone — from the elite to the middle class and labourers — enjoy a good cup of tea. No matter which city you belong to, chai binds everyone together.
It's also the perfect breakfast, pair it with a pack of plain biscuits or a paratha and you're good to go.
Home to all kinds of tea
While some people prefer their chai without milk — otherwise known as kahva (black tea) — and with a dash of lemon, others go berserk for a good cup of doodh patti from a nearby dhaba.
Cardamom tea is another favourite amongst the chai connoisseurs. Kashmiri tea, however, is considered a delicacy, which is prepared overnight with a variety of nuts to top it off.

Adrak (ginger) chai is more commonly known as the cure to everything.
For those on a strict diet and aiming to be fit, green tea works wonders.
And for the very few among us who actually don't like to drink chai, iced tea is still something almost everyone appreciates.
People equate chai to peace
Chai will be your best friend if you need some peace and solitude in your life. Whether you need some time to think, work on your writing, or art, having a cup of tea will help your brain function more effectively.
It's safe to say that no matter what stage you are in your life, chai makes everything better.
Chai is love, chai is life!