This is the story of the elderly Sardar Umer Khan Shar, whose young son, Deen Muhammad, was killed by tribal opponents.

Holding his picture, Shar tells Geo News that his son was murdered after a dispute had already been settled.
Without Deen Muhammad, his life, he says, has become pointless.
"What is this life?" he says, remembering his son. "Day and night, his father, his children, his wife … they all look at his photo and weep. This is hell. When one's son is killed, there's no cure, no healing."
In the Kacha area of Ghotki district, the Shar and Sailra tribes have been embroiled in a years-long war which has cost dozens of lives.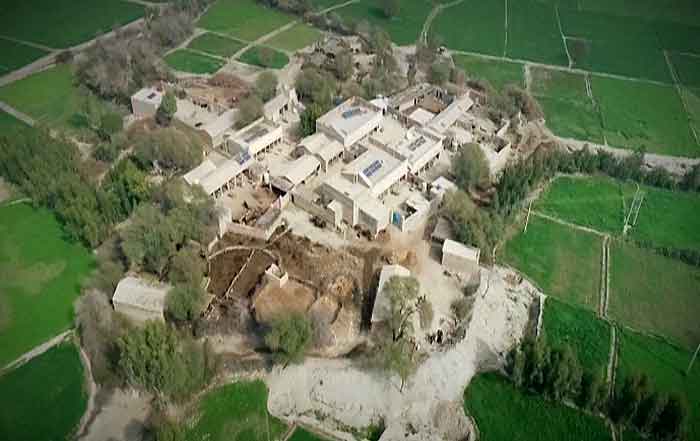 Geo News visited the area to understand what tragedy befell this town. We even visited locations that local police say are 'no-go' areas, even in broad daylight.
It is not simple to reach this area. One has to navigate labyrinthine routes and be constantly wary of the intermittent exchange of gunfire between the locals.
As we had informed the Shar and Sailra tribes in advance of our arrival, a temporary ceasefire was arranged. But though the two groups hid their arms, the bunkers and trenches were silent, glaring indicators of what was transpiring in the area.
Nestled in chaos
Surrounded by lush, vivid green fields, Sardar Umar Shar's village is a sight to behold. But there is no peace for its inhabitants. For some months now, it has been besieged by his tribe's enemies.
Though a truce had been reached between the Shar and Sailra tribes after dozens of people were killed in an earlier conflict, the fight once again flared when Umar Shar's son was killed while he was appearing in court for a hearing.
In retaliation, three young men belonging to the Sailra tribes were gunned down as they worked in their fields. In the five years since that happened, 30 more people have lost their lives.
Sardar Umer Khan Shar, who has already lost his son to the dispute, is exasperated over the ongoing fight.
"Our grief is huge, saeen, our young son was murdered. Our chief is our superior […] but these arguments and fights need to end now.
"I wish for peace. I say, these fights should end. Reconcile. I don't fight, I resolve matters," Shar says.
Like him, many others echo the sentiment, but on the condition of anonymity.
They severely criticize the feudal landlords and the government. They say the common people continue being killed while those in power watch.

"Our children become orphans, our wives, widows. Our lands and our businesses are ruined."
"But how does any of this affect the [tribal] elders?
"This is why this 'business' of bloodthirsty fighting continues."