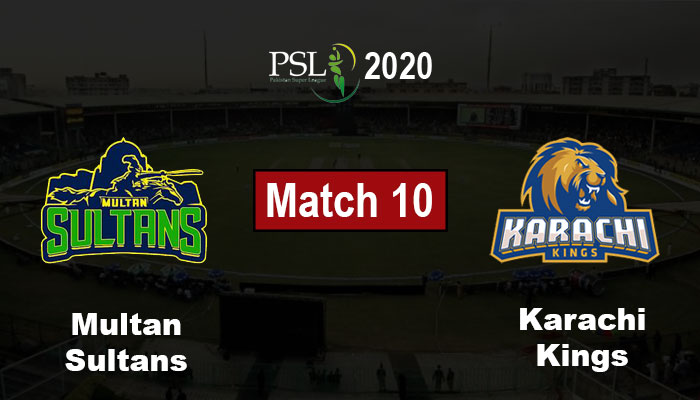 Karachi Kings take on Multan Sultans in the 10th match of the Pakistan Super League (PSL) 2020 at Multan Cricket Stadium.
Multan Sultans have four points while Karachi Kings only have two points. Earlier, Sultans had defeated Lahore Qalandars and Peshawar Zalmi in two of their three games.
Karachi Kings have played just two matches and have won their game against Zalmi.
Live score of the match appears below:
SCORECARD
Multan Sultans 186/6 ( 20.0 OVERS)
Karachi Kings 134/10 ( 17.0 OVERS)
LIVE SCORE
Multan Sultans 186/6 in 20.0 | Karachi Kings:134/10 in 17.0 (Required 53 runs in 18 balls. Req RR : 17.67, RR: 7.88 )
S Tanvir to Mohammad Amir: Bowled!. No runs.

Cur RR: 7.88

134/10 in 17.0
S Tanvir to Mohammad Amir: 2 runs.

Cur RR: 7.96

134/9 in 16.5
S Tanvir to Umer Khan: 1 run.

Cur RR: 7.92

132/9 in 16.4
S Tanvir to Umaid Asif: Wicket!, Caught by RS Bopara. No runs.

Cur RR: 7.94

131/9 in 16.3
S Tanvir to Umer Khan: 1 run.

Cur RR: 8.02

131/8 in 16.2
S Tanvir to Umer Khan: No runs.

Cur RR: 8.04

130/8 in 16.1
Mohammad Ilyas to Umer Khan: 1 run.

Cur RR: 8.12

130/8 in 16.0
Mohammad Ilyas to Umer Khan: No runs.

Cur RR: 8.15

129/8 in 15.5
Mohammad Ilyas to Umaid Asif: 1 run.

Cur RR: 8.23

129/8 in 15.4
Mohammad Ilyas to Umaid Asif: 2 runs.

Cur RR: 8.26

128/8 in 15.3
Mohammad Ilyas to Umaid Asif: SIX.

Cur RR: 8.22

126/8 in 15.2
Mohammad Ilyas to Iftikhar Ahmed: Wicket!, Caught by Khushdil Shah. No runs.

Cur RR: 7.91

120/8 in 15.1
S Tanvir to Iftikhar Ahmed: 1 run.

Cur RR: 8.00

120/7 in 15.0
S Tanvir to Umaid Asif: 1 run.

Cur RR: 8.02

119/7 in 14.5
S Tanvir to Iftikhar Ahmed: 1 run.

Cur RR: 8.05

118/7 in 14.4
S Tanvir to Umaid Asif: 1 run.

Cur RR: 8.07

117/7 in 14.3
S Tanvir to Umaid Asif: wide, 1 run.

Cur RR: 8.09

116/7 in 14.2
S Tanvir to Umaid Asif: No runs.

Cur RR: 8.02

115/7 in 14.2
S Tanvir to Umaid Asif: 2 runs.

Cur RR: 8.12

115/7 in 14.1
Imran Tahir to Umaid Asif: 1 run.

Cur RR: 8.07

113/7 in 14.0
Imran Tahir to Umaid Asif: SIX.

Cur RR: 8.10

112/7 in 13.5
Imran Tahir to Umaid Asif: No runs.

Cur RR: 7.76

106/7 in 13.4
Imran Tahir to Chris Jordan: LBW!. No runs.

Cur RR: 7.85

106/7 in 13.3
Cur RR: 7.95

106/7 in 13.2
Imran Tahir to Iftikhar Ahmed: 1 run.

Cur RR: 7.95

106/6 in 13.2
Imran Tahir to Iftikhar Ahmed: SIX.

Cur RR: 7.97

105/6 in 13.1
Mohammad Irfan to Iftikhar Ahmed: 1 run.

Cur RR: 7.62

99/6 in 13.0
Mohammad Irfan to Chris Jordan: 1 run.

Cur RR: 7.64

98/6 in 12.5
Mohammad Irfan to Chris Jordan: No runs.

Cur RR: 7.66

97/6 in 12.4
Mohammad Irfan to Iftikhar Ahmed: 1 run.

Cur RR: 7.76

97/6 in 12.3
Mohammad Irfan to Iftikhar Ahmed: No runs.

Cur RR: 7.78

96/6 in 12.2
Mohammad Irfan to Iftikhar Ahmed: No runs.

Cur RR: 7.89

96/6 in 12.1
SMSK Afridi to Iftikhar Ahmed: 1 run.

Cur RR: 8.00

96/6 in 12.0
SMSK Afridi to Chris Jordan: 1 run.

Cur RR: 8.03

95/6 in 11.5
SMSK Afridi to Chris Jordan: FOUR.

Cur RR: 8.06

94/6 in 11.4
SMSK Afridi to Chris Jordan: wide, 1 run.

Cur RR: 7.83

90/6 in 11.3
SMSK Afridi to Iftikhar Ahmed: wide, 1 run.

Cur RR: 7.83

90/6 in 11.3
SMSK Afridi to Chris Jordan: 1 run.

Cur RR: 7.74

89/6 in 11.3
SMSK Afridi to Iftikhar Ahmed: 1 run.

Cur RR: 7.76

88/6 in 11.2
SMSK Afridi to Iftikhar Ahmed: No runs.

Cur RR: 7.79

87/6 in 11.1
Imran Tahir to Chris Jordan: No runs.

Cur RR: 7.91

87/6 in 11.0
Imran Tahir to Iftikhar Ahmed: No runs.

Cur RR: 7.91

87/6 in 11.0
Imran Tahir to CAK Walton: Wicket!, Caught by Khushdil Shah. No runs.

Cur RR: 8.03

87/6 in 10.5
Imran Tahir to CAK Walton: Wicket!, Caught by RS Bopara. No runs.

Cur RR: 8.03

87/6 in 10.5
Imran Tahir to CAK Walton: FOUR.

Cur RR: 8.16

87/5 in 10.4
Imran Tahir to CAK Walton: SIX.

Cur RR: 7.90

83/5 in 10.3
Imran Tahir to Iftikhar Ahmed: 1 run.

Cur RR: 7.45

77/5 in 10.2
Imran Tahir to CAK Walton: 1 run.

Cur RR: 7.48

76/5 in 10.1
SMSK Afridi to Iftikhar Ahmed: No runs.

Cur RR: 7.50

75/5 in 10.0
SMSK Afridi to Iftikhar Ahmed: No runs.

Cur RR: 7.63

75/5 in 9.5
SMSK Afridi to SI Wasim: Wicket!, Caught by Zeeshan Ashraf. No runs.

Cur RR: 7.76

75/5 in 9.4
SMSK Afridi to SI Wasim: No runs.

Cur RR: 7.89

75/4 in 9.3
SMSK Afridi to SI Wasim: FOUR.

Cur RR: 8.04

75/4 in 9.2
SMSK Afridi to CAK Walton: 1 run.

Cur RR: 7.75

71/4 in 9.1
Imran Tahir to CAK Walton: 1 run.

Cur RR: 7.78

70/4 in 9.0
Imran Tahir to CAK Walton: No runs.

Cur RR: 7.81

69/4 in 8.5
Imran Tahir to SI Wasim: 1 run.

Cur RR: 7.96

69/4 in 8.4
Imran Tahir to SI Wasim: No runs.

Cur RR: 8.00

68/4 in 8.3
Imran Tahir to C Delport: Wicket!, Caught by Moeen Ali. No runs.

Cur RR: 8.33

68/4 in 8.1
SMSK Afridi to CAK Walton: 2 runs.

Cur RR: 8.50

68/3 in 8.0
SMSK Afridi to AD Hales: Wicket!, Caught by Shan Masood. No runs.

Cur RR: 8.43

66/3 in 7.5
SMSK Afridi to AD Hales: No runs.

Cur RR: 8.61

66/2 in 7.4
SMSK Afridi to C Delport: 1 run.

Cur RR: 8.80

66/2 in 7.3
SMSK Afridi to C Delport: No runs.

Cur RR: 8.86

65/2 in 7.2
SMSK Afridi to AD Hales: 1 run.

Cur RR: 9.07

65/2 in 7.1
Mohammad Ilyas to AD Hales: 1 run.

Cur RR: 9.14

64/2 in 7.0
Mohammad Ilyas to C Delport: 1 run.

Cur RR: 9.22

63/2 in 6.5
Mohammad Ilyas to C Delport: No runs.

Cur RR: 9.30

62/2 in 6.4
Mohammad Ilyas to C Delport: SIX.

Cur RR: 9.54

62/2 in 6.3
Mohammad Ilyas to AD Hales: 1 run.

Cur RR: 8.84

56/2 in 6.2
Mohammad Ilyas to AD Hales: No runs.

Cur RR: 8.92

55/2 in 6.1
S Tanvir to AD Hales: 1 run.

Cur RR: 9.17

55/2 in 6.0
S Tanvir to AD Hales: No runs.

Cur RR: 9.26

54/2 in 5.5
S Tanvir to AD Hales: No runs.

Cur RR: 9.53

54/2 in 5.4
S Tanvir to AD Hales: FOUR.

Cur RR: 9.82

54/2 in 5.3
S Tanvir to AD Hales: FOUR.

Cur RR: 9.38

50/2 in 5.2
S Tanvir to AD Hales: No runs.

Cur RR: 8.90

46/2 in 5.1
Mohammad Irfan to AD Hales: 1 run.

Cur RR: 9.20

46/2 in 5.0
Mohammad Irfan to Babar Azam: Wicket!, Caught by Mohammad Ilyas. No runs.

Cur RR: 9.31

45/2 in 4.5
Mohammad Irfan to Babar Azam: No runs.

Cur RR: 9.64

45/1 in 4.4
Mohammad Irfan to Babar Azam: No runs.

Cur RR: 10.00

45/1 in 4.3
Mohammad Irfan to AD Hales: 1 run.

Cur RR: 10.38

45/1 in 4.2
Mohammad Irfan to Babar Azam: 1 run.

Cur RR: 10.56

44/1 in 4.1
Moeen Ali to AD Hales: SIX.

Cur RR: 10.75

43/1 in 4.0
Moeen Ali to Babar Azam: 1 run.

Cur RR: 9.65

37/1 in 3.5
Moeen Ali to Babar Azam: FOUR.

Cur RR: 9.82

36/1 in 3.4
Moeen Ali to AD Hales: 1 run.

Cur RR: 9.14

32/1 in 3.3
Moeen Ali to AD Hales: FOUR.

Cur RR: 9.30

31/1 in 3.2
Moeen Ali to Babar Azam: 1 run.

Cur RR: 8.53

27/1 in 3.1
Mohammad Irfan to AD Hales: No runs.

Cur RR: 8.67

26/1 in 3.0
Mohammad Irfan to AD Hales: FOUR.

Cur RR: 9.18

26/1 in 2.5
Mohammad Irfan to AD Hales: No runs.

Cur RR: 8.25

22/1 in 2.4
Mohammad Irfan to AD Hales: No runs.

Cur RR: 8.80

22/1 in 2.3
Mohammad Irfan to Babar Azam: 1 run.

Cur RR: 9.43

22/1 in 2.2
Mohammad Irfan to Babar Azam: 2 runs.

Cur RR: 9.69

21/1 in 2.1
Moeen Ali to Sharjeel Khan: LBW!. No runs.

Cur RR: 9.50

19/1 in 2.0
Moeen Ali to Sharjeel Khan: FOUR.

Cur RR: 10.36

19/0 in 1.5
Moeen Ali to Babar Azam: 1 run.

Cur RR: 9.00

15/0 in 1.4
Moeen Ali to Babar Azam: 2 runs.

Cur RR: 9.33

14/0 in 1.3
Moeen Ali to Babar Azam: No runs.

Cur RR: 9.00

12/0 in 1.2
Moeen Ali to Sharjeel Khan: 1 run.

Cur RR: 10.29

12/0 in 1.1
Mohammad Irfan to Sharjeel Khan: 1 run.

Cur RR: 11.00

11/0 in 1.0
Mohammad Irfan to Sharjeel Khan: No runs.

Cur RR: 12.00

10/0 in 0.5
Mohammad Irfan to Sharjeel Khan: No runs.

Cur RR: 15.00

10/0 in 0.4
Mohammad Irfan to Sharjeel Khan: FOUR.

Cur RR: 20.00

10/0 in 0.3
Mohammad Irfan to Sharjeel Khan: SIX.

Cur RR: 18.00

6/0 in 0.2
Mohammad Irfan to Sharjeel Khan: No runs.

Cur RR: 0.00

0/0 in 0.1
Chris Jordan to S Tanvir: 2 runs.

Cur RR: 9.30

186/6 in 20.0
Chris Jordan to Khushdil Shah: Wicket!, Caught by CAK Walton. No runs.

Cur RR: 9.28

184/6 in 19.5
Chris Jordan to SMSK Afridi: 1 run.

Cur RR: 9.36

184/5 in 19.4
Chris Jordan to SMSK Afridi: No runs.

Cur RR: 9.38

183/5 in 19.3
Chris Jordan to Khushdil Shah: 1 run.

Cur RR: 9.47

183/5 in 19.2
Chris Jordan to Khushdil Shah: 2 runs.

Cur RR: 9.50

182/5 in 19.1
Mohammad Amir to SMSK Afridi: No runs.

Cur RR: 9.47

180/5 in 19.0
Mohammad Amir to Khushdil Shah: 1 run.

Cur RR: 9.56

180/5 in 18.5
Mohammad Amir to Khushdil Shah: 2 runs.

Cur RR: 9.59

179/5 in 18.4
Mohammad Amir to Khushdil Shah: 2 runs.

Cur RR: 9.57

177/5 in 18.3
Mohammad Amir to RS Bopara: Wicket!, Caught by Umaid Asif. No runs.

Cur RR: 9.55

175/5 in 18.2
Mohammad Amir to RS Bopara: wide, 1 run.

Cur RR: 9.63

175/4 in 18.1
Mohammad Amir to Khushdil Shah: legbye, 1 run.

Cur RR: 9.58

174/4 in 18.1
Chris Jordan to RS Bopara: SIX.

Cur RR: 9.61

173/4 in 18.0
Chris Jordan to Khushdil Shah: 1 run.

Cur RR: 9.36

167/4 in 17.5
Chris Jordan to RS Bopara: 1 run.

Cur RR: 9.40

166/4 in 17.4
Chris Jordan to Khushdil Shah: 1 run.

Cur RR: 9.43

165/4 in 17.3
Chris Jordan to Shan Masood: Bowled!. No runs.

Cur RR: 9.46

164/4 in 17.2
Chris Jordan to RS Bopara: 1 run.

Cur RR: 9.55

164/3 in 17.1
C Delport to Shan Masood: FOUR.

Cur RR: 9.59

163/3 in 17.0
C Delport to Shan Masood: FOUR.

Cur RR: 9.45

159/3 in 16.5
C Delport to Shan Masood: FOUR.

Cur RR: 9.30

155/3 in 16.4
C Delport to Shan Masood: 2 runs.

Cur RR: 9.15

151/3 in 16.3
C Delport to RS Bopara: 1 run.

Cur RR: 9.12

149/3 in 16.2
C Delport to Shan Masood: 1 run.

Cur RR: 9.15

148/3 in 16.1
Mohammad Amir to Shan Masood: 1 run.

Cur RR: 9.19

147/3 in 16.0
Mohammad Amir to Shan Masood: SIX.

Cur RR: 9.22

146/3 in 15.5
Mohammad Amir to Rilee Rossouw: Wicket!, Caught by Babar Azam. No runs.

Cur RR: 8.94

140/3 in 15.4
Mohammad Amir to Shan Masood: Wicket!, Caught by Babar Azam. No runs.

Cur RR: 8.87

139/3 in 15.4
Mohammad Amir to Rilee Rossouw: 1 run.

Cur RR: 8.97

139/2 in 15.3
Mohammad Amir to Shan Masood: 1 run.

Cur RR: 9.00

138/2 in 15.2
Mohammad Amir to Shan Masood: noball, 1 run.

Cur RR: 9.03

137/2 in 15.1
Mohammad Amir to Shan Masood: 1 run.

Cur RR: 8.93

137/2 in 15.2
Mohammad Amir to Shan Masood: FOUR.

Cur RR: 8.97

136/2 in 15.1
Iftikhar Ahmed to Shan Masood: 1 run.

Cur RR: 8.80

132/2 in 15.0
Iftikhar Ahmed to Shan Masood: 2 runs.

Cur RR: 8.83

131/2 in 14.5
Iftikhar Ahmed to Shan Masood: FOUR.

Cur RR: 8.80

129/2 in 14.4
Iftikhar Ahmed to Shan Masood: FOUR.

Cur RR: 8.80

129/2 in 14.4
Iftikhar Ahmed to Rilee Rossouw: 1 run.

Cur RR: 8.62

125/2 in 14.3
Iftikhar Ahmed to Rilee Rossouw: FOUR.

Cur RR: 8.65

124/2 in 14.2
Iftikhar Ahmed to Shan Masood: 1 run.

Cur RR: 8.47

120/2 in 14.1
Umaid Asif to Shan Masood: 1 run.

Cur RR: 8.50

119/2 in 14.0
Umaid Asif to Shan Masood: 2 runs.

Cur RR: 8.53

118/2 in 13.5
Umaid Asif to Shan Masood: 2 runs.

Cur RR: 8.49

116/2 in 13.4
Umaid Asif to Shan Masood: No runs.

Cur RR: 8.44

114/2 in 13.3
Umaid Asif to Shan Masood: No runs.

Cur RR: 8.55

114/2 in 13.2
Umaid Asif to Rilee Rossouw: 1 run.

Cur RR: 8.66

114/2 in 13.1
C Delport to Shan Masood: FOUR.

Cur RR: 8.69

113/2 in 13.0
C Delport to Shan Masood: No runs.

Cur RR: 8.38

109/2 in 13.0
C Delport to Shan Masood: No runs.

Cur RR: 8.49

109/2 in 12.5
C Delport to Shan Masood: FOUR.

Cur RR: 8.61

109/2 in 12.4
C Delport to Rilee Rossouw: 1 run.

Cur RR: 8.40

105/2 in 12.3
C Delport to Shan Masood: 1 run.

Cur RR: 8.43

104/2 in 12.2
C Delport to Shan Masood: No runs.

Cur RR: 8.47

103/2 in 12.1
Umaid Asif to Shan Masood: 1 run.

Cur RR: 8.58

103/2 in 12.0
Umaid Asif to Moeen Ali: Wicket!, Caught by C Delport. No runs.

Cur RR: 8.62

102/2 in 11.5
Umaid Asif to Moeen Ali: No runs.

Cur RR: 8.74

102/1 in 11.4
Umaid Asif to Moeen Ali: FOUR.

Cur RR: 8.87

102/1 in 11.3
Umaid Asif to Moeen Ali: No runs.

Cur RR: 8.65

98/1 in 11.2
Umaid Asif to Moeen Ali: No runs.

Cur RR: 8.78

98/1 in 11.1
C Delport to Moeen Ali: 1 run.

Cur RR: 8.91

98/1 in 11.0
C Delport to Shan Masood: 1 run.

Cur RR: 8.95

97/1 in 10.5
C Delport to Moeen Ali: 1 run.

Cur RR: 9.00

96/1 in 10.4
C Delport to Moeen Ali: 2 runs.

Cur RR: 9.05

95/1 in 10.3
C Delport to Moeen Ali: No runs.

Cur RR: 9.00

93/1 in 10.2
C Delport to Shan Masood: 1 run.

Cur RR: 9.15

93/1 in 10.1
Iftikhar Ahmed to Moeen Ali: 2 runs.

Cur RR: 9.20

92/1 in 10.0
Iftikhar Ahmed to Moeen Ali: SIX.

Cur RR: 9.15

90/1 in 9.5
Iftikhar Ahmed to Moeen Ali: FOUR.

Cur RR: 8.69

84/1 in 9.4
Iftikhar Ahmed to Moeen Ali: SIX.

Cur RR: 8.42

80/1 in 9.3
Iftikhar Ahmed to Moeen Ali: 2 runs.

Cur RR: 7.93

74/1 in 9.2
Iftikhar Ahmed to Shan Masood: 1 run.

Cur RR: 7.85

72/1 in 9.1
C Delport to Shan Masood: 1 run.

Cur RR: 7.89

71/1 in 9.0
C Delport to Moeen Ali: 1 run.

Cur RR: 7.92

70/1 in 8.5
C Delport to Shan Masood: 1 run.

Cur RR: 7.96

69/1 in 8.4
C Delport to Moeen Ali: 1 run.

Cur RR: 8.00

68/1 in 8.3
C Delport to Shan Masood: 1 run.

Cur RR: 8.04

67/1 in 8.2
C Delport to Moeen Ali: 1 run.

Cur RR: 8.08

66/1 in 8.1
Chris Jordan to Moeen Ali: 1 run.

Cur RR: 8.12

65/1 in 8.0
Chris Jordan to Shan Masood: legbye, 1 run.

Cur RR: 8.17

64/1 in 7.5
Chris Jordan to Shan Masood: No runs.

Cur RR: 8.22

63/1 in 7.4
Chris Jordan to Moeen Ali: 1 run.

Cur RR: 8.40

63/1 in 7.3
Chris Jordan to Shan Masood: 1 run.

Cur RR: 8.45

62/1 in 7.2
Chris Jordan to Moeen Ali: 1 run.

Cur RR: 8.51

61/1 in 7.1
SI Wasim to Moeen Ali: 1 run.

Cur RR: 8.57

60/1 in 7.0
SI Wasim to Moeen Ali: SIX.

Cur RR: 8.63

59/1 in 6.5
SI Wasim to Moeen Ali: FOUR.

Cur RR: 7.95

53/1 in 6.4
SI Wasim to Shan Masood: 1 run.

Cur RR: 7.54

49/1 in 6.3
SI Wasim to Shan Masood: No runs.

Cur RR: 7.58

48/1 in 6.2
Chris Jordan to Shan Masood: 1 run.

Cur RR: 8.00

48/1 in 6.0
Chris Jordan to Moeen Ali: 1 run.

Cur RR: 8.06

47/1 in 5.5
Chris Jordan to Shan Masood: 1 run.

Cur RR: 8.12

46/1 in 5.4
Chris Jordan to Moeen Ali: 1 run.

Cur RR: 8.18

45/1 in 5.3
Chris Jordan to Moeen Ali: FOUR.

Cur RR: 8.25

44/1 in 5.2
Chris Jordan to Shan Masood: 1 run.

Cur RR: 7.74

40/1 in 5.1
Iftikhar Ahmed to Moeen Ali: No runs.

Cur RR: 7.80

39/1 in 5.0
Iftikhar Ahmed to Moeen Ali: SIX.

Cur RR: 8.07

39/1 in 4.5
Iftikhar Ahmed to Moeen Ali: No runs.

Cur RR: 7.07

33/1 in 4.4
Iftikhar Ahmed to Shan Masood: 1 run.

Cur RR: 7.33

33/1 in 4.3
Iftikhar Ahmed to Moeen Ali: 1 run.

Cur RR: 7.38

32/1 in 4.2
Iftikhar Ahmed to Zeeshan Ashraf: Wicket!, Caught by Babar Azam. No runs.

Cur RR: 7.44

31/1 in 4.1
Umaid Asif to Moeen Ali: 2 runs.

Cur RR: 7.75

31/0 in 4.0
Umaid Asif to Moeen Ali: 1 run.

Cur RR: 7.50

30/0 in 4.0
Umaid Asif to Zeeshan Ashraf: 1 run.

Cur RR: 7.57

29/0 in 3.5
Umaid Asif to Zeeshan Ashraf: FOUR.

Cur RR: 7.64

28/0 in 3.4
Umaid Asif to Zeeshan Ashraf: No runs.

Cur RR: 6.86

24/0 in 3.3
Umaid Asif to Zeeshan Ashraf: SIX.

Cur RR: 7.20

24/0 in 3.2
Umaid Asif to Zeeshan Ashraf: No runs.

Cur RR: 5.68

18/0 in 3.1
Mohammad Amir to Zeeshan Ashraf: 1 run.

Cur RR: 6.00

18/0 in 3.0
Mohammad Amir to Moeen Ali: 1 run.

Cur RR: 6.00

17/0 in 2.5
Mohammad Amir to Moeen Ali: No runs.

Cur RR: 6.00

16/0 in 2.4
Mohammad Amir to Zeeshan Ashraf: 1 run.

Cur RR: 6.40

16/0 in 2.3
Mohammad Amir to Moeen Ali: 1 run.

Cur RR: 6.43

15/0 in 2.2
Mohammad Amir to Zeeshan Ashraf: 1 run.

Cur RR: 6.46

14/0 in 2.1
Umaid Asif to Zeeshan Ashraf: 1 run.

Cur RR: 6.50

13/0 in 2.0
Umaid Asif to Zeeshan Ashraf: FOUR.

Cur RR: 6.55

12/0 in 1.5
Umaid Asif to Zeeshan Ashraf: FOUR.

Cur RR: 4.80

8/0 in 1.4
Umaid Asif to Moeen Ali: legbye, 1 run.

Cur RR: 2.67

4/0 in 1.3
Umaid Asif to Moeen Ali: 2 runs.

Cur RR: 2.25

3/0 in 1.2
Umaid Asif to Moeen Ali: No runs.

Cur RR: 0.86

1/0 in 1.1
Mohammad Amir to Zeeshan Ashraf: No runs.

Cur RR: 1.00

1/0 in 1.0
Mohammad Amir to Moeen Ali: 1 run.

Cur RR: 1.20

1/0 in 0.5
Mohammad Amir to Moeen Ali: No runs.

Cur RR: 0.00

0/0 in 0.4
Mohammad Amir to Moeen Ali: No runs.

Cur RR: 0.00

0/0 in 0.3
Mohammad Amir to Moeen Ali: No runs.

Cur RR: 0.00

0/0 in 0.2
Mohammad Amir to Moeen Ali: No runs.

Cur RR: 0.00

0/0 in 0.1