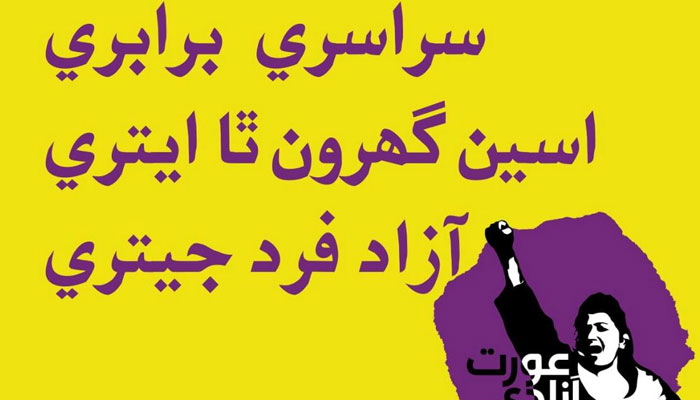 For the first time, since the Aurat March began in 2018, women from northern Sindh will march in solidarity with their sisters nationwide, demanding gender equality.
Those sounding the rallying cry, in the city of Jamshoro and Sukkur, are Amar Sindhu, a university teacher, and her friend Arfana Mallah.
Women and men from all backgrounds will participate in the march, under the banner of "Aurat Azadi March Joint Action Committee", on March 8.
"This is a revolution," Sindhu told Geo.tv, "Our campaign aims to give a voice to voiceless, therefore women from rural areas. We hope to embolden them to stand up against domestic violence and other forms of suppression."
The northern areas of the Sindh province is made up of eight districts: Sukkur, Khairpur, Qambar Shahdadkot, Ghotki, Larkana, Shikarpur, Kashmore and Jacobabad.
"Northern Sindh is still deeply rooted in a conservative and tribal culture," Mallah explained. "In northern Sindh, every year a large number of women are killed in the name of so-called 'honor', or due to domestic violence. Then there are cases of child marriages and forced conversion of minor Hindu girls."
In 2018, 1,643 cases of domestic violence were reported in the province, according to the Sindh's Women Development Department. Local activists fear that a larger number of cases go unreported.
The manifesto of the Aurat March Sukkur is simple. Their placards read: "My job, my right," "Aurat azad, samaaj azad" (For a free society, free women), "What I earn is my right" and "Equality and education for all."
Yet, there was, predictably, pushback from the conservative circles in the province.
After women in Sukkur announced their plans to march, Rashid Mehmood Soomro, the Jamiat Ulema-e Islam-F's leader in Sindh, called the march "vulgar". He further threatened to stop the demonstration by force, in a video posted on social media. Soomro also insisted that his political party will file a police complaint against the march.
However, there were no takers in the local police force. The district police authorities in Sukkur instead responded by vowing to provide security to the men and women marching on Sunday.
Bolstering the courage of the women was the statement of camaraderie from Asif Ali Zardari, former president and co-chairman of the Pakistan People's Party, which rules Sindh. Zardari recently announced that his provincial government will provide complete security to facilitate the march.
"The mindset that women are weak and inferior will be defeated" he is reported to have said. He further added that his daughters, Bakhtawar and Aseefa, represented women's voice.
"I want to thank the JUI-F leader for his controversial video," says Sindhu, "Because of him a lot of people, especially men, are now coming forward to support us."