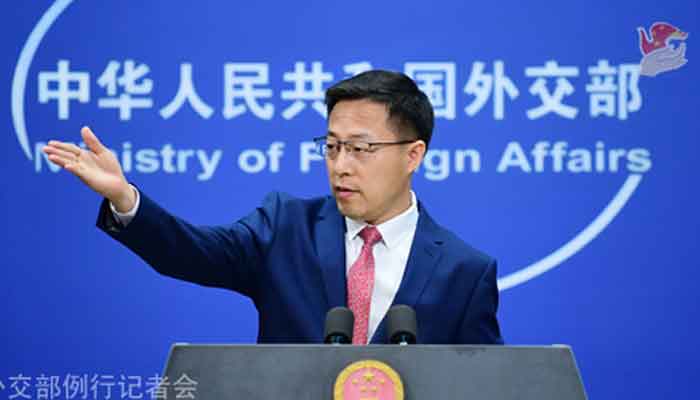 China has condemned the attack on Pakistan Stock Exchange in Karachi on Monday and supported Pakistan's efforts to combat terrorism.
Two security guards and a policeman embraced martyrdom when gunmen armed with grenades targeted the PSX compound in the city today in a bid to take hostages.
Director General Sindh Rangers Major-General Omer Ahmed Bokhari told media that they had come to carry out an attack inside the building and take hostages inside, adding that all attackers had been killed within eight minutes.
Chinese foreign ministry spokesman Zhao Lijian, in response to a question regarding the storming of the PSX building in the metropolis today said, "China condemns all forms of terrorist attacks. We extend our condolences over the passing of the innocent victims and sympathy to the bereaved families and the injured".
He said China firmly opposes terrorism in all manifestations and supports Pakistan's efforts to combat terrorism and safeguarding national security and stability.
- Sleeper cells -
Saluting the security forces for valiantly saving the innocent lives in the ghastly attack, Foreign Minister Shah Mehmood Qureshi said Pakistan  has repeatedly warned about externally supported terrorism.
FM Qureshi had a few days ago pointed out that India can mobilise sleeper cells in Pakistan, to divert attention from its internal issues and disrupt peace in the neighbouring country.
"Let it be Line of Control (LoC) firing provocations or any other matter, India cannot see enduring peace in Pakistan," Qureshi said in a statement.
He said the BJP government was under immense pressure and Pakistan would have to minutely deliberate over the current situation.
The foreign minister said be it was Waziristan or LoC, India neither wanted peace in Pakistan nor even in Afghanistan. India was acting irresponsibly and playing a subversive role in Afghanistan, he added.
'State-sponsored terrorism'
Meanwhile, Special Assistant to the Prime Minister on National Security Dr Moeed Yusuf hinted that India might be behind this attack.
"The world must wake up to suicidal tendencies of this destabilizing actor that is finding distractions to overcome its own failures and embarrasment. Our warnings have come true repeatedly. Whether on demographic re-engineering in #Kashmir or sponsored terrorism against Pakistan," the SAPM tweeted.
"Pakistan's enemy is naked in its aggression. Make no mistake, today's attack in Karachi is state-sponsored terrorism against Pakistan."
He urged that international community to publicly call out and condemn countries that perpetrate terrorism against Pakistan.
"There is an established link b/w BLA, an int'l listed terror org, and India, a state led by fascist govt that has again perpetrated terrorism in Pakistan through its proxies."