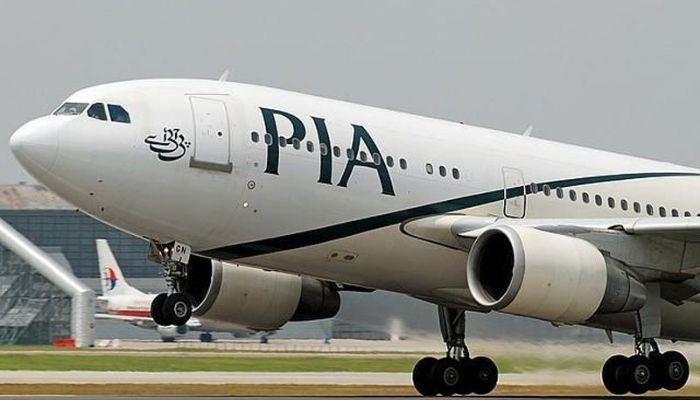 IATA Consultancy, an international aviation firm, presents business plan for Pakistan International Airline (PIA).
PIA reported a loss of Rs34.6 billion in the financial year 2020.

By 2026, PIA assets would increase from $1.196 billion to $2.183 billion as a result of the plan's implementation.

---
KARACHI: IATA Consultancy, an international aviation firm, has presented a business plan for Pakistan International Airlines (PIA), which, if adopted, would see the loss-making state-owned airline break even by 2025 and generate 3.4 percent profits the following year.
On Tuesday, Minister of Finance and Revenue Shaukat Tarin and Minister of Aviation Ghulam Sarwar Khan were briefed with a complete business plan covering the years 2022 to 2026.
The meeting was also attended by the secretary of aviation, the secretary of finance, the secretary of EAD, the PIA board of directors and members, the PIA CEO, and senior executives.

By 2026, PIA assets would increase from $1.196 billion to $2.183 billion as a result of the plan's implementation.
In the fiscal year 2020, PIA recorded a loss of Rs34.6 billion. According to experts, losses in FY2021 to have escalated dramatically due to the pandemic and, more importantly, the chain of events that followed the fake pilot licences controversy, which rendered Pakistani pilots unfit to fly to the United States and Europe.
The proposal was commissioned by the Ministry of Finance last year in response to a study by Dr Ishrat Hussain, a former special counsellor to the prime minister on public enterprise reforms.
Dr. Ishrat's study was also referred to as a comprehensive restructuring strategy for PIA in order to not only make it profitable, but also to turn it into a viable business unit focused on its core functions.
Officials at the helm of the finance ministry and the planning commission sought a business plan created by an international consultant for PIA because the proposal required financial restructuring worth hundreds of billions of rupees.
For that reason, IATA's consultancy services were employed, and after a year, they prepared a five-year corporate business transformation plan, with the current year 2022 as the base year and running through 2026.
Financial restructuring, independent decision-making, reorganisation of the company structure, restrictions on core business, financial discipline, HR rationalisation cost controls, review destinations, a fleet planning exercise, and network expansion are among the key points of the business plan, which will increase PIA's network spread and passenger uplift.
By 2026, PIA's fleet will have grown from 29 to 49 aircraft, with 16 wide-body, 27 narrow-body, and 6 turboprop planes. The fleet will be utilised to expand on existing profitable routes in the UK, Saudi Arabia, the United Arab Emirates, and the Gulf, as well as to serve markets such as Baku, Hong Kong, Istanbul, Kuwait, Tehran, Urumqi, and Singapore.
As a result, PIA's passenger numbers would increase from 5.2 million to 9.0 million per year, and income would increase to $1.7 billion per year by 2026. By 2025, these initiatives should help the carrier break even. By the end of the programme, PIA would be operating 581 round trip flights every week, up from 359 now.
As GDP and traffic rebound, so should travel propensity, which is expected to return to 2019 levels by 2024. Domestic travel is likely to rebound faster than international traffic, according to IATA traffic predictions collected by Oxford Economics, with both returning to 2019 levels by 2022 and 2024, respectively. As a result, PIA should prioritise the local market in the near and medium term.
The projection also considers worldwide aviation possibilities and concerns, namely the Covid-19 COVID-19 pandemic-related travel limitations and reduced demand, as well as the country's macro environmental and economic challenges.
However, the plan is contingent on a number of conditions, the most crucial of which being the Pakistani government's resolve to restructure PIA's debt, which is beyond the airline's operable capacity.
This would also free up cash flow, allowing it to invest in product improvement projects that are crucial to the company's long-term survival.
The strategy also calls on the government to guarantee that the National Aviation Policy is followed, ensuring that Pakistani airlines have a level playing field.
IATA believes that PIA may be operated under private management principles, including procurement processes.
It also implies that outside influence on company matters should be limited, and that constant public scrutiny should be reduced, as it not only obstructs the managers' vital corporate obligations, but also produces terrible public relations for the organisation.
Tarin thanked the consultant for the thorough report. He stressed that PIA was the country's flag carrier and that it needed to be a world-class carrier. He went on to say that the current government is committed to bringing PIA back to its former glory and turning it into a profitable operating business.
In order to make PIA a flourishing organisation that can contribute to Pakistan's economic development and serve communities at home and abroad, he also stressed the importance of focusing on the Pakistani diaspora, improving customer service, and considering the possibility of direct flights in the business plan.
On Tuesday, the PIA's share price jumped by 6% to Rs4.27.