Index oscillates between red and green following news flow.
Closes on a flat note with a minor increase of 73 points, at 40,150.
AHL expects the market to remain positive in the upcoming weeks.
---
KARACHI: Trading at the Pakistan Stock Exchange (PSX) remained choppy for most of the sessions in the outgoing futures rollover week as its benchmark KSE-100 index oscillated between the red and green, following the news flow. It closed on a flat note with a minor increase of 73 points, or 0.18%, at 40,150 points.
The stock market commenced the week on a negative note as political and economic uncertainty kept investors on edge.
Moreover, the Pakistani rupee continued its free fall against the US dollar (reaching an all-time low of 239.94) amid scepticism over the release of the International Monetary Fund (IMF) tranche.

Volatility became more evident as the current account deficit climbed up by 39% year-on-year during June 2022, to clock in at $2.3 billion.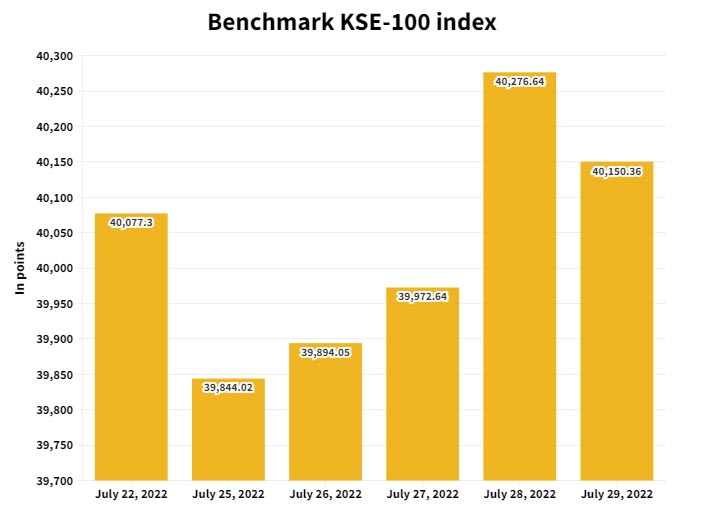 However, the sentiment turned positive after finance minister Miftah Ismail reiterated that all prior actions have been undertaken for the revival of the IMF programme.
Furthermore, the State Bank of Pakistan's (SBP) acting governor echoed the finance minister's statement and rejected claims of default on global payments in near future.
In addition to this, Fitch and Moody's showed optimism over the disbursement of $1.2 billion from IMF soon. Albeit, S&P Global downgraded Pakistan's credit outlook from neutral to negative, keeping the bourse in check.

Other major developments during the week were: ICI Pakistan planning to acquire a 75% stake in Lotte Chemical, SBP's forex reserves falling $754 million to $8.6 billion, cabinet approving Rs3.50 per unit hike in power tariff, ECC deciding to increase RLNG rate to $9 per MMBTU for export-oriented sectors, and ECC approving revision in dealer margin of MS (petrol) and hi-speed diesel from Rs4.90 per litre and Rs4.13 per litre to Rs7 per litre.

Meanwhile, foreign buying this week clocked in at $0.57 million against a net buy of $1.64 million recorded last week. Buying was witnessed in technology ($3 million), and textile ($0.64 million).
On the domestic front, major selling was reported by individuals ($2.04 million), followed by insurance companies ($1.78 million).
During the week under review, average volumes clocked in at 150 million shares (down by 8% week-on-week), while average value traded settled at $22 million (up by 3% week-on-week).
Major gainers and losers of the week
Sector-wise positive contributions came from technology (+176 points), banks (+138 points), exploration and production (+58 points), chemical (+37 points), and oil marketing companies (+16 points).
On the flip side, negative contributions came from fertiliser (-231 points), automobile assembler (-73 points), and cement (-35points).
Scrip-wise major gainers were TRG Pakistan (+132 points), Lotte Chemical Pakistan (+51 points), Pakistan Oilfields (+47 points), Bank Alfalah (+46 points), and HBL (+30 points).
Meanwhile, major losers were Engro Fertiliser (-88 points), Engro Corporation (-84 points), Indus Motors (-45 points), and Fauji Fertiliser Company (-44 points).
Outlook for next week
A report from AHL predicted: "We expect the market to remain positive in the upcoming weeks since valuations have opened up to attractive levels."
"Moreover, with the ongoing result season, certain sectors and scrips are expected to stay under the limelight," it said, advising investors to cherry-pick fundamentally strong blue-chip stocks.
"The KSE-100 is currently trading at a PER of 4.1x (2022) compared to the Asia-Pacific regional average of 12.2x while offering a dividend yield of 9.6% versus 2.9% offered by the region," the brokerage house stated.