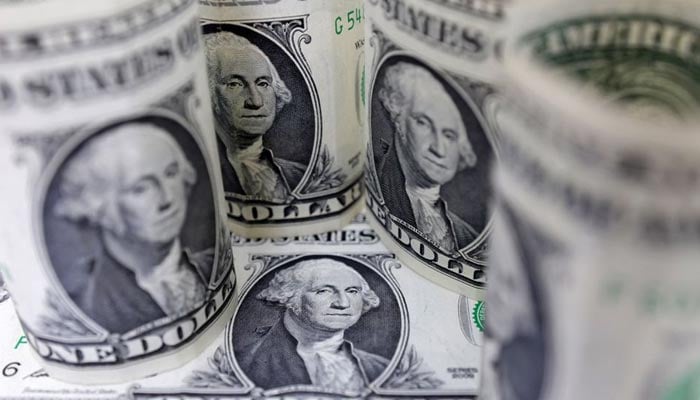 All things to all people, the US dollar leaves its imprint on every corner of the global economy. It is the currency in which vital raw materials are bought and sold, and it is the safe haven to which investors turn in times of trouble.

The Pakistani rupee is not the only currency losing value against the US dollar. The Dollar Index (DXY), which measures the dollar's value relative to some of the major global currencies is at a two-decade high.
The Pakistani rupee has weakened by approximately 27%, or over Rs30, against the US dollar since the start of the current fiscal year 2022-23, as the currency is now on the cusp of a fresh record low against the greenback. 
There are fears it may further lose its value, however, Pakistan is not the only country that is facing the depreciation of its currency. There are a host of other countries that are facing a similar currency weakness, which is making their economies unstable and investors pensive.
Speaking to Geo.tv, former advisor to Finance Ministry Dr Khaqan Najeeb said the dollar remained firm at a two-decade high versus major peers, as investors are looking to the Federal Reserve to continue its aggressive interest rate hiking. "The US dollar is in a strong momentum for time being," he maintained.
The analyst elaborated that the long period of steady growth and low inflation the US economy had before COVID-19 is being replaced by a "higher inflation globally".
Instead of falling month-on-month, headline inflation actually rose by 0.1%, taking the annual rate to a high of 8.3%. But worse was the reading of core inflation; the predicted 0.3% rise actually came in high at 0.6%, with the annual pace of change rising from 5.9 per cent to 6.1 per cent, he mentioned.
The unexpectedly hot inflation reading virtually assured markets that the Federal Reserve will raise rates by at least 0.75 basis points this week," Najeeb said, adding that this has led to the strengthening of the dollar against most currencies.
The US dollar rally has been strengthened by hawkish comments from the Fed chairman "to do what is necessary to tame inflation."
From a general perspective, while looking at international economies, the strengthening dollar phenomenon has been largely kick-started by the increase in the policy rate by the US Fed, encouraging international investors to repatriate dollars from risky markets where current account balances are posing a threat and are spiralling into bigger deficits.
The rising dollar has significant effects on the global economy. The implications of a stronger dollar for financial markets and the economy are also more complex than many realise, making the path ahead riskier for investors and policymakers alike.
Topline Securities compiled data of some regional countries; lets a look at some of the top regional countries and how much value has their currencies lost since 2022 to date:
| | | |
| --- | --- | --- |
| Country | 20-September Closing | 2022YTD |
| Sri Lanka | 364.30 | -44.3% |
| Pakistan  | 238.91 | -26.1% |
| Bangladesh | 103.43 | -16.8% |
| Korea | 1,390.05 | -14.4% |
| Taiwan | 31.38 | -11.8% |
| Philippines | 57.49 | -11.3% |
| Thailand | 36.98 | -10.2% |
| China | 7.02 | -9.4% |
| Malaysia | 4.56 | -8.5% |
| India | 79.76 | -6.8%  |
| Indonesia | 14,984 | -4.8% |
| Vietnam | 23,674 | -3.6% |
---
— Additional input from Reuters