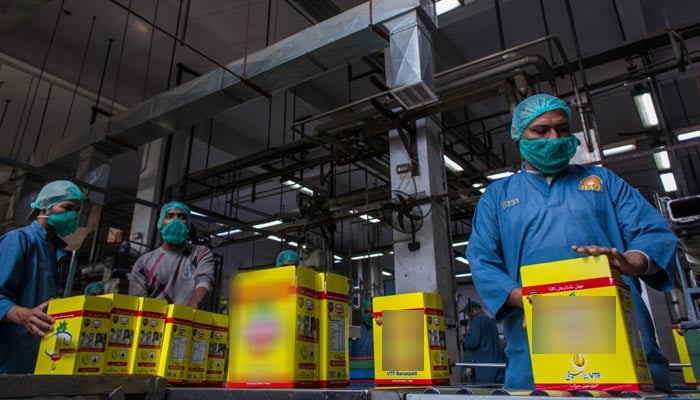 Dalda looks to raise between Rs3.3-4.6bn in a share sale.
Plans to bankroll expansion of its production.
Analyst says offering can involve selling about 50m shares.
---
In order to bankroll the expansion of its production capacity, Pakistan's largest cooking oil manufacturer — Dalda Foods Limited — is planning an initial public offering (IPO) in the country, Bloomberg reported Monday.

Expected to take place before Ramadan, which is likely to begin from March 22, Dalda Foods are looking to raise between Rs3.3 billion ($14 million) and Rs4.6 billion in a share sale, the company's chief executive officer Aziz Jindani told the US publication.
Data compiled by Bloomberg showed that at Rs4.6 billion Dalda's IPO would be Pakistan's largest by a consumer staple company. It would also be the country's largest since Air Link Communication Limited's Rs6.4 billion listing in September 2021.
Jindani, while referring to the company's factory at one of the country's busiest shipping ports, said: "This particular IPO is intended to fund Port Qasim expansion. The proceeds could expand its capacity in Karachi to extract oil from seeds".
He further added that it may reach 900 tons a day, more than doubling the current rate, he said.
Meanwhile, Arif Habib Limited (AHL) Chief Executive Officer Shahid Ali Habib revealed that the offering could involve selling about 50 million shares, consisting of two-thirds of new shares with the rest coming from existing shareholders. It should be noted that Arif Habib Limited is the sole adviser to the IPO.
Unilever introduced Dalda to the region in 1937, however, it sold the company's Pakistan business to Westbury Group, owned by Bashir Jan Mohammad and a group of employees. With time Dalda expanded into making liquid tea whitener besides manufacturing cooking oil, according to its website.
Jindani said this business is "recession-proof" as a category, as Pakistanis continue to spend on cooking oil despite higher inflation and a slowdown in economic growth as it's seen as a necessity in households.
The CEO shared that the company's revenues have grown 27% a year on average since 2018. The revenue reached Rs88 billion in the fiscal year of 2021-22, more than those of other major food producers in the country such as FrieslandCampina, Engro Pakistan Limited, and National Foods Limited, the executive added.
Moreover, it was learnt that Dalda's products account for about 5% of the cooking oil market that is estimated to be worth about $8 billion. The listing could further help Dalda capture a larger share of Pakistan's fragmented edible oil market.