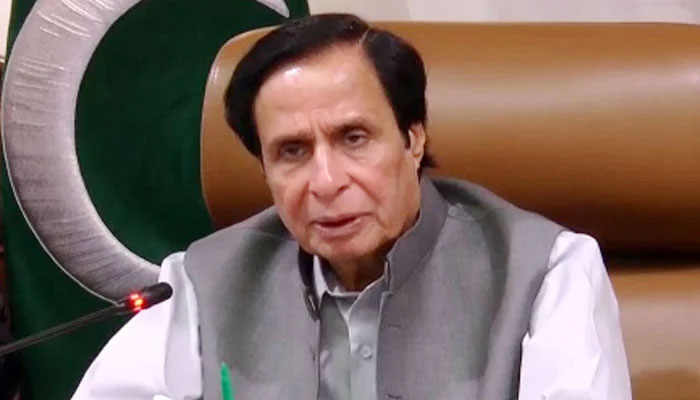 Former Punjab CM says Imran Khan turned a deaf ear to his advice about dissolution of assemblies. 
PML-N's politics would have been buried had they worked for one more year, he claims.
"Now the [Punjab] assembly has been dissolved. See what is happening," says PML-Q leader.
---
Digging at former prime minister Imran Khan's close aides, Pakistan Muslim League–Quaid (PML-Q) senior leader and ex-Punjab chief minister Chaudhry Parvez Elahi — without naming Pakistan Tehreek-e-Insaf (PTI) Senior Vice-President Fawad Chaudhry — said it would have been more "favourable" had he been arrested earlier.

Addressing an event in Lahore on Thursday, Elahi said: "Imran Khan's close aides struck at the roots of the PTI. One out of four or five people, who are close to Khan, has been arrested. Things would be better if he was arrested earlier."
Fawad, a former federal minister, was arrested from his Lahore residence in the wee hours of Wednesday after he publicly "threatened" the members of the Election Commission of Pakistan (ECP) and their families in a media talk a day earlier.
He was then taken to Islamabad, where the capital's police were granted a two-day remand of the PTI leader in the sedition case. His arrest drew strong criticism within the federal government's ranks — which, although, has denied involvement.
Hours after making the controversial remarks about PTI's incarcerated leader, Elahi took a U-turn and tendered an apology for his statement during the event.
"We have longstanding family terms with Fawad," he said in a statement. The PML-Q leader added that his recent remarks hurt the sentiments of his family and for it, he apologises.
Concerns over Naqvi
Earlier during the event, while expressing concerns over the recent actions taken by the Punjab caretaker chief minister, the former CM said that he tried his best to convince the PTI not to dissolve the assemblies but they [Khan] did not listen to him.

Highlighting his government's achievements, Elahi claimed that he did five years of work in just a short span of five-and-half-months.
"I asked them [PTI] let me do the work. Now the [Punjab] assembly has been dissolved. See what is happening," he added.
The PML-N's politics would have been buried if they worked for one more year, he also claimed.
Terming Imran Khan the most popular leader of Pakistan, Elahi said that he was given the slot of the chief minister by the grace of Allah and due to the trust of the PTI's chief.
The former chief minister recalled that he had warned Khan that they [ruling Pakistan Democratic Movement (PDM)] would victimise them [PTI and PML-Q] if the assemblies were dissolved.
Speaking on the occasion, he also slammed caretaker CM Mohsin Raza Naqvi for allegedly victimising the political opponents.
"Will you not return home?" he asked.
"Do good deeds so that people remember you," the PML-Q leader suggested to the interim provincial chief executive.