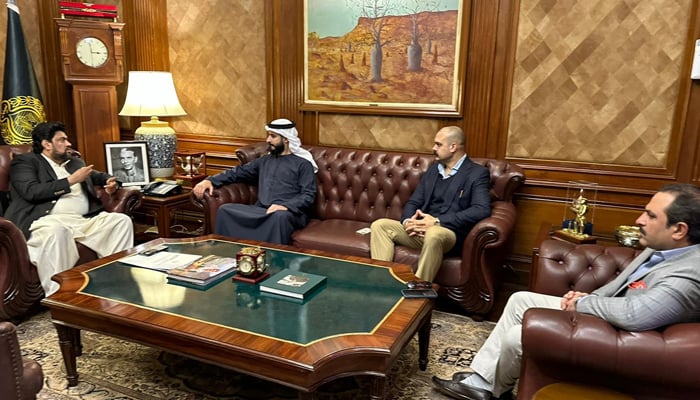 KARACHI: A United Arab Emirates (UAE)-based company intends to establish a university in the biggest city of the country, Karachi, which is home to millions of people.

The development came during Sindh Governor Kamran Tessori's meeting with Nasser Abdulla Lootah Group Vice Chairman Abdullah Nasser Lootah at the Governor's House in Karachi, according to a statement.
The statement from the Governor's House mentioned that the two sides held discussions on the promotion of mutual trade, investment opportunities in health, education, and other issues of mutual cooperation.
Talking to the delegation, Sindh's governor said that there are favourable investment opportunities in the southwestern province, which houses the country's second-highest population.
Governor Sindh said that investments in health, education and energy sectors in Karachi, the economic hub of the country, are available with incentives under ease of doing business.
The governor also assured the businessman that all possible help and support would be provided to investors.
"Abdullah Nasser Lootah said that his company intends to install a power plant in Karachi while establishment of a university is also under consideration," the statement added.
Pakistan and the UAE enjoy close and fraternal ties based on common faith and traditions, shared history and heritage, deep-rooted cultural affinities, geographic proximity and identity of view on several regional and global issues.
Regular high-level exchanges and visits are key features of this relationship.
The UAE is home to around 1.7 million Pakistanis who have been playing a pivotal role in the success story of the UAE, for the last five decades, contributing to the progress, prosperity and economic development of the two brotherly countries.
During a recent meeting with Prime Minister Shehbaz Sharif, UAE President Sheikh Mohamed Bin Zayed Al Nahyan has also dropped clues that his government is planning to broaden its investment footprint in Pakistan — as the country drastically needs foreign inflows to prop up its deteriorating economy.
The UAE, on January 12, agreed to lend $1 billion to Pakistan and roll over an existing $2 billion loan, which offered some respite to the country that is still reeling from devastating nationwide floods that have caused more than $30 billion of damage.