PTI Chairman Imran Khan pens letter to CJP Umar Ata Bandial.
Khan fears Fawad Chaudhry might face "inhuman" treatment.
He tells CJP of "inhumane" treatment meted out to other PTI leaders.
---
ISLAMABAD: Pakistan Tehreek-e-Insaf (PTI) Chairman Imran Khan Saturday wrote a letter to Chief Justice of Pakistan Umar Ata Bandial asking him to ensure that the fundamental rights of his party's senior vice president, Fawad Chaudhry, are ensured.
The letter comes after the PTI leader was sent on remand in a sedition case — which has invited severe criticism not only from his party but also from senior members of the government.
In his letter to the CJP, the former prime minister mentioned that as the top judge is the custodian of the constitution, he requests him to "ensure that honour and dignity of Mr Fawad Ch [are] not violated".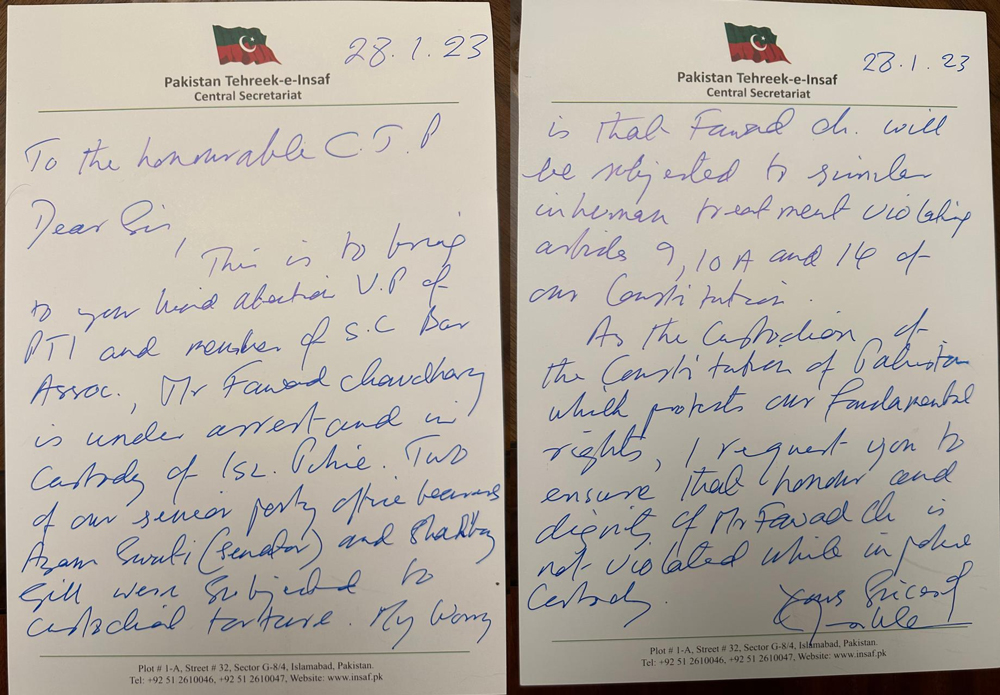 The former prime minister cited the "inhuman" treatment dealt to Senator Azam Swati and PTI leader Shahbaz Gill while they were in the custody of law enforcement agencies (LEAs) — in two separate cases.

The PTI chief feared the former information minister would be subjected to similar ill-treatment, in violation of Articles 9, 10A, and 14 — which pertain to the right to a fair trial, freedom of speech, and inviolability of the dignity of a human being.
Fawad — who is facing sedition charges for publicly "threatening" the members of the Election Commission of Pakistan (ECP) in a media talk — was arrested from his Lahore residence on Wednesday after a case was registered against him at the Kohsar Police Station in Islamabad.
He was presented before the court on Friday after the expiry of his physical remand, however, the prosecution's request for an extension was turned down by Judicial Magistrate Waqas Ahmed Raja. Later, the decision was overturned by the session court.
The same magistrate then sent him on a two-day physical remand and ordered the police to present him on Monday. Fawad remains adamant that he won't take his remarks back, while his legal team has also called for discharging him from the case.
'Banana republic'
In a series of tweets earlier, PTI Chairman Khan lashed out at the authorities and said that the manner in which Fawad was presented before the court was proof of the government's "vindictiveness".
Referring to the current government and its leaders as "pharaohs", Khan also underscored the treatment meted out to PTI leaders Azam Swati and Shahbaz Gill as proof that the country was in disarray.
"Taking Fawad to court handcuffed and head/face covered like a terrorist shows the low and vindictive levels [the] imported government and state have reached," he said.
"The treatment of Fawad and Azam Swati and Gill before him leaves no doubt in people's mind that now we are a banana republic," the ex-prime minister, who was ousted last April, said.
Khan further added: "The law of the jungle now prevails where might is right & the Constitution & law of the land have been totally subjugated by the Pharaohs of today."