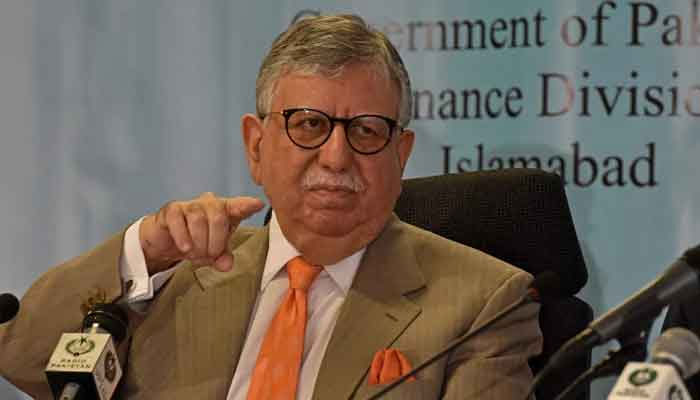 Sanaullah says some politicians are taking forward their wicked agenda.
Hits out at PTI chief, says Imran Khan wants Pakistan to remain unstable.
"The PML-N does not believe in political victimisation."
---
After completion of an inquiry against Pakistan Tehreek-e-Insaf (PTI) finance czar Shaukat Tarin, the coalition government has allowed the Federal Investigation Agency (FIA) to arrest the former finance minister in a case related to his alleged audio leak, Interior Minister Rana Sanaullah said on Sunday.
A day earlier, the investigation authority sought the interior ministry's approval to begin legal proceedings and eventually arrest Tarin for allegedly sabotaging negotiations between Pakistan and the IMF —International Monetary Fund.
The FIA has completed its probe against the former finance minister and his leaked audios involving the former Punjab and Khyber Pakhtunkhwa finance ministers.
The federal probing authority initiated an inquiry into the matter last year after the alleged telephonic conversations between Tarin and the two provincial finance ministers surfaced that triggered a verbal spat between the government and the PTI for purportedly trying to jeopardise the IMF deal during the recent floods.
During an interaction with journalists in Karachi, Sanaullah said that the government was working day and night for the development of the country. 
Without naming former prime minister and Pakistan Tehreek-e-Insaf (PTI) Chairman Imran Khan, the federal minister said that some politicians were taking forward their wicked agenda.
Referring to the country's severe economic crisis, Sanaullah said that Khan had signed a deal with the IMF and by following the agreement the country "has reached here".
Responding to a question, the PML-N senior leader said that they wanted the projects to be completed with the cooperation of China.
Lashing out at the PTI chairman, he said that Khan wanted Pakistan to remain unstable, adding that the former prime minister dissolved two assemblies "forcibly".
"The PML-N does not believe in political victimisation," the security czar said, adding that Awami Muslim League (AML) Chief Sheikh Rashid was arrested for his controversial statements.
While talking about the much in debate issue of the upcoming general elections in the country, he said: "The PML-N is ready for the elections whether it is held in April or October. The country is facing multiple challenges, including economic and law and order."
The incumbent government should complete its constitutional term, he added.
Moreover, the interior minister reiterated that the country's "economic stability is linked with political stability". 
While accusing a close friend of PTI chief Imran Khan's wife Bushra Bibi, Sanaullah said Farhat Shehzadi, alias Farah Khan/Gogi, laundered Rs12 billion abroad. 
He also reiterated allegations against Khan and his wife relating to Toshakhana gifts.