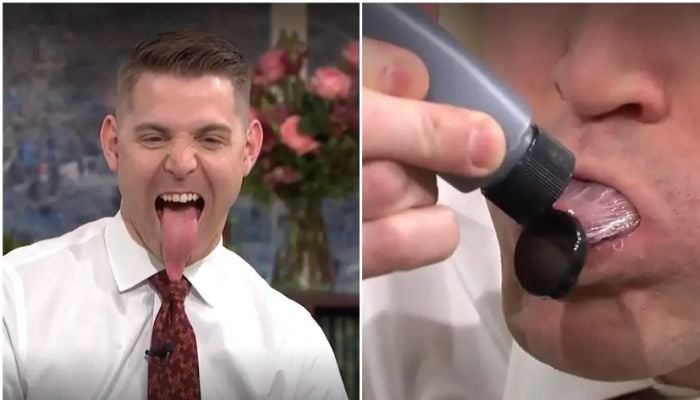 A person who holds the Guinness World Record for having the world's longest tongue has said that painting is an odd way for him to use his extraordinary muscle.
Nick Stoeberl from the United States, who holds the title for the longest tongue (male) with a measurement of 10.1 cm (3.97 in), made a very unusual TV appearance and displayed his painting abilities, according to the Guinness World Records.
He appeared on the This Morning show with Holly Willoughby and Phillip Schofield during his first trip to the United Kingdom. Nick painted a live portrait of the hosts on the show while wrapping his record-breaking tongue in cling film as the chuckling hosts watched in bewilderment.
"I feel like I shouldn't be watching you do this, it feels very personal," the show's presenter joked. 
Stoeberl's tongue is so long, according to the record book, that he can even lick his elbow, which is apparently impossible for a human being to achieve.
"Nick's record was verified after a medical professional took measurements of his tongue from the tip to the closed upper lip and signed a statement to prove how long it is," the GWR said on their website.
"He may have a very different style to Picasso, but Nick has made as much as $1,200 (£996.88) by selling his paintings."
Stoeberl revealed on the programme that he works for the US government but withheld his department. Also, he made fun of the fact that "I may or may not be the outcome of a government experiment like The Hulk. If I'm not cautious, I may turn green."
Stoeberl claimed that when he was younger and would churlishly shove his tongue out at people, that is when he first noticed it was longer than usual.
He may be heard remarking in an old YouTube video that while this oddity is amazing, it gets uncomfortable when people keep asking him to show them his long tongue.
The GWR claims that Stoeberl goes by the name Lickasso when referring to his artwork.