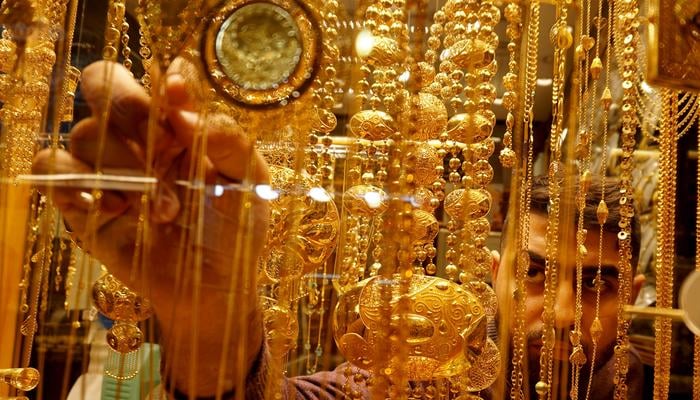 Price of 10 gram gold jumps by Rs1,972 to Rs172,754.
Strong dollar raises concerns over expensive imports.
High-interest rate environment may weigh on bullion. 
---
Gold prices in Pakistan raced ahead to once again cross the 0.2 million mark on Tuesday with the rupee remaining stuck in reverse gear amid economic frets from dried-up foreign reserves and a beleaguered loan deal with the lender of the last resort.
Data released by All-Pakistan Sarafa Gems and Jewellers Association (APSGJA) showed that the price of gold (24 carats) increased by Rs2,300 per tola and Rs1,972 per 10 grams to settle at Rs201,500 and Rs172,754.
The rupee extended losses against the US dollar, depreciating 0.24% in the inter-bank market on Tuesday, settling at 282.29, a decline of Re0.68, according to the State Bank of Pakistan (SBP).

Recent events show that gold remains a safe haven asset as it is able to benefit from market uncertainty.
Cumulatively, the yellow metal had shed Rs1,300 per tola during the last week — and it had only registered gains twice as the movement of Pakistani currency remains volatile.
Finance Minister Ishaq Dar last week said that the International Monetary Fund (IMF) was "satisfied" with Pakistan's actions but the staff-level agreement could not be signed this week.
"We seem to be very close to signing the staff-level agreement hopefully in the next few days," Dar said in his address during a seminar.
However, the finance minister, while citing his experience of completing 12 reviews of the "one and only" IMF programme Pakistan completed, shared that "it has taken longer than it should have" for Islamabad to complete the pending ninth review.
Meanwhile, international gold prices slipped from a more than five-week high but held just above the key $1,900 level as expectations grew that the US Federal Reserve would dial back its rate hikes after the collapse of two big regional banks.
Spot gold was down 0.6% at $1,901.91 per ounce, as of 0524 GMT, after rising more than 2% on Monday to hit its highest since Feb. 3.
US gold futures fell 0.5% to $1,907.30. "As the risk environment attempts to stabilise, any less-hawkish rate bets will likely have to seek validation from the upcoming US CPI release, that may trigger some profit-taking into today's session," said Yeap Jun Rong, a market analyst at IG.
US officials have announced several measures to limit the fallout from the now-shuttered Silicon Valley Bank, the largest bank failure since the 2008 financial crisis, and restore investor confidence in the banking system. Regulators closed New York-based Signature Bank on Sunday.
Markets are now pricing in a 69.6% chance of a 25 basis-point rate hike at next week's Fed policy meeting. Considered a hedge against economic uncertainties, zero-yield gold also becomes a more attractive bet in a low-interest-rate environment.
"The short (-term) outlook for gold looks strong," analysts at ANZ said in a note, adding that the metal had jumped above its 50-day moving average, signalling a change in momentum. "With investor allocation relatively low, we expect this to continue," they said.
The US consumer price index (CPI) report due at 1230 GMT will be closely watched for cues on the Fed's rate-hike plan. "Should the data deliver another upside surprise, the Fed could be more hand-tied in its policy decision, which could see market expectations reverting to a hawkish recalibration," IG's Yeap said.
---
— Additional details from Reuters