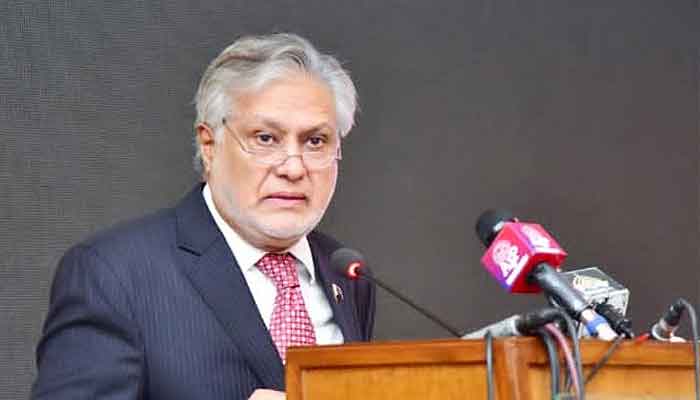 Finance minister says Pakistan "very close" to signing SLA with IMF.
Says Pakistan "absolutely committed" to completing IMF programme.
Calls for correcting mistakes made on the economic front in the last four years. 
---
Finance Minister Ishaq Dar on Thursday said that the International Monetary Fund (IMF) was "satisfied" with Pakistan's actions but the staff-level agreement could not be signed this week.
"We seem to be very close to signing the staff-level agreement hopefully in the next few days," Dar said in his address during a seminar titled "Reviving Economic Stability through the Strengthening of Public Financial Management" in the federal capital. 

However, the finance minister, while citing his experience of completing 12 reviews of the "one and only" IMF programme Pakistan completed, shared that "it has taken longer than it should have" for Islamabad to complete the pending ninth review.

"I think we owe to this nation that we show seriousness, we deliver and we demonstrate to the world that we can honour the sovereign commitments no matter who made those," said Dar. He also assured that his team was "absolutely committed" to completing the programme to the "best" of their ability.  
While berating the Imran Khan-led government, Dar shared the situation of the economy when the Pakistan Muslim League-Nawaz (PML-N) government left in 2018.
The minister said that it pained him to see the economy fall to the rank of 47 in 2022 after it was predicted that Pakistan would join G20 by the end of 2030. 
The finance czar also highlighted that the Pakistan Stock Exchange's (PSX) market capitalisation was over $100 billion but dropped to $26 billion in the last few years.  
"Another serious issue that we should be pondering about is the debt sustainability of Pakistan," said the finance minister. He added that it was under $30 trillion in 2018 and has now climbed to $55 trillion in 2022. 

"As a consequence, this country which used to have debt servicing of less than $2 trillion per annum in the fiscal year 2016-17 has risen to over $5 trillion," said Dar.

"I think in the last few years, we should see what mistakes we have made on the economic front and we should try to correct those as soon as possible," said the finance minister.
'IMF deal not to be signed this week'
Later, to a question by a journalist, the finance minister said the agreement will not be finalised this week.
"Staff-level agreement with IMF is unlikely this week," said the finance minister, adding that the Fund was "satisfied" with the actions taken by Pakistan.
When pressed that he had assured of striking the SLA by this week, Dar responded: "I said a few days, not this week."