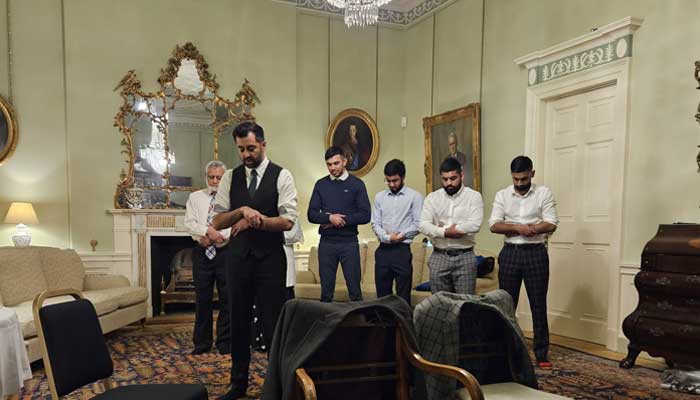 Yousaf shares "special moment" with his loved ones after victory.
Posts pictures from his first night at official residence. 
Says leading his family in prayer is customary after breaking fast together. 
---
Newly appointed First Minister of Scotland Humza Yousaf led the prayer in Bute House on his first night at the official residence of Scottish leader after winning the election.
Pakistani origin Yousaf had shifted to his official residence with family, after taking oath as the First Minister. He had won the race to become Scotland's new leader, the youngest and first from a minority ethnic background, on Monday.

Taking to Twitter, the 37-year-old shared "a special moment" with his family after victory in the parliamentary vote.
Yousaf posted a couple of pictures of himself sitting with his family and leading the prayer at Bute House.
Yousaf's immediate family includes his father Muzaffer Yousaf, mother Shaista Bhutta, wife Nadia and two daughters. 
He said that leading the male members of his family into prayer was a customary practice after breaking fast together as it is the month of Ramadan.

"My family and I spending our first night in Bute House after today's parliamentary vote. A special moment leading my family in prayer in Bute House as is customary after breaking fast together," the new Scottish leader said.
Humza Yousaf wins race
Scottish nationalists had picked Pakistani origin Humza Yousaf to be the country's next leader on Monday after a bitterly fought contest that exposed deep divisions in his party over policy and a stalled independence campaign.
Yousaf emerged victorious with 52% of Scottish National Party (SNP) members' preferentially ranked votes, following a divisive leadership battle triggered by Sturgeon's surprise resignation announcement last month.
The 37-year-old practising Muslim is set to be sworn in as the first minister on today (Wednesday), becoming the first ethnic minority leader of a devolved government and the first Muslim to lead a major UK party.
Yousaf succeeds Nicola Sturgeon as leader of the governing SNP and will take over as head of the semi-autonomous government. 

Setting out his goals, Yousaf said he would concentrate on tackling the cost of living crisis, ending the divisions in the party, and making a renewed push for independence.
"The people of Scotland need independence now, more than ever before and we will be the generation that delivers independence," he said in a speech in Edinburgh after the results were announced.
Yousaf's victory was confirmed at the country's national rugby ground after a six-week campaign where the three candidates spent much of the contest criticising each other's record in a series of personal attacks.