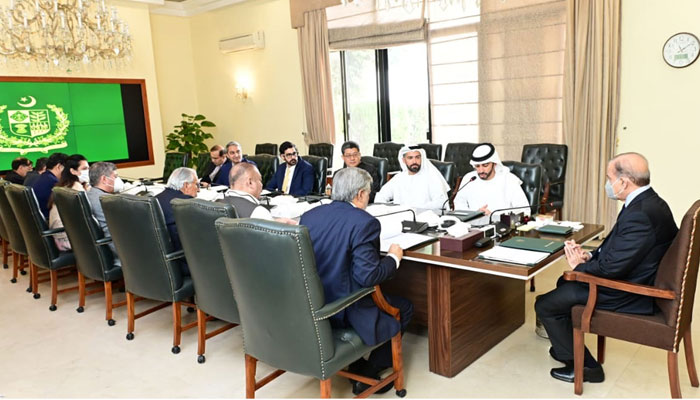 Pakistan attaches great importance to its ties with UAE, says PM.
He assures foreign investors will be provided with all facilitation.
UAE businessman expresses keen desire to further expand investment.
---
ISLAMABAD: Pakistan and United Arab Emirates (UAE) on Friday expressed the resolve to strengthen bilateral cooperation in diverse fields.
The development came during a meeting of a UAE delegation with Prime Minister Shehbaz Sharif in Islamabad.
The delegation was led by the Chairman of Hayat Bio-Tech and a member of the ruling family of the UAE, Sheikh Ahmed Dalmook al Maktoum.
During the meeting, the prime minister said brotherly relations between Pakistan and the United Arab Emirates are deeply rooted in history.
He underlined that Pakistan attached great importance to further expanding brotherly ties with the UAE in diverse fields including trade and investment.
PM Shehbaz welcomed the keen interest of Hayat Bio-Tech to invest in Pakistan's pharmaceutical sector, especially in vaccine manufacturing.
He also invited the visiting delegation to invest in the renewable energy sector and assured that foreign investors would be provided with all possible facilitation.
On the occasion, Sheikh Maktoum said they are aware of the huge investment potential of Pakistan and UAE is looking forward to further expanding its footprint in the energy and health sectors. He expressed keen desire to further expand UAE's investment portfolio in Pakistan.
The dignitary also briefed the Prime Minister about their ongoing 1,200 MW power plant project undertaken in collaboration with the Government of Sindh which would be a hybrid power plant of solar and wind energy.