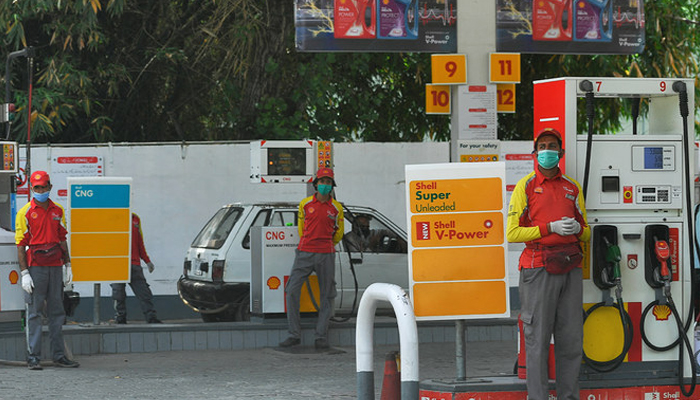 Price of petrol is likely to decline by Rs4.5 per litre.
Per litre diesel price is expected to go down by Rs6 per litre.
On April 15, govt increased petrol price by Rs10.
---
ISLAMABAD: The prices of petroleum products in Pakistan are expected to decline from May 1, Geo News reported Thursday citing sources, as the government might provide relief to the inflation-hit people.
According to sources in oil marketing companies (OMCs), the price of petrol is likely to decline by Rs4.5 per litre while the price of diesel is expected to go down by Rs6 per litre.
Diesel is widely used in transport and agriculture sectors. The reduction in its price could bring inflationary impact down and a relief for farmers as the crop-harvesting season has kicked off.
The consumers are already facing high prices, especially the low-income group, who have motorbikes and small cars.
In its last fortnight announcement, the federal government increased the price of petrol by Rs10 and the price of kerosene oil by Rs5.78 "in the wake of increase in petroleum prices in the international market and exchange rate variations."
After this increase, the prices of petrol and kerosene oil respectively rose to Rs282 per litre and Rs186.07 per litre. These fuels were earlier available at Rs272 and Rs180.29 per litre.
Last month, Prime Minister Shehbaz Sharif announced a relief package for the poor under which a subsidy will be given to them on every litre of petrol; however, the implementation was stopped after concerns from the International Monetary Fund (IMF) was highlighted.
The lender had raised objections to the proposal, asking Islamabad to share details about the implementation of the plan that was announced without "consultation".
However, Minister of State for Petroleum Musadik Malik rejected the perception that the subsidy would be a violation of the conditions and said the ministry had responded to all the queries in detail.
But the Ministry of Finance is yet to submit a written response to the Washington-based lender to get clarity on the cross-fuel subsidy.
Let's take a look at how are petrol prices calculated in Pakistan: