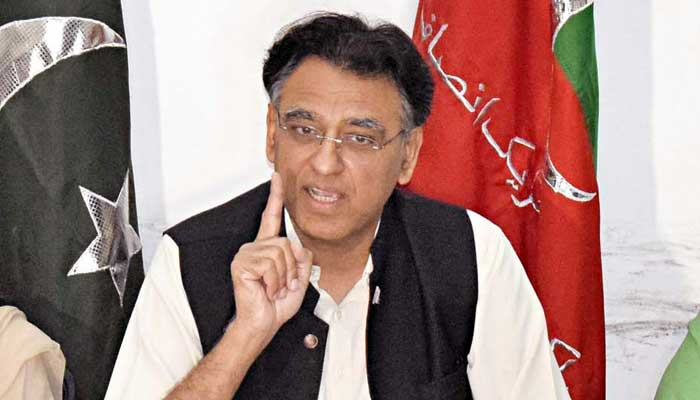 Asad Umar taken into custody from Islamabad High Court.
PTI rebuts reports of Shah Mahmood Qureshi's arrest.
"IHC premises 'fertile ground' for PTI leaders' arrest," Mazari says.
---
ISLAMABAD: Anti-Terrorist Squad (ATS) Wednesday arrested Pakistan Tehreek-e-Insaf (PTI) Secretary General Asad Umar from the premises of the Islamabad High Court (IHC) — the same court from where PTI chief Imran Khan was taken into custody.
The Islamabad police's ATS officials picked up Umar from outside the IHC Bar Room where he and other PTI leaders were preparing a plea to be filed file in the IHC seeking a meeting with Khan.
According to eyewitnesses, the PTI lawyers fought with the police to prevent Umar's arrest, but the law enforcers overpowered them and took the PTI leader away.
The former finance minister was booked in two cases registered against him and other PTI leaders following the protests that ensued after Khan's arrest.
The cases were registered in Islamabad's Tarnol and Aabpara police stations.
Qureshi, Senator Saifullah Sarwar Khan Nyazee, and Ghulam Sarwar Khan were also with Umar when the CTD men swooped on him.
All three leaders returned to the IHC's Bar Room after Umar was taken by the police.
The police also tried arresting Qureshi, however, the lawyers and other party workers thwarted the police from snatching the PTI vice chairman.
After this, reporters suggested that Qureshi was taken into custody and would be detained for 15 days, but PTI soon termed the news fake. 

Umar's arrest prompted PTI leader Shireen Mazari to take to Twitter, where she registered her protest against his fellow's arrest.
"IHC premises 'fertile ground' for PTI leaders' arrest," Mazari tweeted.
She condemned Umar's arrest, saying "seems like the IHC area has become a fertile ground to illegally arrest PTI leaders".
"Fascism confirmed. They can't get the terrorists but PTI leaders are now terrorists for cabal of crooks and the State? This is despicable," Mazari wrote on Twitter.