To each generation comes at least one day that changes their world. What is the one day that dramatically changed Pakistan in recent times? Yes, it was May 9, 2023. Words cannot express how deeply shattered and ashamed many Pakistanis felt on that day when the PTI supporters mindlessly vandalised and burnt an old building of Radio Pakistan in Peshawar, four metro bus stations in Rawalpindi, Corps Commander House in Lahore, monuments of its national heroes in several cities and offices of security institutions in a reaction to the arrest of former prime minister Imran Khan. 

Army released the pictures of those including four women who attacked GHQ on May 9th.
The events of 9/11 not only reshaped the global response to terrorism but also changed US immigration policies, which led to a surge in racial profiling and hate crimes. 
9/11 changed America. Now 9/5 has changed Pakistan. Former president Asif Ali Zardari declared May 9 as the 9/11 of Khan. He thinks Khan destroyed Khan that day. Federal Minister for Planning and Development Ahsan Iqbal goes further to say that May 9 vandalism was a 9/11-type attack on the national security of Pakistan. 
Prime Minister Shehbaz Sharif declared Khan and his supporters no less than a terrorist. The National Assembly of Pakistan passed a resolution on May 23 and declared May 9 a national tragedy. 
Many people outside Pakistan cannot relate 5/9 to 9/11. Outsiders attacked the US on 9/11 but those attacking the Army Headquarters in Rawalpindi, Corp Commander House in Lahore and ISI office in Faisalabad never came from India. All of them were Pakistanis and many of them had a military background.
Take the example of a wealthy and well-educated lady, Khadija Shah, from Lahore. She was arrested on May 23 in connection with the attack on Corp Commander's House in Lahore. 
The lady is not only a granddaughter of former army chief Gen Asif Nawaz but also a daughter of former finance minister Dr Salman Shah. She is a fashion designer by profession and a mother of three kids. She joined a protest in Lahore on May 9 against the arrest of Khan in front of Corp Commander House which was ultimately attacked and set on fire by protesters. 
Corp Commander House Lahore is also called Jinnah House because it was once the residence of Muhammad Ali Jinnah, the founder of Pakistan. The first military dictator of Pakistan, General Ayub Khan, never converted this residence into a museum. He declared it the residence of Corp Commander Lahore in 1959.
Khan was released on the orders of the Supreme Court on May 11 but more than 4,500 supporters of PTI have been arrested all over Pakistan in connection with May 9 attacks.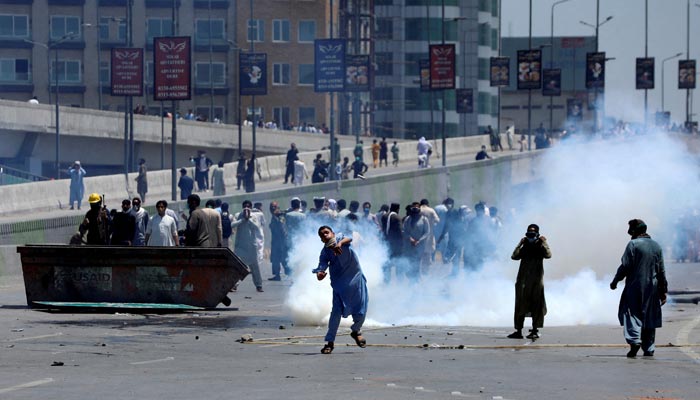 Police are using brutal tactics to arrest all those who were involved in attacks on civil and military installations. Khadija Shah is not the only woman paying the price for standing with Khan. 
Former human rights minister Dr Shireen Mazari lives in Islamabad. She never joined any protest on May 9. There is no evidence against her that she instigated anyone for vandalism but she was also arrested under an old draconian law — Maintenance of Public Order (MPO). 
Islamabad High Court ordered her release three times since May 9 but she was rearrested every time. Finally, she left PTI on the evening of May 24.
I know some 'wanted women' who are not active workers of PTI. They are old cricket fans of Khan. Cricket fans turned into political supporters are now running here and there to escape arrest. Former provincial minister and a well-known turncoat Fayyaz ul Hassan Chauhan also left PTI and presented a charge sheet against Khan. He alleged that Khan wanted civil war in Pakistan.
On the other side, Khan claimed that his party never planned any attack on military installations. He accused intelligence agencies of organising the violence of 9/5.
Initially, Khan told his confidantes that the political situation will become normal in a few days. He was banking on some hidden support within the army and open support from the judiciary but within a few days, he was looking helpless. 
The army is furious and looking united against its new enemy. The violence on May 9 seems to be a turning point. Khan tried to create hatred against the army chief in the urban elite of Pakistan for a revolt against the most powerful institution in Pakistan. 
Khadija Shah represents the well-educated urban elite of Punjab, which was a natural ally of military dictators for a long time but now the same elite is turning against the army generals.
After a long time, India card is back to the politics of Pakistan. Political opponents of Khan are talking about the praise and appreciation Khan has been getting in Indian media. 
The tweets of retired Indian Army Major Gaurav Arya are becoming evidence that Khan is working to please India. 
A video clip of Indian journalist Sushant Sareen was aired by almost all Pakistani TV channels. Sareen said: "Imran Khan was his dream because he destroyed Pakistan". Khan is the new agent for the Pakistani establishment.
Previously Fatima Jinnah, sister of Muhammad Ali Jinnah was declared an Indian agent by FM Ayub Khan, Sheikh Mujibur Rehamn was declared an Indian agent by General Yahya Khan, Benazir Bhutto was labeled as an Indian agent by General Zia and Nawaz Sharif was declared as Indian agent by the supporters of General Musharraf. 
This new propaganda war shattered the nerves of many PTI leaders and some of them are leaving politics, some PTI. Is Khan heading down a dark tunnel?
The army has been called out in Punjab and Khyber-Pakhtunkhwa as well as the federal capital, Islamabad, under Article 245 of the Constitution. All those involved in attacks on military installations will be tried in military courts established under Pakistan Army Act 1952. 
There is no dispute that those involved in attacks on military installations should be punished as soon as possible but a trial of civilians under the Army Act is becoming controversial. 
Military courts are not new in Pakistan but these courts will tarnish the face of democracy in Pakistan. 
2023 is the election year in Pakistan. The current National Assembly will complete its tenure in August this year. The next election is due in October. It is not possible to complete the trial of the May 9 suspects before August in civil courts. 
Military courts will try to complete the trial before August and if Khan is not convicted before August then elections may be delayed. Any delay in the election will be the murder of the Pakistani constitution in 2023. This constitution will complete its 50th anniversary on August 14.
Pakistan is a country of 220 million people, with nuclear weapons and the sixth largest army in the world. The army directly ruled Pakistan for 33 years since 1947 and it is still the most powerful institution in the country. Is Pakistan heading towards another military rule or Khan can win his battle against the military with the help of the judiciary?
I met both President of Pakistan Dr Arif Alvi and Prime Minister Shehbaz Sharif in the last few days. President belongs to Khan's PTI. He always defended Khan despite his constitutional obligations but this time he was careful because he is the Supreme Commander of the Armed Forces. He was depressed like many Khan supporters. He was not hopeful about elections this year. He expressed his fear of Martial Law between the lines.
Prime Minister Sharif was looking confident. I asked about the possibility of talks with Khan. He outrightly rejected any possibility until Khan made a public confession that he was responsible for vandalism on May 9. I just laughed and said: "He will go to life imprisonment by a military court after that confession". 
The body language and facial expressions of the prime minister gave me a hint that he will not miss a chance to take revenge on Khan who sent him twice to jail when he was the opposition leader. I asked about elections and he confidently said: "Yes, we are going for an election in October this year". This is good news for Khan but he may not allow contesting the coming election.
No doubt Khan is in deep trouble. His political survival is under threat. His party is broken. A section of the judiciary took some stand but now looked helpless. Khan is begging Americans for help. Americans are aware that Khan became a genie with the help of some generals and now the generals are trying to put the genie back into the bottle.
Khan is not the first prime minister who is facing this difficult situation. Zulfiqar Ali Bhutto was nurtured by General Ayub Khan and hanged by General Zia but his party was not eliminated. 
His daughter Benazir Bhutto became prime minister twice and his grandson Bilawal is now the foreign minister of Pakistan. 
Nawaz was promoted by General Zia in politics and overthrown by General Musharraf but his brother is now ruling Pakistan. The current government can disqualify or arrest Khan but cannot eliminate his political support. 
Bad governance and economic blunders of the Sharif government are the biggest strength of Khan.
Like it or not, Khan is enjoying more public support than any other politician in Pakistan these days but unfortunately, he is paying the price of his political blunders. 
He never organised his party on democratic principles. He never ran his government like a prime minister. He was running his government like a king. He forgot that he was installed in the PM Office by the army but then he started interfering in the transfer and postings of the army and annoyed his real masters.
He tried to defeat a no-confidence against him by dissolving the national assembly. The Supreme Court restored the assembly. Then he played an American conspiracy card. It failed. Then he resigned from the National Assembly. It also backfired. Then he tried to capture Islamabad with public support on May 25th and November 26th last year but failed to mobilise a huge crowd. Then he dissolved the provincial assemblies of Punjab and Khyber-Pakhtunkhwa. He thought that he may force the government to hold an early election but he failed again.
He never tried to engage his political opponents in a constructive dialogue. He never tried to make a consensus with his political opponents that the army must stop interfering in politics. 
The good thing is that the majority of the people in Pakistan have now started realising that the ultimate solution of their problems lies in the rule of law. 
The army must stay away from politics and politicians should not ride the back of the army like Khan and claim that they are the ultimate saviors. 
Khan may be disqualified from politics like Nawaz. Remember, the India card was venomously used against Nawaz and Khan declared him "Modi ka Yar". Now Sharifs are playing the India card against Khan. Sharifs are trying to turn May 9th into a 9/11 for Khan but I think that if Nawaz can make a comeback then Khan can also do the same after a few years. He is down but not finished yet.
Originally published in The News