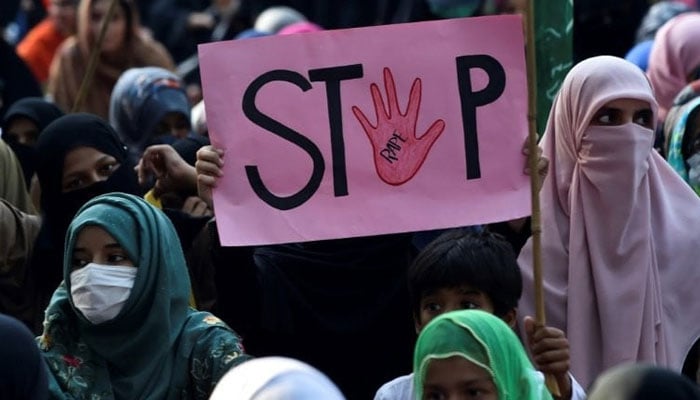 Girl taken to health facility for abortion after which her condition worsened. 
Thirteen-year-old gives birth to stillborn baby through operation at LRH. 
Police arrest suspect who also confesses to raping the teenage girl. 
---
PESHAWAR: A 13-year-old rape victim lost her life after giving birth to a stillborn baby in Phandu, Peshawar, Geo News reported on Sunday. 
The victim was first taken to a lady health visitor — a health care facility for women — by her mother to get the child aborted. However, the victim's condition worsened and she was then moved to the Lady Reading Hospital in the city. 
According to police, the teenager — who was five months pregnant — gave birth to the stillborn baby through an operation. 
Superintendent of Police Fakirabad Division Dr Muhammad Umar said the victim died in critical condition after giving birth.  
The police said that legal action would be taken against the lady health visitor for negligence. 
Moreover, the police also arrested a suspect who allegedly raped the girl. They also took a DNA test from the stillborn baby to match it with the suspect. 
The police said that they are sending the test to the Forensic Science Laboratory (FSL). 
The suspect has confessed to sexually assaulting the girl by taking her to his house on the pretext of fraud about five months ago, the police added. 
SP Umar said that the suspect would be punished after fulfilling the legal requirements. 
15-year-old killed in name of honour
In another incident in Peshawar, a 15-year-old girl was killed in the name of honour in Kochiān. 
The police arrested suspects — the girl's father and two brothers — who tried burying the victim secretly.
The father, with the help of his sons, shot the daughter dead, the police said. They added that the suspects were planning a secret burial to hide the crime. 
The law enforcers arrested all three suspects who confessed to killing the girl during an investigation.