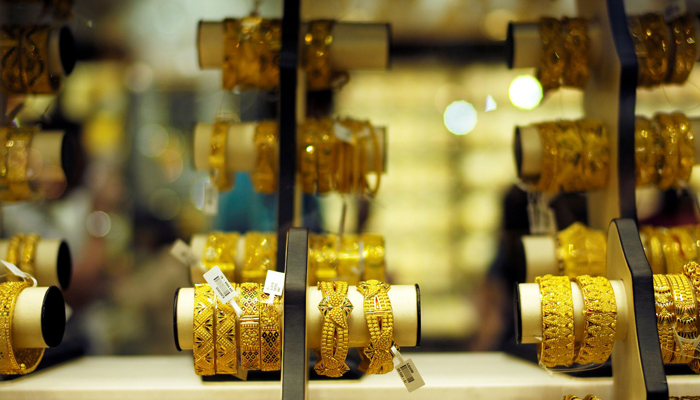 Gold rate (24 carats) declines by Rs1,700 per tola. 
International rate decreases to $1,945 per ounce.
Silver price falls by Rs50 per tola to Rs2,850.
---
The gold rate continued to decline in Pakistan Monday after losing Rs1,100 per tola cumulatively last week.
Data provided by the All Pakistan Sarafa Gems and Jewellers Association (APSGJA) showed the rate of gold (24 carats) decreased by Rs1,700 per tola and Rs1,457 per 10 grams to reach Rs234,500 and Rs201,046, respectively.
Meanwhile, the international rate settled at $1,945 per ounce after losing $1.
The safe-haven bullion traded in a tight range in the international market as US Democrats and Republicans reached an agreement to raise the federal debt ceiling, which averted the first-ever US default.
Separately, recent data suggested that the US Federal Reserve would raise the interest rate for the 11th consecutive time in June, which led to a jump in the US dollar's value. Both factors negatively impacted the gold rate.
Meanwhile, the gold rate has been volatile in Pakistan recently amid continued political and economic uncertainty, high inflation, and currency depreciation. People prefer to buy the yellow metal in such times as a safe investment and a hedge.
The rupee lost Re0.27 or 0.09% against the US dollar in the interbank market Monday, closing at Rs285.42, according to State Bank of Pakistan data.
Data shared by the jeweller's body showed that the price of silver, which remained largely stable last week, also decreased. The rate of silver fell by Rs50 per tola and Rs42.87 per 10 grams to reach Rs2,850 and Rs2,443.41, respectively.