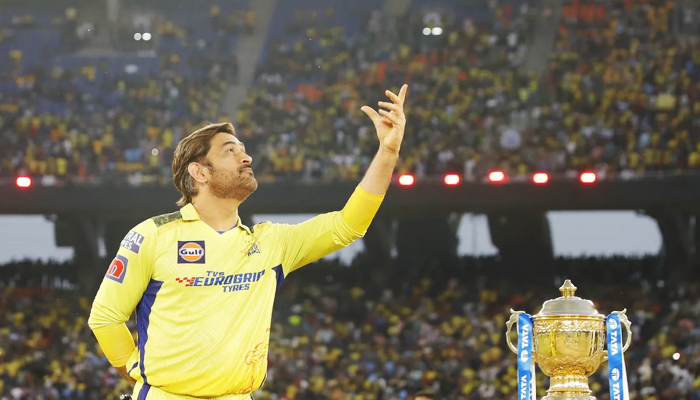 Following the Chennai Super Kings' fifth victory in the Indian Premier League (IPL) after they trumped Gujarat Titans by five wickets at the Narendra Modi Stadium in Ahmedabad, CSK skipper MS Dhoni shared an update about his possible retirement.
When asked about his retirement plans, Dhoni said that while "circumstantially" retiring right now was a good choice, he had decided that for the next nine months, he would train and try to play in the next season as a "gift" to his fans for their affection and love.
Speaking after the match, Dhoni said: "Circumstantially, this is the best time for me to announce retirement, but the amount of love and affection that I have been shown, wherever I have been this year... I think the easy thing for me to say would be to say 'Thank you very much', but the tough thing for me would to work hard for nine months and come back and play at least one more season of IPL."
However, he said, "a lot depends on the body".
"It would take 6-7 months to decide. It will be more like a gift from my side. It's not easy for me but the way they have shown their love and affection, that's something that I need to do," he said.
He further shared how overwhelmed he was during the season when he saw how much fans adored him.
"My eyes were full of water, I needed to take some time off in the dugout. I realised I need to enjoy this. I think they love me for what I am, they love that I am so grounded, I don't try to portray something I'm not. Just keep it simple. Every trophy is special, but what is special about IPL is every crunch game you need to be ready [for]," the Indian cricket sensation shared.
Dhoni has been a fan-favourite throughout the recently-concluded tournament and doing justice to his fans' support, the CSK Skipper finished the season by leading his side to a record-levelling fifth trophy, since neither the Gujarat Titans nor bad weather could stop CSK from drawing level with Mumbai Indians — their arch-rivals — in terms of most IPL trophy wins.
Given that the entire IPL and even the tournament finale was nothing short of Dhoni-mania, it will be interesting to see whether Dhoni will actually return to IPL to lead CSK next year or not.