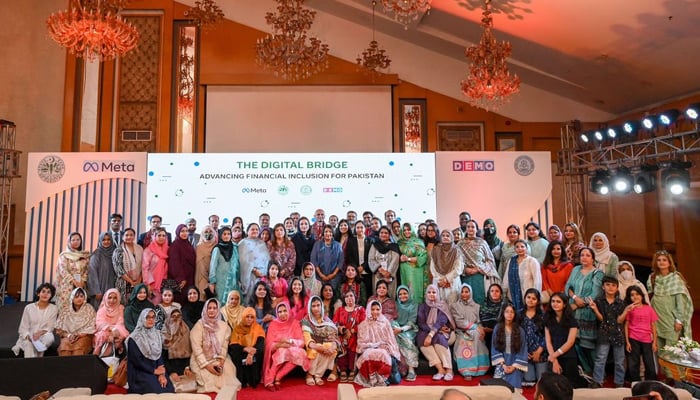 Meta has joined hands with the State Bank of Pakistan (SBP), the National Institute of Banking & Finance (NIBAF), and Demo to launch the second phase of their flagship 'SheMeansBusiness' programme in Pakistan.
Together, they aim to digitally empower 500 women entrepreneurs and other high-value small businesses through training and access to resources as well as networking opportunities.
The launching ceremony "The Digital Bridge: Advancing Financial Inclusion for Pakistan" was held in Karachi this week.
It was attended by officials of the Ministry of Commerce, Women Chambers of Commerce and Industry, and other prominent members of the telecommunication, banking, and business community.
SBP Deputy Governor Sima Kamil, who attended the launch, said: "Small businesses play a crucial role to boost the country's economy. We are pleased to support Meta's initiative to empower more women entrepreneurs and small businesses and help them scale their businesses in Pakistan.
"We hope that the knowledge they gain will also help them tap into export markets."
Meta's Director of Policy Programs Beth Ann Lim said that Meta is committed to supporting the economic growth of Pakistan by empowering small business owners, especially women entrepreneurs, by upskilling them in the digital space and helping them develop their revenue generation streams.
"We thank SBP, NIBAF and Demo, for the collaboration, and look forward to working together towards our collective goal of unlocking the potential of women-owned businesses and creating a more equitable society."
Demo will select the new participants of the program from Pakistan's export-oriented chambers as well as the pool of small business owners that participated in the first phase of the SheMeansBusiness curriculum in Pakistan.
They will be equipped with the tools and techniques needed to succeed in the competitive online landscape and scale their businesses.
A total of 100 participants will receive advanced training on export advertising from Dial Zero, Meta's associated sales partner in the country.
Meta will provide ad credits on Facebook to help them bolster their presence by reaching target customers locally and globally.
At the end of this phase of the program, Demo will prepare a handbook of case studies on how businesses leveraged the power of social media to access new markets outside of Pakistan.
Appreciating the initiative, Riaz Chunara, Managing Director of NIBAF, said: "It's important to make sure that small businesses are well-equipped with tools and techniques to leverage the digital space so they can advertise more effectively and expand their customer pool. It not only helps them increase their reach in Pakistan, but gives them the push they need to go beyond."
In 2018, Meta launched its SheMeansBusiness initiative in Pakistan. So far, more than 30,000 women across 51 cities of Pakistan — including AJK and GB have received training.