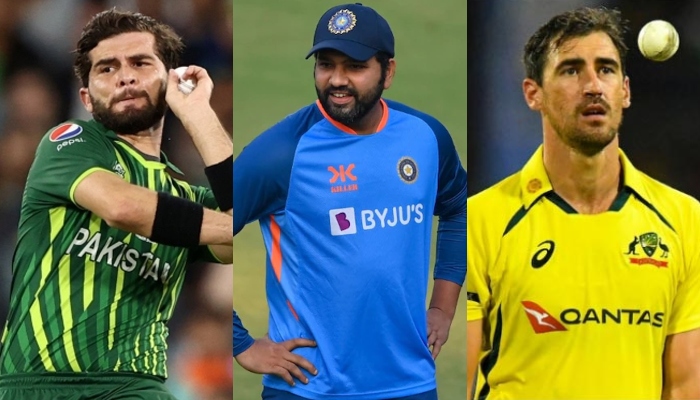 Indian cricket team's skipper Rohit Sharma spoke about the bowlers he wouldn't want to face in the upcoming ICC Cricket World Cup 2023 — set to take place in October-November. 

The 36-year-old cricketer stated that he would not like to face either Australia's Mitchell Starc or Pakistan's Shaheen Afridi in the mega event. 
He will lead India in the third ICC tournament. He previously led the Blues in ICC T20 World Cup 2022, where they lost to England in the semis, and the World Test Championship (WTC) final against Australia in 2023.

Speaking to ICC, the 36-year-old was asked some interesting questions which he answered in his own style.
The hitman was asked if he would like to face Australia's Starc or Pakistan's Shaheen, to which he replied: "None, both are quality, quite threatening with the new ball, can swing the ball, quite fast. So I would say none."
Sharma prefers to face pacers over spinners and pull shots over cover drive.
The 36-year-old also opened up on the disappointment of not being in the World Cup 2011 squad which India won on their soil.
"2011 was a memorable one for all of us, I remember watching it from home, every single match, every single ball which was being bowled and that was being played. There were two kinds of emotions, one was obviously I was not a part of it, so I was a little disappointed," Rohit told ICC.
"I decided I was not going to watch the World Cup, but again, the second memory I remember was that India was playing so well, quarter-finals onwards. You know, the big semi-final was against Pakistan.
"I know how the pressure is on all these players when playing these games. I can only imagine the pressure that each player must have gone through at that time, and then the semi-finals against Australia," he added.
India are on a 10-year ICC trophy drought as their last trophy came in 2013 with Mahendra Singh Dhoni leading the team to the ICC Champions Trophy triumph.