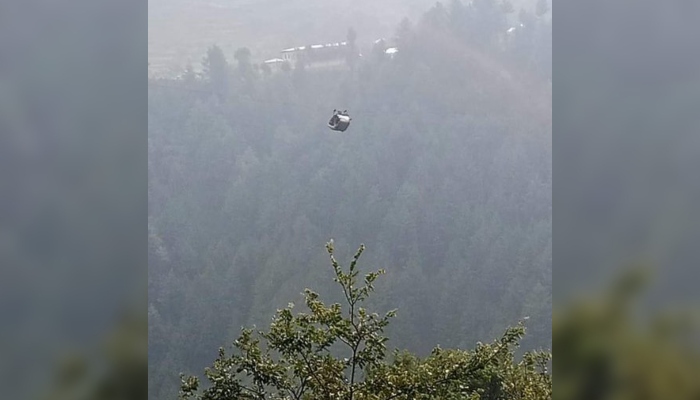 Efforts are underway to rescue the eight people — including six school children — who were left stranded mid-air after a chairlift's cable broke down in the Allai Tehsil in Battagram, Khyber Pakhtunkhwa on Tuesday.
Here are their options
Geo News reached out to Hazar's deputy inspector general of police to ascertain the rescue operation.
The police official told Geo News that Pakistan Army helicopters had reached the scene since they (the police) do not have enough expertise to carry out the rescue operation.
Army sources, on the other hand, told Geo News that there were two options to carry out the rescue operation.
Bucket method
A helicopter will hover at a higher altitude to the cable car so as not to cause any further disturbance to the chairlift. After this, a bucket will be lowered to the chairlift from the aircraft in which stranded people will get in it one at a time.
The helicopter will take the bucket carrying the person and put it down at a nearby location designated for this purpose.
This method will be repeated eight times till the operation culminates.
Net method
Another method to rescue the standard people is to deploy a net below the hanging chairlift so that people can jump onto it and land safely.
However, due to the area's terrain, it will be difficult to position the net of such a massive size.
Geo News reported that the decision about which rescue method to choose has been left to the pilot. 
Moreover, an expert team from Pakistan Army's Special Services Group (SSG) has been called in for the rescue operation.
An army helicopter has also arrived at the site.
"A chairlift stuck at a height of about 900 ft midway due to breakage in one of its cable in Battagram. 8 persons including 6 children [are] stranded," the National Disaster Management Authority (NDMA) said in a statement.