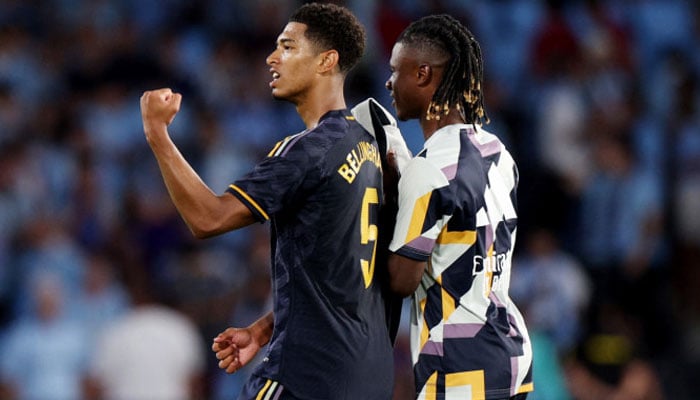 Real Madrid secured a 1-0 victory over Celta Vigo, thanks to another goal from Jude Bellingham. 
The young English talent continued his impressive run in LaLiga, netting his fourth goal in just three matches, sealing the win for Real Madrid and maintaining their perfect start to the season.

Bellingham, only 20 years old, showcased his prowess once again, leading Real Madrid's attacking efforts and breaking through Celta Vigo's resilient defense. His late header proved crucial in ending the hosts' resistance and dampening their spirits during their centenary celebrations.
Real Madrid faced challenges, with Vinicius Junior exiting early due to a potential thigh problem, and Rodrygo missing a penalty opportunity. Kepa Arrizabalaga, on loan from Chelsea, made his debut in goal as a replacement for the injured Thibaut Courtois. Carlo Ancelotti's trust in Bellingham paid off, as the young player continued to be an asset in the No. 10 position.
Although Celta Vigo attempted to take the lead early on, VAR ruled out Jorgen Larsen's effort due to a foul. Rodrygo had a chance to give Real Madrid the lead from the penalty spot, but Celta's goalkeeper, Ivan Villar, made an excellent save.
Bellingham eventually broke the deadlock in the 81st minute with a well-timed header off Joselu's assist from a corner. Ancelotti praised Bellingham's performance, noting his intelligent movement and scoring ability.
Real Madrid's victory, while not as convincing as their previous two wins, maintained their perfect record in the league. Their performance secured their spot at the top of the table with a provisional three-point lead.
Looking forward, Real Madrid is set to play their first home game after three away matches, facing Getafe next Saturday as renovations at the Santiago Bernabeu Stadium are finalised.