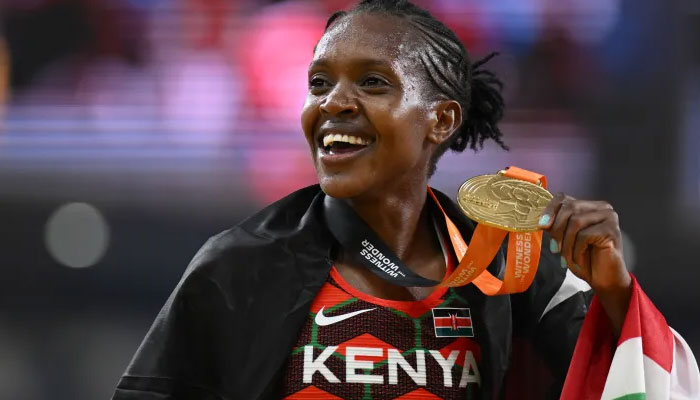 Faith Kipyegon of Kenya secured a momentous victory at the World Athletics Championships in Budapest by triumphing in the 5,000m race. 

Adding to her recent win in the 1500m, Kipyegon displayed her exceptional distance running brilliance once again. 
The 29-year-old Kenyan timed her move perfectly, accelerating in the final lap to clinch the gold medal with a time of 14 minutes and 53.88 seconds.
The race witnessed a determined challenge from Dutch athlete Sifan Hassan, who settled for silver with a time of 14 minutes and 54.11 seconds. Meanwhile, another Kenyan, Beatrice Chebet, secured the bronze medal by crossing the finish line in 14 minutes and 54.33 seconds.
Throughout the competition, Kipyegon demonstrated her strategic acumen, maintaining a steady pace as she covered the laps. As the bell rang for the last 400 metres, she surged ahead side by side with Hassan. The two frontrunners sprinted vigorously down the home stretch, leaving their competitors trailing behind.
Kipyegon's achievement was further highlighted by the presence of several formidable competitors, including six of the swiftest women in history. 
This victory solidified her position in distance running this season, bolstered by her impressive track record, which includes two Olympic golds in the 1500m and setting world records in the 1500m, 5,000m, and mile events this year.
The World Athletics Championships proved to be a platform for Kipyegon and other elite athletes to showcase their determination and capabilities on the track. With her historic 1500m/5000m double, Faith Kipyegon solidified her reputation as one of the premier distance runners in the world.