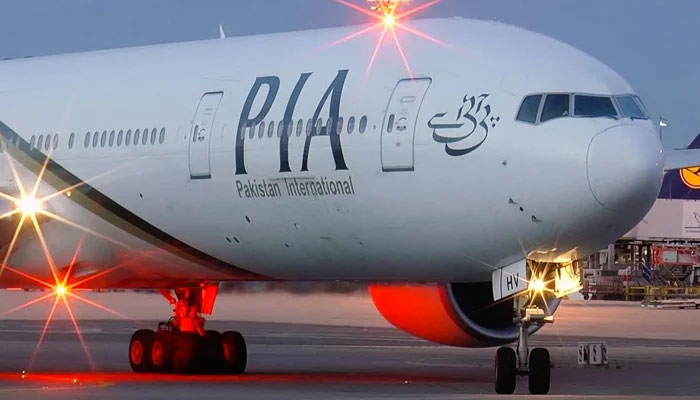 PM directs to complete privatisation of PIA on a fast-track basis.
Asks Fawad Hasan Fawad to oversee the process of privatisation.
Reports claim PIA flight operations may be suspended by Sept 15.
---
Caretaker Prime Minister Anwaar-ul-Haq Kakar on Thursday directed authorities to expedite the privatisation process of loss-making Pakistan International Airlines (PIA).
The development came amid reports claiming that the national flag carrier's flight operations would be suspended by September 15 if emergency funds were not provided.
A day earlier, speaking to Geo News, a senior director of PIA had said the number of operational planes had been reduced to 16 from 23 which led to the cancellation of several flights.
The official had also said that aircraft manufacturers — Boeing and Airbus — have also suspended spare parts supplies to the PIA over non-payment and the national airline was incurring losses worth millions of rupees daily due to limited flight operations. 
He had also revealed that a PIA plane was stopped at Dammam airport while another four at Dubai airport over failure to pay for fuel.
The official had warned that "flight operations may be suspended by September 15 if Rs23 billion are not provided in emergency funds".
Chairing a meeting on matters related to the PIA, the interim prime minister instructed caretaker Minister for Privatisation Fawad Hasan Fawad to oversee the process of privatisation of PIA and complete it on a fast-track basis, APP reported. 
The premier said the process needed to be expedited "urgently" so as to provide a reliable service to the users and to raise the standards of the national flag carrier to match the global airline standards.
He directed all the relevant stakeholders to find an immediate solution to the matters related to privatisation.
During the meeting, the prime minister was briefed on the progress of the privatisation process of PIA.
PIA's financial woes
On September 7, the PIA had said it grounded five out of its 13 leased aircraft with further prospect of grounding four additional planes due to the prevailing financial crunch.
The PIA had asked for an emergency bailout of Rs22.9 billion which was rejected by the Economic Coordination Committee (ECC).
The ECC also rejected the request for deferment of the payments of Rs1.3 billion per month, which PIA pays to FBR against FED and Rs0.7 billion per month which PIA pays to the Civil Aviation Authority (CAA) against embarking charges.
The airline had also warned that Boeing and Airbus might suspend the supply of spare parts by mid-September.
Last month, the FBR froze 13 PIA bank accounts due to non-payment of Rs8 billion in FED.