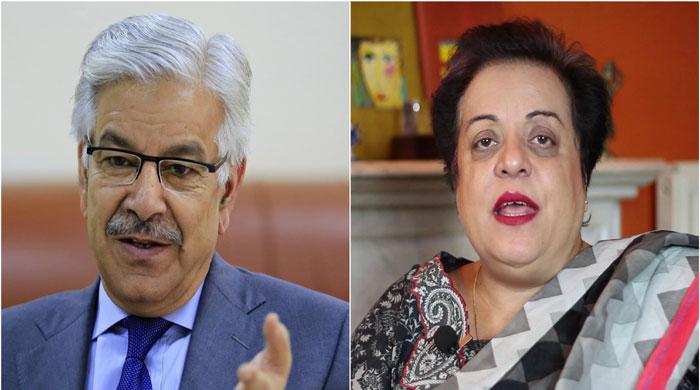 ISLAMABAD: Federal Minister of Water and Power Khwaja Asif apologized to Pakistan Tehreek-e-Insaf parliamentarian Shireen Mazari, a day after his vulgar outburst in the assembly where he called Mazari a 'tractor trolley'.
In a letter written to speaker Ayaz Sadiq, Khwaja Asif apologized for his behaviour.
"In the letter I have written I have apologized to Shireen Mazari. I should not have said what I did. But my reaction was natural," Khwaja Asif said in the assembly session.
PTI leader Shireen Mazari rejected the apology. "Everyone in the opposition was shouting but Khwaja Asif targeted me specifically. The remarks were indecent."
PTI leader Shah Mehmood Qureshi said that such behavior was making Pakistan a joke in the world. "Men should reconsider their behavior towards women. This has become a national habit," he said.
Other women parliamentarians also supported Shireen Mazari, calling Khwaja Asif's outburst an insult to women and the sanctity of the parliament. Pakistan People's Party leader Nafisa Shah said that in Britain a few days ago membership of a parliamentarian was cancelled over the same issue. "Khwaja Asif targeted Shireen Mazari specifically making fun of her voice and appearance," she said.
As ruckus marked the assembly session speaker Ayaz Sadiq tried to pacify members. "I have tried my best to do justice to my duties. I am human not an angel. I can make mistakes. Yesterday I had specifically asked Shireen Mazari to remain seated," the speaker said.
The opposition walked out from the assembly in protest.
The Pakistan Tehreek-e-Insaf reacted strongly on Wednesday over Minister of Power and Water Khwaja Asif's behavior in the national assembly where he called PTI leader Shireen Mazari a 'tractor, trolley'.
Khwaja Asif was praising the government for reducing load shedding in Ramzan when Mazari interrupted him.
The opposition booed Khwaja Asif on which speaker Ayaz Sadiq asked the opposition to wait patiently for their turn, and then specifically asked Shireen Mazari to remain seated. When Shireen Mazari refused to do so, and continued interrupting the speech the speaker asked Khwaja Asif to continue his speech and ignore her.
An irritated Asif asked the speaker to request this "tractor trolley to shut up". He mocked Mazari's voice and said, "Can you make this male voice female sounding?"
Things got uglier when an official statement from PTI spokesman Naeemul Haq called for a public hanging of Khawaja Asif. "Khwaja Asif should be hanged vertically and hit with shoes 25 times every day," he said.