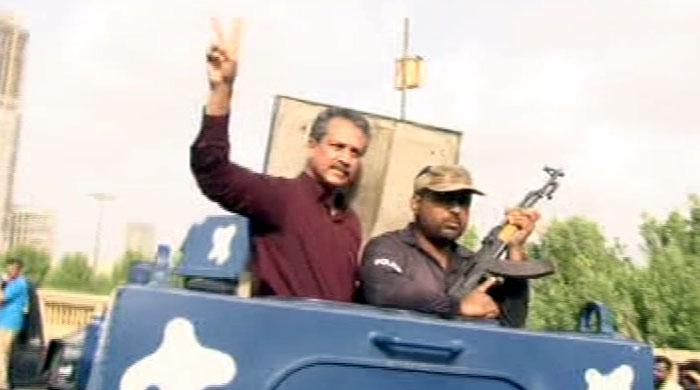 KARACHI: Police arrested Muttahida Qaumi Movement (MQM) leaders Waseem Akhtar, Rauf Siddiqui, and Pak Sarzameen Party (PSP) Anis Qaimkhani on Tuesday after an anti-terrorism court (ATC) in Karachi rejected their bail pleas in the Dr Asim Hussain case.
Hours later, Pakistan People's Party (PPP) leader Abdul Qadir Patel, also a suspect in the case, presented himself for arrest at the Boat Basin police station after he allegedly fled from the court after the court hearing.
Former federal minister Dr Asim Hussain is facing charges of abetting terrorists and providing them medical treatment at his hospital. Rauf Siddiqui, Waseem Akhtar, Abdul Qadir Patel, Anis Qaimkhani, and Abdul Qadir Patel are accused of allegedly sheltering and ordering the medical treatment of terrorists and hardened criminals at the Karachi hospital of former federal minister Dr Asim Hussain.
Earlier, police personnel locked the gates leading out of the court premises, with strict security not allowing the MQM and PSP leaders to leave the building. Television footage from the spot showed an Armoured Personnel Carrier (APC) parked outside the building, blocking the gate leading out of the court premises.
Speaking to Geo News earlier, MQM leader Waseem Akhtar claimed that they were unlawfully detained inside the building, with police not even allowing their lawyer to leave the building to file an appeal in the Sindh High Court.
"Today is a dark day in the history of Pakistan. We are being framed on the basis of a fake JIT report," Waseem Akhtar told Geo News via telephone earlier.
"The judge herself admitted today that there are certain things in the JIT report which she is being forced to accept. There are a lot of personnel in plain clothes inside the courtroom. The gates have been closed and we are not being allowed to leave. Even our lawyer, who wants to go to the Sindh High Court to appeal, is not being allowed to leave," he said.
"I request the chief justice of Pakistan to take notice of this mockery of the law," he added.
The arrested leaders were shifted to the Karachi Central Jail in three separate vehicles under strict security. Further hearing of the case was adjourned to August 3.
Patel presented himself for arrest after the court also issued his non-bailable arrest warrants, and ordered that his name be included in the Exit Control List. Sindh Home Minister Sohail Anwar Siyal also issued a statement saying he has ordered authorities to immediately arrest Patel.
Speaking to media after arriving at the Boat Basin police station to present himself for arrest, Patel said that he got late for the hearing of the case and, when he arrived, he saw that the entrance to the courtroom was closed.
The PPP leader said he stood there for some time and left when his lawyer told him that the ATC had turned down his request for extension in bail. He added that he left the ATC thinking of his next step to secure bail extension.
"I didn't run away, I just moved out calmly," Qadir Patel said, adding that he had come for the proceedings of the case all the way from London. "Why would I run then?"
When asked about contacting anyone in his party, he said that he had not yet contacted anyone, adding "Perhaps the party leaders also didn't find it appropriate to contact a worker like me".
Patel said that, had he fled from the court, he would not have returned to present himself to police for arrest. "Even now, no one brought me here, I came myself," he added.
Patel said that he was a political worker, and that he was ready to face the courts.