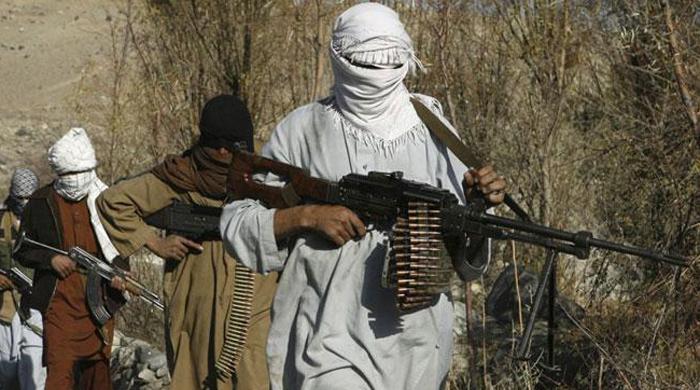 Pakistan's success story in defeating terrorism and extremism requires consistency in its policy. If a decision has in fact been taken to bring the 'jihadi outfits' into the mainstream, and changing the 'jihadi narrative' formed in the Afghan war, it could be the outcome of the results achieved in operation Zarb-e-Azb and going into the decisive phase in the fight against extremism.
Zarb-e-Azb itself is the continuity of the Swat and Malakand operations and these three operations actually reflect the change in the state narrative in the post 9/11 world scenario. In the last three years in particular, the biggest success came in North Wazirstan, which was regarded as one of the biggest sanctuaries for local and global networks.
The possible new narrative would not be easy – either for the government or the establishment – but the way forward could come through large scale reform agenda which includes their rehabilitation, education, and jobs.  
Following the operation, thousands of foreign and local militants had been killed and Uzbek, Chechen, and Afghan alleged terrorists were either killed or flown to Afghanistan and other countries.
It also brought a split in many jihadi outfits but, at the same time, some new groups also emerged. The biggest damage to them came when their accounts were frozen, which led them to raise money through kidnappings for ransom or extortion. This led to major kidnapping cases like that of Shahbaz Taseer and Ali Gilani, while many Karachi businessmen also faced a similar fate, though many stories remain untold.
Thus, the Karachi operation played a major role in checking this trend too, as the commercial hub for years had been among the safest places for 'sleeper cells' and extortion. Transactions in cases of kidnapping for ransom used to be made in Dubai.
Crackdown on groups like those from the Lyari gang war and MQM's alleged militant wing also led to the conclusion that only jihadi outfits or outlawed groups were involved in such activities, but there is also a huge nexus between 'crime and politics' through money laundering.
Therefore, when we looked towards changing narrative of both the successive government and establishment, one found some connectivity and continuity. For the first time the civil and military leadership have decided to bring active jihadi groups including banned outfits into the mainstream after 'disarming' them.
Late Amir of the Jamaat-e-Islami (JI), Qazi Hussain Ahmad, once told me that the JI and its affiliated bodies took active part in Jihad-e-Afghanistan because of the state policy, but did not send their volunteers when the state changed its policy in 2001 after the US-led coalition attacked Afghanistan.
For instance, in Balochistan and FATA, they are facing problems on how to bring those into the mainstream who laid down arms and surrendered. The government has not given any alternate policy of job quotas for such people.
Similarly, there is no amnesty policy as yet in Karachi for those who are ready to surrender, disarm, and want to return to their families. The Sindh government and Rangers are working on a 'Rehabilitation Center', but so far it is only on paper.
In 2001 and 2002, over 13 sectarian and jihadi groups were banned but, because of loose policy, some resurfaced with new names while others merged with each other. However, even under Musharraf, the policy was unclear in differentiating between sectarian, terrorist, and jihadi groups.
While Musharraf took a hardline against the Tehreek-e-Taliban Pakistan (TTP), Al-Qaeda, and foreign militants, he went soft on local networks which allowed the emergence of new groups due to split within these networks and also after their finances were blocked.
In an interview on Wednesday, former President General (retired) Pervez Musharraf clearly differentiated between terrorist groups and jihadi outfits. While he put the banned Jaish-e-Mohammad (JeM) in the category of terrorist groups, he showed a soft corner for Lashkar-e-Taiba (LeT) and the Jamaatud Dawa (JuD). Interestingly, LeT was among the groups banned by Musharraf and as a result JuD leaders claimed they also distanced themselves and broke all ties with LeT.
He even termed JuD, led by Hafiz Mohammad Saeed, as the best NGO in the country and praised their work in the 2005 Earthquake and also during the floods.
"We have now decided to concentrate on our social work and welcome the decision of the government to bring jihadi groups into the national fold," JUD spokesman Yahya Mujhaid told me on Thursday.
He also welcomed the policy to disarm groups, and claimed that the JuD played an important part in defeating the Daesh narrative in Pakistan.
"We led this campaign within our own fold and in the country to counter the Daesh narrative," he added.
While the JuD is ready to reform itself and work as a welfare organisation, it is not ready to join mainstream politics, as ideologically it believes electoral politics and casting vote are 'sins' and un-Islamic.
In the past, religious parties and their alliances approached Hafiz Saeed during the 2008 and 2013 elections and tried to convince him to change his view about electoral politics. Jamaat-e-Islami (JI), Jamiat Ulema-e-Islam (JUI), and Defense of Pakistan Council (DPC) led by Maulana Samiul Haq, also failed in bringing him into mainstream politics.
While the JuD is by far the biggest group which not only kept itself away from elections but also imposed restrictions on its followers not to cast votes, there are some other jihadi as well as tableeghi groups which don't believe in the present system like Hibut Tehrir (HT), Tableeghi Jammat (which only once supported IJI but did not join it), Tanzeem-e-Islami, and banned outfits like TTP or Al-Qaeda.
Maulana Sufi Mohammad, leader of the Tehreek-e-Nafaz-e-Shariat-e-Mohammadi, was the first who completely denounced the Pakistani Constitution, Parliament, and democracy. He practically enforced his style of 'Shariat' in his area, just like the TTP did in areas under its control for years.
Jaish-e-Mohammad (JeM) was formed in highly controversial circumstances as a result of further splits in the mother party, Harkat ul Ansar, which after the first divide became Harkat ul Mujhaideen, and then later in 2000 was led by Maulana Masood Azhar under the new name.
Some jihadi outfits including the JuD were against the formation of JeM. The then-government and the establishment were also not on one page on this issue. In the aftermath of 9/11 and the war in Afghanistan, many JeM activists joined TTP and other militant groups.
In the interview on Wednesday, Pervez Musharraf hinted that JeM was also behind the attack on his life and said, "the group was involved in terrorist activities inside Pakistan and action much be taken against them".
Interestingly, Musharraf, who used the term 'Non-state actors' hundreds of times during his tenure and defended Kargil, is now trying to confuse the civilian and military leadership with his new narrative, the one he himself had abandoned in his tenure.
The connectivity and continuity of Zarb-e-Azb and the National Action Plan is the only way forward with some changes in reform agenda. But, can we do it? The success of Zarb-e-Azb indicates that the state can surely do it if they want do.
The writer is a senior columnist and analyst of GEO, The News and Jang.