ISLAMABAD: A medical board examining 10-year-old child maid Tayyaba confirmed torture marks on her body.
Speaking to the media on Monday, Vice Chancellor Pakistan Institute of Medical Science (PIMS) Dr Javed Ikram said that he had completed her medical examination and had found torture marks on her body.
The team led by Dr Javed Ikram obtained DNA samples of Tayyaba as well as took pictures of burn marks on her back.
DNA tests to confirm parentage
Doctors have taken DNA samples from four sets of parents claiming to be Tayyaba's family. Besides the initial set of parents and siblings, DNA samples have been taken from three other families one each from Kamaliya, Faisalabad and Jehlum.
Law Enforcement Agencies and Police recovered Tayyaba from a suburban area of Islamabad on Sunday. She had mysteriously gone missing after the case was highlighted in local media upon which the Supreme Court had taken a suo moto action.
The case of the alleged torture of the maid caught the media's attention after she was recovered from the residence of Additional Sessions Judge Raja Khurram Ali Khan.
Also Read: The Girl with Unhealed Wounds
The minor girl, whose face and hands bore torture marks, had initially denied being hurt by her employers. She told the police that she got a wound to her eye after falling from the stairs, while her hand was also burnt accidentally.
However, the poor girl narrated her ordeal after being politely inquired by a female magistrate later. She stated before the magistrate that she was beaten and her hand was burnt on the stove for losing the broom.
On Tuesday, the matter was settled out of court and, according to the child's father, the parents had forgiven the actions in the way of the Almighty.
This led to Chief Justice of Pakistan, Justice Saqib Nisar taking suo moto notice of the case and summoning Tayyaba's parents along with police officials.
'State acted like a witch'
Meanwhile Chairman Senate Raza Rabbani speaking on the matter during a session said that the torture incident happened at the residence of a judge which was shameful.
"A state should be like a mother but here it acted like a witch in this case", he added.
Senator Javed Abbasi said that wife of a judge tried to brush the matter under the carpet in order save wife of another judge while the child was handed over without identity documents.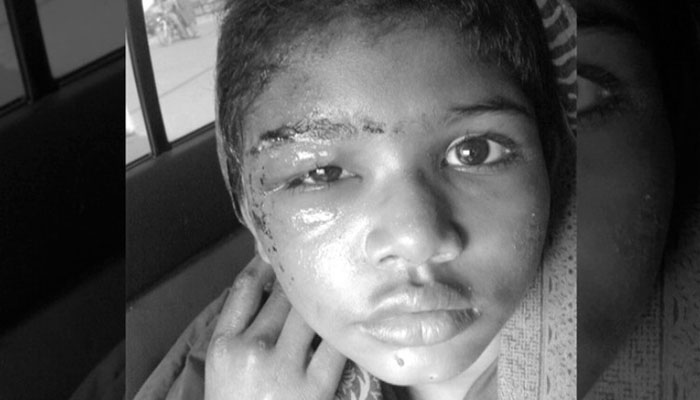 Miseries in the life of Tayyaba
Tayyaba suffered perhaps all the miseries at a very tender age.
The girl was distanced from her mother and home while she was just eight years old. Thrown into the kiln of child labour to pay off her father's debts, Tayyaba allegedly continued to suffer brutal torture.
Her employers - Additional Sessions Judge Raja Khurram Ali Khan and his family - apparently had no pity for the child maid.
Tayyaba's painful cries would often shake the neighbours of her employers in Islamabad, who would then comfort the little girl by offering some food and trying to console her.