ISLAMABAD: The 78th Pakistan Day is being celebrated nationwide today with traditional zeal and fervour.
The day dawned with 31 gun salutes in the federal capital and 21 gun salutes in the provincial metropoles, followed by a joint parade of all three forces of the military: Pakistan Army, Navy and Air Force, at Shakarparian Parade Avenue in Islamabad early Thursday morning.
A special feature of the parade this year is the participation of Tri-Services of People's Liberation Army of China, Saudi Special Force's contingents and Turkish Janissary Military band.
President Mamnoon Hussain is the chief guest of the event. Prime Minister Nawaz Sharif, Chief of Army Staff General Qamar Javed Bajwa, Chief of Naval Staff Admiral Mohammad Zakaullah and Defence Minister Khawaja Asif are witnessing the parade. Among other dignitaries attending the ceremony is Chief of South African National Defence Force General Solly Zacharia.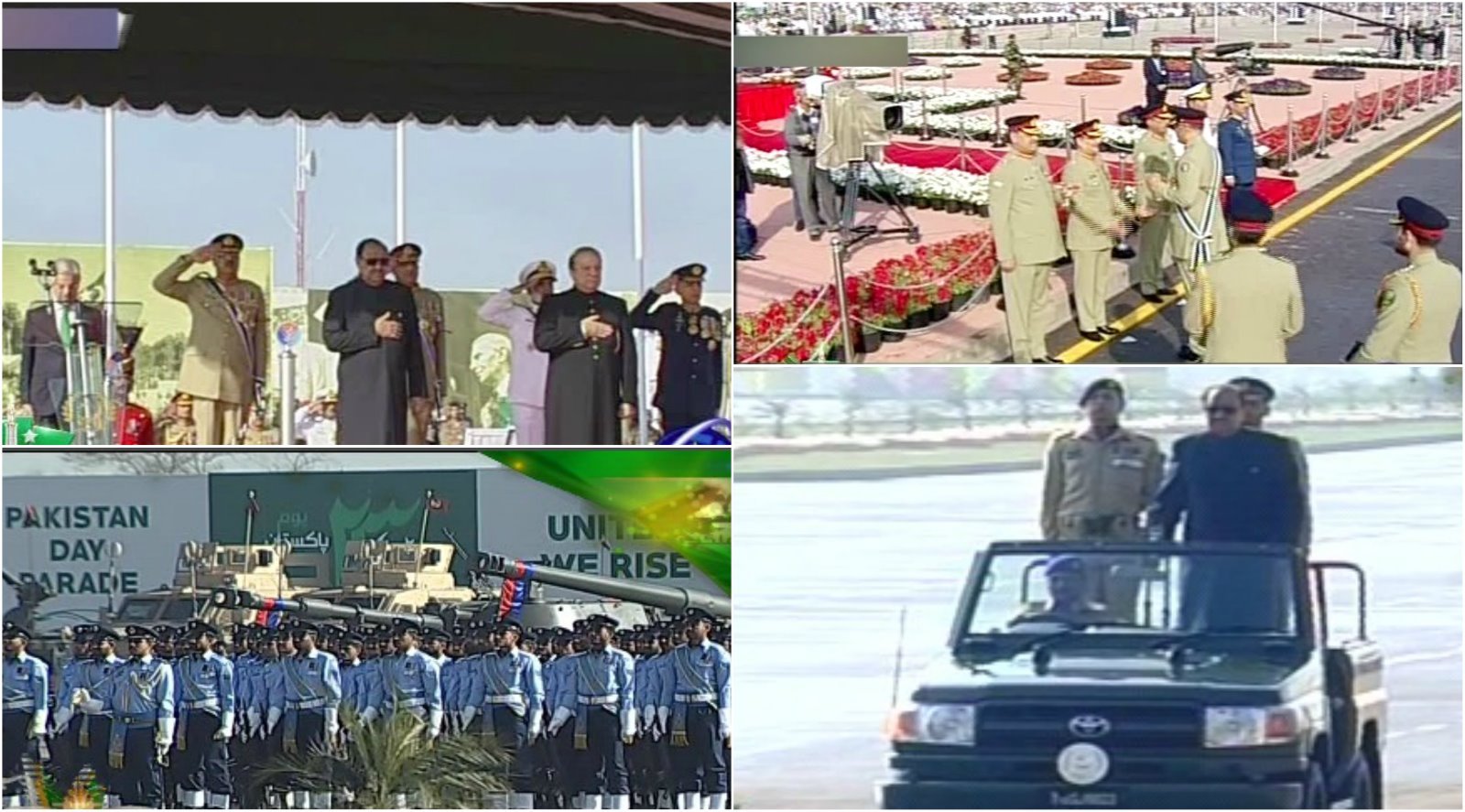 Chief of Air Staff Sohail Aman leads fly-past
Chief of Air Staff Air Chief Marshal Sohail Aman led the flypast of the Pakistan Air Force and Pakistan Navy aviation in an F-16 plane.
Mechanised columns of various prestigious services of the country exhibited inventory of highly sophisticated and modern weaponry and arsenal.
Civil organisations also showed their material presence at the parade by exhibiting floats depicting developments achieved by the country, besides the regional culture and heritage.
Pakistan Air Force jet Shaheen is set for fly-past over the skies of Karachi later today.
Armed Forces display military might on Pakistan Day parade
Troops which took part in the parade included contingents of the Pakistan Navy, Pakistan Air Force, 18 Punjab Regiment, 21 Frontier Force Regiment, 10 Northern Light Infantry Regiment, 760 Mujahid Battalion, Frontier Corps Khyber Pakhtunkhwa, Pakistan Rangers Punjab, Paratroopers, Pakistan Police (represented by the Islamabad Police), Tri Services Lady Officers, Tri Services Armed Forces Nursing Services, Boy Scouts, Pakistan Girl Guides, Special Services Group (SSG) and President Bodyguards.
Mechanised columns of Armoured Corps, Artillery, Army Air Defence, Signals, Engineers, Army Strategic Force Command also participated.


Chinese troops participate in Pakistan Day parade
In a historic first, Chinese troops took part in the March 23 parade. A 90-member Chinese delegation had arrived in Pakistan on Monday to participate in the parade.
Prior to the parade, Major General Li Chan told Chinese media in Pakistan: "We are here, as representatives of the Chinese public, to make the Pak-China friendship stronger."
"We could feel the warmth of the Pak-China friendship upon our arrival in Pakistan," the major general said. "I hope that the friendship between the two countries thrives and flourishes. Pakistan is China's closest friend, best neighbour and strategic ally."
Turkish military band performs in parade
The Turkish military band participated in Pakistan Day parade for the first time ever. The band, known as 'mehtar' in Turkish, is the oldest military band in the world, dating back to 1299.
Pakistan ready for talks with India: President Mamnoon
President Mamnoon Hussain, addressing the ceremony, condemned the repeated violation of ceasefire by Indian forces at the Line of Control and said Pakistan is ready to hold talks with India.
"Pakistan wants good relations with its neighbours. We are ready for talks with India," the president said.
He vowed that Pakistan will continue moral and political support of Kashmir.
The president lauded Pakistan's military might and said the country's defence is strong and invincible.
He also paid tribute to all those who have sacrificed their lives for Pakistan.
Pledge to rid country of all fasaadis: COAS
In his special message for Pakistan Day, Chief of Army Staff (COAS) General Qamar Javed Bajwa called upon the entire nation to "pledge to clean up our Pakistan from fasaadis".
COAS, in his message, said that on March 23, 1940 "we pledged to create Pakistan and we honourably succeeded in creation of our homeland".
"Let us pledge again today that we shall clean our country from fasaadis," he said. "We all own Pakistan. Pakistan Zindabad!"
President Mamnoon Hussain, in his message for the day, said that Pakistan has made its mark globally and the nation is proud of its identity.
Chinese premier felicitates PM Nawaz
Chinese Prime Minister Li Keqiang extended his warm congratulations and best wishes to the government of Pakistan and Prime Minister Nawaz Sharif on the occasion.
In his message of felicitation to his Pakistani counterpart, the Chinese premier said in recent years, under the leadership of "Your Excellency", the Pakistani people had properly responded to different kinds of challenges and marked new achievements in maintaining national security, stability and economic development.
He said Pakistan's relations maintained a rapid momentum of development and in particular, the construction of China-Pakistan Economic Corridor moved forward steadily, and had played a demonstrative role for the mutually beneficial cooperation among China and other countries along the "Belt and Road".
Li Keqiang said the Chinese government had always viewed and developed China-Pakistan relations from a strategic and long-term perspective.
The premier said China was willing to work with the Pakistani government to push forward China-Pakistan all-weather strategic cooperative partnership for new and continuous progress. "May Pakistan enjoy prosperity and its people well-being," the Chinese premier said.
In Karachi, Governor Sindh, Mayor Karachi, and representatives of the armed forces paid a visit to Mazar-e-Quaid.
In Lahore, change of guards took place at Mazar-e-Iqbal, while a contingent of Rangers paid respect.
Pakistan Day commemorates the passing of Lahore Resolution, under which a separate nation for the Muslims of the British Indian empire demanded by Muslim League was passed on March 23, 1940. Every year the nation celebrates the day with extraordinary zeal.