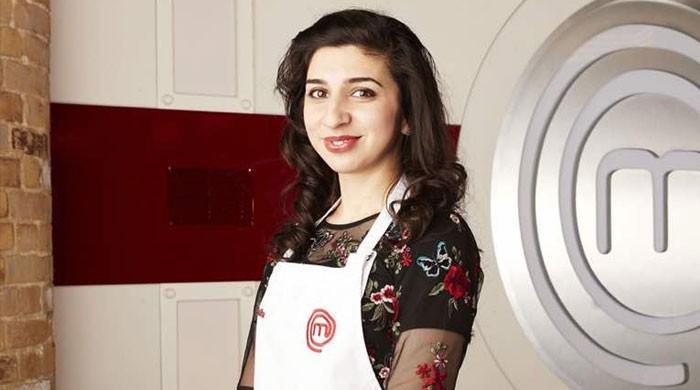 LONDON: A British Pakistani doctor, who has been crowned 2017's MasterChef champion after beating 64 amateur cooks, has paid tribute to her family for supporting her hobby of cooking – starting with Pakistani and Kashmiri dishes.
Dr Saliha Ahmed, 29, triumphed in the final of MasterChef after defeating two rivals and made headlines around the world for impressing the judges with her Pakistani-Kashmiri-inspired three-course meal. A record 6 million viewers tuned into BBC to watch Saliha storm to victory over music teacher Giovanna Ryan and DJ Steve Kielty, who are considered amongst the top chefs.
In an exclusive interview with Geo News, Dr Saliha credited her family with her cooking skills and reserved special thanks to her doctor husband Usman Ahmed for pushing her to take part in the coveted competition.
"It's been a long journey, I always wanted to go on this show but I thought I can't make it because I didn't have time because of my full time job as a doctor with the National Health Service (NHS). Then around two years ago, we were blessed with a baby boy and I became very busy, but Usman filled my application form without even consulting and encouraged me to take part in the competition. He saw talent in me and believed in me."
Saliha was born in Watford to Pakistani parents Tariq Mahmood and Amina Khatoon, both doctors with the NHS. Her sister is a doctor and younger brother a student of medicine. Her grandparents originate from Srinagar in Indian-occupied Kashmir but moved and settled in Lahore at the time of Subcontinent's partition - and that explains why Saliha's show-stopping finale dish was inspired by Kashmiri and Pakistani food.
Saliha, a fluent Urdu speaker, explained how she went through a gruelling experience over several months to make it to the final. The run-up involved working on the weekends, sacrificing annual leaves for many months for filming and going to restaurants and cooking almost every day after work to ensure that she is cooking new dishes and doing the right thing.
She accepts: "I couldn't have reached here without putting in a lot of hard work. The whole family supported me in my endeavor and it's been worth it. After I was crowned the MasterChef 2017 champion, I was overwhelmed by the positive feedback; so many people from Pakistan contacted me to congratulate and to give positive feedback. It's impossible to describe in words the happiness I have felt. I must say Allah has been kind to me."
Saliha's extended family lives in Lahore and Rawalpindi. "In our household, cooking has always been like a craze. Kashmiri families are known for celebrating what they cook and eat. My parents are Kashmiris and my mother-in-law is also a Kashmiri and she is a brilliant cook, in fact she is the one who taught me how to cook Shaami kebab recipe which I used for the finals."
Dr Saliha explained that she used the fusion cooking method in the final competition which catapulted her to victory. "I mixed products of different cultures. In my three course meal, the starter was Pakistani, it was Shaami kebab with mutton, the main course was a Kashmiri style sous-vide duck breast, with crispy duck skin, freekeh wheatgrain, spiced with dried barberries, walnuts and coriander, a duck and cherry sauce. For the dessert I made a pannacotta and mixed it with baklava and zafraan. I am glad that this mixture of recipes was liked by the judges."
Saliha started cooking at the age of 12 and she couldn't have probably become a celebrity chef if her family had a cook at home, like it happens in Pakistan where having a cook is considered mandatory in middle and upper class families. "We never had a cook employed and never received any help with the cooking, we have been cooking ourselves always. When I stay with my in-laws over the weekend, we eat freshly cooked food. I cook Arabian, Morocan, Egyptian food and love it. I try interesting new recipes and get my husband to eat them all!" she added.
Some media reports have wrongly claimed that Dr Saliha plans to open her own restaurant. She has no such plans and wants to continue working as a doctor.
"I will not ever give up my profession. I do want to write cookery books and may be do TV shows on cooking on the side but medicine is my passion."
Dr Saliha showered praise on Pakistan's female population, their talent and resilience. "Pakistani girls are hugely talented and amazing. My advice to them would be to always have hobbies and don't limit yourself. Family life or getting into one profession doesn't mean ending your hobbies.  We need to excel in every field and everything we do and that's the only way forward for making tangible progress. That can be beneficial to us and to our next generations."