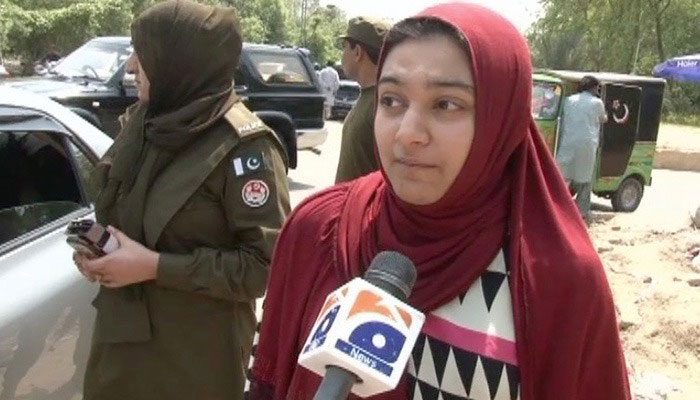 LAHORE: After being stabbed almost two dozen times by her classmate and then seeing him released on bail, Khadija's trauma seems never-ending as on Friday she was forced to sit for her law exam along with her alleged attacker.

The brave survivor was forced to appear for her British Council law examinations in the same centre as her attacker. Even though she was accompanied by two security guards — a male and female police constable —she did not feel safe in the vicinity of her attacker.
"My hands were shaking throughout [the exam] and I just kept hoping that I remember [the course material]. I didn't want to be affected by it," she said while speaking to Geo News at the examination centre.
Sharing her future plans, Khadija remarked that she plans to join Pakistan Bar Council and take her case to the Supreme Court.
In her comments, Khadija's mother asked the Chief Justice of Pakistan to take notice of her daughter's plight and help the family get justice.
Khadija couldn't appear for her exams as she was in a crucial condition last year, explained her mother.
She also appealed to everyone to help them, adding their fight is for the rights of all the women in the country.
Khadija's ordeal
Khadija shared her ordeal with the public during an appearance on Aaj Shahzeb Khanzada Kay Sath on Wednesday.
On May 3, last year, she was allegedly stabbed 23 times by her classmate — Shah Hussain — on Lahore's Davis Road. Over a year since the horrific incident, Khadija still awaits justice and appeals to society to raise its voice for her.
Sharing her story on Geo News earlier, Khadija had said, "..I am standing my ground because if I let go, then this would create more such avenues."
Despite being caught on video, Hussain continues to roam free as he was able to secure a bail as he hails from an influential family, according to Khadija.
The sessions court granted Hussain bail on December 1, 2016, after he had spent two months behind bars. Khadija then filed an appeal against the court's decision, but it was dismissed.