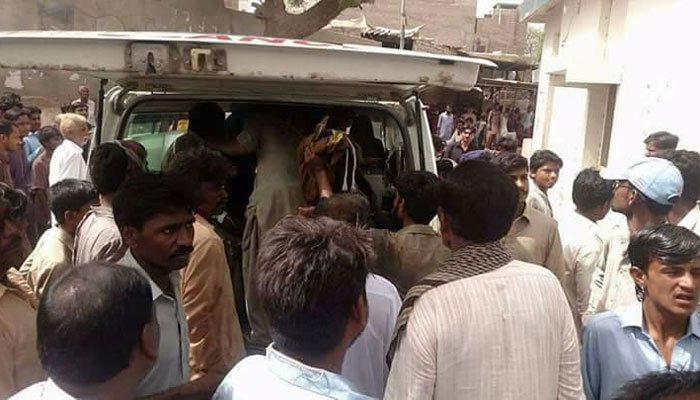 UMERKOT: The main accused in the case in which a sewer cleaner Irfan Maseeh died due to alleged negligence of the doctors of Civil Hospital Umerkot has been arrested by the police.
Umerkot police told Geo.tv that the accused Dr Jaam Kunbhar has been arrested while raids were being conducted to arrest the other two doctors —Dr Yousuf and Dr Allah Dad Rathore— involved in the incident.
The case was registered under section 319, 34 PPC against six suspects including three doctors on behalf of the father of the Irfan Maseeh.
Speaking to Geo.tv, SSP Umerkot Usman Bajwa said that the Municipal Committee did not give them safety equipment which caused the death of Maseeh.
"The doctors refused to treat as they are covered with filth", he added.
Lying in a corner of Civil Hospital Umerkot, sewer cleaner Irfan Maseeh kept gasping for breath, his family members claim that they pleaded with the hospital staff to treat him, but the doctor at the facility allegedly refused to touch his sludge-covered body saying he was fasting.

"Dr Yousuf said he would not touch Irfan's dirty body until it was cleaned," the deceased's brother Pervaiz Maseeh told Geo.tv. "I cleaned his body, after which an oxygen pump was sent for Irfan, but that was empty."
Since Irfan was struggling to breathe, Pervaiz said he also resuscitated him. 
Irfan Maseeh's family alleges that the doctor's negligent response to the emergency situation and lack of facilities at the hospital left him to succumb to death.
Meanwhile, Dr Kunbhar claimed that Irfan Maseeh had already passed away before arriving at the hospital. 
Irfan had dived down to clean a manhole Thursday morning when he fell unconscious after inhaling poisonous gases trapped inside, Pervaiz said. 
He added, one after another two more men jumped inside to save those trapped, but all fell unconscious due to the same reason. 
Pervaiz had reached the site after people in the area informed him of the incident.
"When they were eventually taken out, I put Irfan on my back and rushed him to the hospital," the bereaved brother said. "A rickshaw driver stopped us on the way and gave us his vehicle to carry Irfan to the hospital as quickly as possible."
But he could not be saved despite all the efforts people around him made to resuscitate him. 
The death of Irfan due to the alleged negligence of doctor enraged the family members who started protesting with his body.
"No one had come to share our loss or express solidarity with us," Pervaiz said. "But Umerkot SSP Usman Bajwa visited us a while back, promising that the responsible doctor would be taken to task and complete investigation would be carried out in the case."
This was not the first death caused by the negligence of staff at Civil Hospital Umerkot, said Pervaiz. "A similar incident took place in 2014 when a sewage cleaner, struggling for life, was referred to Hyderabad for treatment as the facility in Umerkot was not equipped to treat him." 

Home Minister Sindh Suhail Anwar Sial has taken notice of the incident.